The True Meaning Behind New Again By Kanye West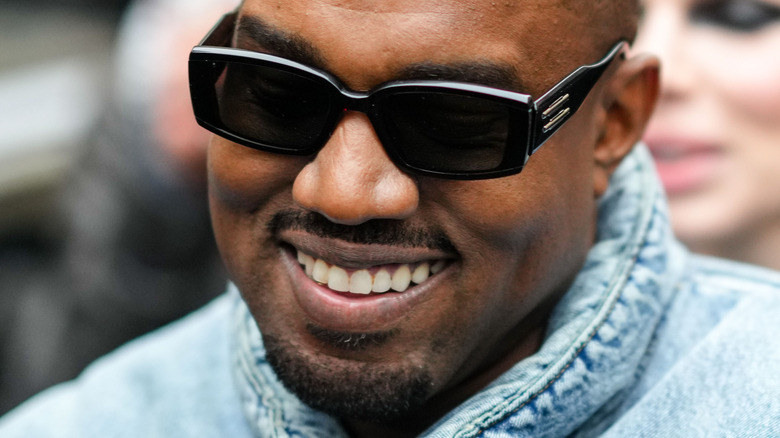 Edward Berthelot/Getty Images
On August 29, 2021, Kanye "Ye" West released "Donda." The 27-song collection has garnered generally positive reviews from fans and critics, and was nominated for the album of the year category of the 2022 Grammy Awards, per Yahoo. It's not surprising, considering West has been collecting Grammy awards like trophies since 2004.
The successful release of "Donda" came two years after Ye's last music collection, "Jesus Is King," which won a Grammy for best contemporary Christian music album, as NME reported. Like "Jesus Is King," "Donda" has themes of Christianity and the importance of seeking counsel through God. "New Again" is a track from "Donda" that Ye has carefully crafted to contain lyrics that go along with these subjects. He also edited the original version of the song by removing vocals from Chris Brown, and instead added his own voice and the voice of a choir group as background vocals, per Pitchfork. The meaning behind "New Again" is deeply connected to Ye's intimate beliefs while remaining relatable to his wide audience of fans.
'New Again' reveals Kanye West's closeness to God through thick and thin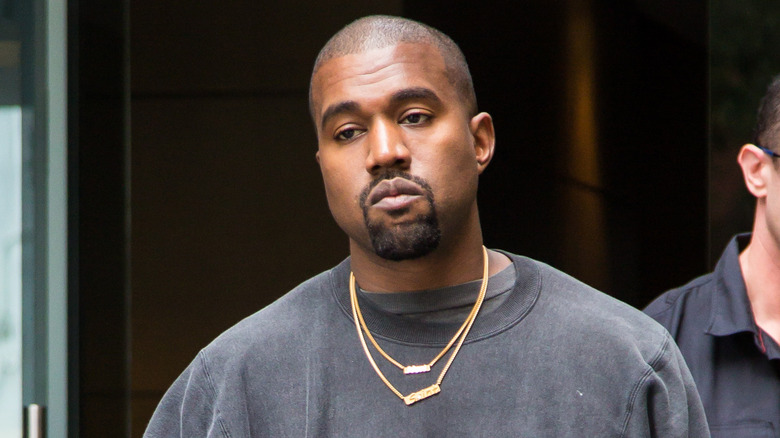 Liam Goodner/Shutterstock
When Kanye "Ye" West wrote lyrics for "New Again" — the 18th song on his album, "Donda" — he included messages related to the conflict between Christian beliefs and the inevitability of human sin. The lines from the song, "And I repent for everything I'ma do again (I accept Him) / And I repent for everything I'ma do again," demonstrate West's repentant attitude, regardless of his current or future behavior. The rapper knows his actions are flawed, though he acknowledges he'll repeat such behaviors in the future. As a result, Ye still stays close to God and feels that this relationship brings positivity to his life.
He later goes on to sing, "Thank You, thank You, thank You for Your mercy, make me new / Make me new again, make me new again." Genius cites this as a part of Ye's beliefs as an Evangelical Christian, as he thanks God for his mercy and spreads the message that God has the ability to bring new life to listeners of the song. Ye further talks about God's power through the line, "What they vandalize, He'll evangelize, uh / He gon' part the tides, He gon' part the skies." Again, he promotes the limitless power that comes from God, which is no match for the flawed actions of humans.
Kanye West's follow-up album, 'Donda 2,' continues religious themes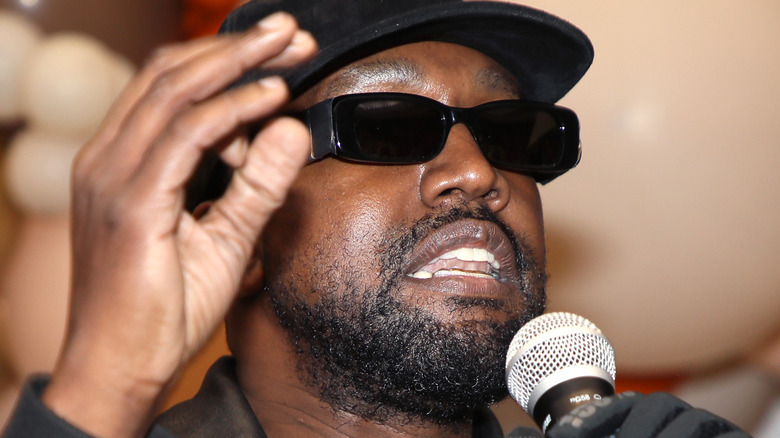 David Livingston/Getty Images
The song "New Again" from the album "Donda" carries meaningful themes about religion, faith, and God. Kanye "Ye" West has already begun to move on from the album with a new project, as his "Donda Experience Performance" show took place in February 2022 to showcase music from the new "Donda 2" collection, as Pitchfork wrote.
"Broken Road," "We Did It Kid," "Security," and "Pablo" were among the first tracks from "Donda 2" available for listening through West's Stem Player (via Complex). One song on the 22-track album, "Lift Me Up," continues Ye's deep exploration of faith. On the track, which was written by Ye (as Genius notes), Vory sings the lyrics "Lord, lift me up, oh, lift me up." Here, as he did with "New Again," Ye utilizes words that reference how he's called upon God to make it through imperfect times and come out of them feeling rejuvenated and renewed. With the trajectory of his career, it will be interesting to hear how Ye continues to incorporate purposeful lyrics into catchy, gospel-inspired tracks.