What We Know About Vladimir Putin's Ex-Wife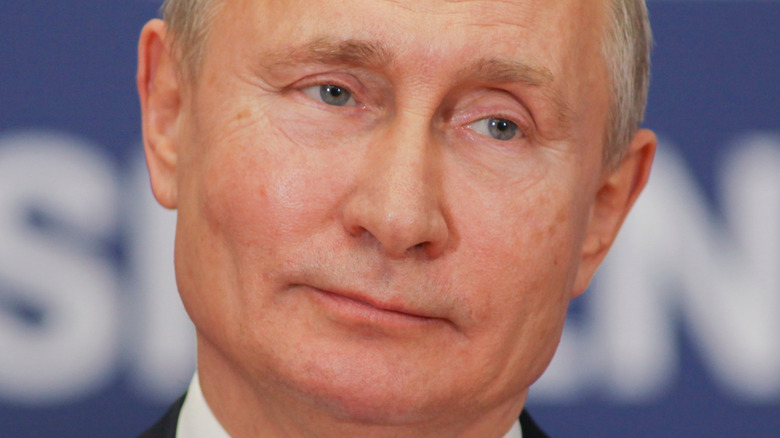 Sasa Dzambic Photography/Shutterstock
Vladimir Putin has been the face of post-Soviet Union Russia since 1999, when he first assumed the presidency of the world's largest country. While Putin stepped down as president between 2008 and 2012 because term limits prevented him from running again, he served as prime minister during that four-year period under a close ally, thus remaining the de-facto leader of Russia until his return to the highest office in 2012, according to Reuters. For more than two decades, Putin has led what was once the world's second most powerful nation, a position he has fought to win over throughout his tenure and a plight that has culminated in the 2021-2022 Russo-Ukranian crisis, The New York Times explained.
As one of Europe's longest-serving presidents, Putin's public life is well-documented. But the Russian leader has a different approach when it comes to his personal life, The New York Times noted in 2013. Through most of his presidential career, Putin's wife, Lyudmila Shkrebneva, was rarely seen by his side. When Shkrebneva accompanied the then-prime minister to a polling station on Election Day in 2012, the media speculated the Putins were merely political allies who met every six years during the elections.
Putin also rarely mentions his and Shkrebneva's two daughters, Maria, born in 1985, and Katerina, born in 1986, in an attempt to keep his private life as much in the shadows as possible, according to Insider. But even amid the secrecy, some hints show insight into Shkrebneva's life.
Lyudmila Shkrebneva is a linguist and former flight attendant
Lyudmila Shkrebneva met Vladimir Putin around 1980, when she worked as a flight attendant in the Soviet Union, according to Reuters. Their paths crossed in Leningrad, modern-day St. Petersburg, when a mutual friend invited Shkrebneva, Putin, who was then working as a KGB officer, and other friends to the theater. They didn't click right away. In fact, Putin went on to date another woman who attended the play that night. "I became friends with Lyuda," he said, referring to his future wife. While Shkrebnev worked for an airline at the time, she is also a trained linguist fluent in German, French, and Spanish.
Her proficiency in German came in handy when, two years after marrying Putin in July 1983, she relocated with her husband and infant Maria to Dresden in East Germany, where Putin was sent to work under the guise of a translator for the Soviet Union's infamous security agency, according to the Los Angeles Times. The Putins returned to Russia in 1989, when the Berlin Wall fell.
It was in the 1990s that Putin transitioned from KGB officer to politician, a career that didn't suit Shkrebneva all that much, according to Reuters. Public life "was just not her thing," said Vladimir Shevchenko, a former aide to Putin, adding "she was not a public person" and "did not like the camera." As such, Shkrebneva remained as far from the limelight as she possibly could — and eventually drifted apart from her husband.
Vladimir Putin and Lyudmila Shkrebneva divorced in 2013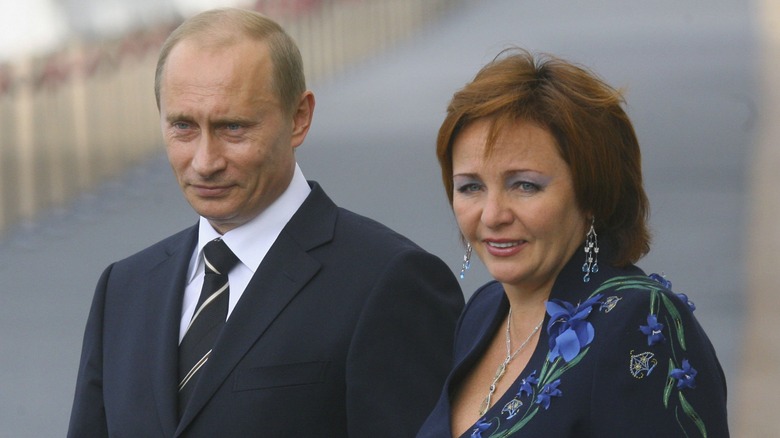 Handout/Getty Images
Vladimir Putin and Lyudmila Shkrebneva announced their divorce in June 2013, just a month shy of their 30th anniversary, the BBC reported. Both said the decision was amicable. "It was a joint decision: we hardly see each other, each of us has our own life," Putin said. Shkrebneva agreed. "Our marriage is over due to the fact that we barely see each other," she said, according to Reuters. "Vladimir Vladimirovich is completely submerged in his work. Our children have grown up, each of them is living her own life ... And I truly don't like publicity."
While much has been speculated about Putin's love life prior to and after his divorce, he remains a single man. Shkrebneva's marital status has also been subject to inspection following their divorce. In January 2016, Russian news site Sobesednik reported Shkrebneva had abandoned her married name, Putina, and tied the knot to a man 21 years her junior. Her alleged new husband is Artur Ocheretny, a businessman who worked as head of the Centre for the Development of Interpersonal Communications. The report added that Shkrebneva took her new husband's last name, becoming Lyudmila Ocheretnya.
Upon her divorce from Putin, Shkrebneva showed appreciation for her ex-husband and noted he would always be part of her life. "I am very grateful to Vladimir ..." she said. "We are always going to be very close to each other. I am sure, forever."