Shanna Moakler's Boyfriend Was Just Arrested For A Serious Crime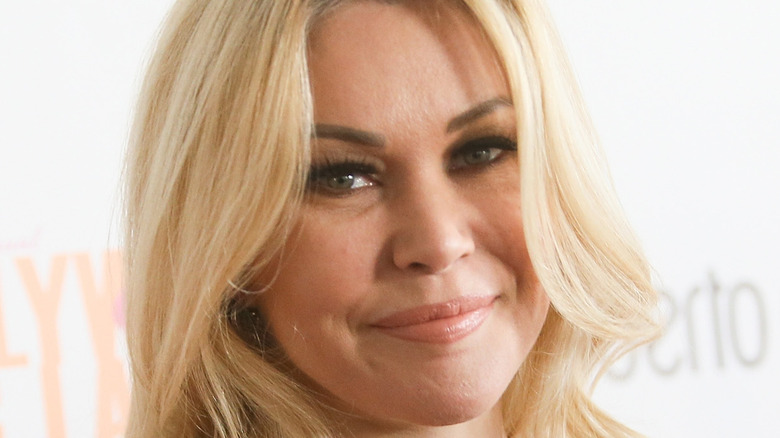 David Livingston/Getty Images
The following article includes allegations of domestic abuse.
Shanna Moakler caused a stir when she appeared on "Celebrity Big Brother." The former Miss USA often flirted with fellow housemate Lamar Odom, as the two exchanged sexual innuendos on multiple occasions. That behavior did not go unnoticed by Shanna's boyfriend, Matthew Rondeau, who was furious about his girlfriend's on-camera flirtations. "Matthew understands Shanna's on a reality show, but he feels boundaries are being crossed," a source told TMZ on February 12. In fact, Matthew was so upset that he completely reconsidered proposing to his reality star girlfriend.
Things appeared to settle for the couple once Shanna left the "Big Brother" household. The former "Meet the Barkers" star made it clear that she had zero interest in pursuing a relationship of any kind with Lamar, per TMZ. Although they flirted on-air, Shanna insisted that the former NBA player only had eyes for his ex, Khloe Kardashian, per TooFab.
After leaving the "Big Brother" house, Shanna anticipated blowback from flirting with another man, but she made seeing Matthew her top priority. "I haven't seen all the headlines or social media so I'm not 100% what's going on but, yes, he's the first person I got to see and it was amazing," she told TooFab. Unfortunately, that "amazing" feeling between the couple did not last.
Shanna Moakler's boyfriend went on a tirade
A fight between Shanna Moakler and her boyfriend Matthew Rondeau wound up with him in handcuffs. On February 23, the couple got into a heated verbal argument after Matthew accused Shanna of cheating on him, per TMZ. The couple's dispute was so intense that the reality star left their home for the night and went to stay with a neighbor. When Shanna returned the next day, on February 24, tempers had not simmered and the arguing only intensified. Allegedly, the fight turned physical, and police were called to the house. There were "visible marks" on Shanna's body, according to TMZ. The cops then arrested Matthew and charged him with felony domestic violence.
Before the arrest, Matthew went on a profanity-laced tirade on Instagram Live where he declared his relationship with Shanna was finished. "It's over ... I am never talking to this f***ing specimen of a f***ing human again," Matthew said on his since-deleted Instagram rant (via Page Six). He accused his girlfriend of "talking to" other guys the entire time they had been dating. Matthew said Shanna was still in love with her ex-husband, Travis Barker, and called her a "f***ing wh***."
In addition to Matthew's video diatribe, he posted a message to Shanna on his Instagram Stories. "Your f***ing disgusting @shannamoakler," he wrote.
If you or someone you know is dealing with domestic abuse, you can call the National Domestic Violence Hotline at 1−800−799−7233. You can also find more information, resources, and support at their website.