LeBron James' Son Bronny Just Landed A Major Gig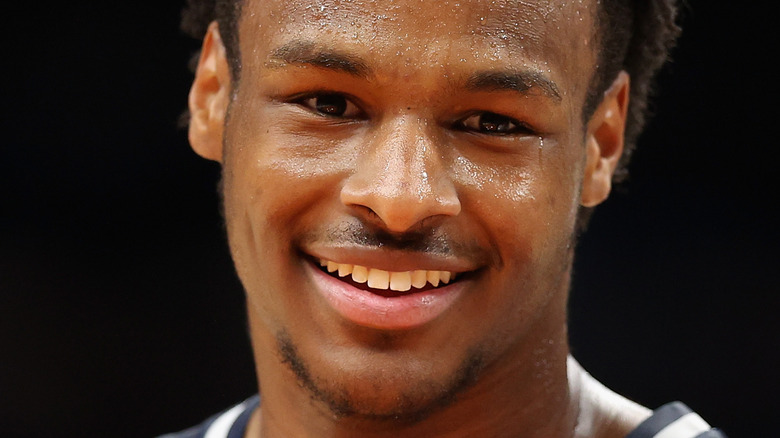 Christian Petersen/Getty Images
A dream that LeBron James wants to see come true at the end of his historic career is to play alongside his son Bronny James. "My last year will be played with my son," the NBA legend told The Athletic on February 19. "I would do whatever it takes to play with my son for one year. It's not about the money at that point." Even though LeBron's desire to team up with Bronny is not financially motivated, the high school basketball phenom has made some savvy business moves of his own.
Bronny joined the popular esports organization FaZe Clan in 2020 when he was 15-years-old. Although that was not a "financial relationship" it opened the door for future opportunities. "He does not have a contract with FaZe Clan," FaZe Clan's head of communications, Chelsey Northern, told The Washington Post at the time. "It's an organic relationship between the talent." Another employee at the company said relationships between FaZe and "famous athletes and musicians" were common. "It happens not at the business level but at the talent level," they told the outlet while explaining how FaZe players would reach out via direct messages to celebrities of Bronny's ilk.
By February 2022, Bronny took a giant step in securing his brand as he filed for three trademarks: BJ JR, BRONNY, and BRONALD, per Boardroom. Those were filed with a focus in the digital space, but shortly after Bronny inked a contract with a major brand outside the digital realm. 
Bronny James's first clothing sponsorship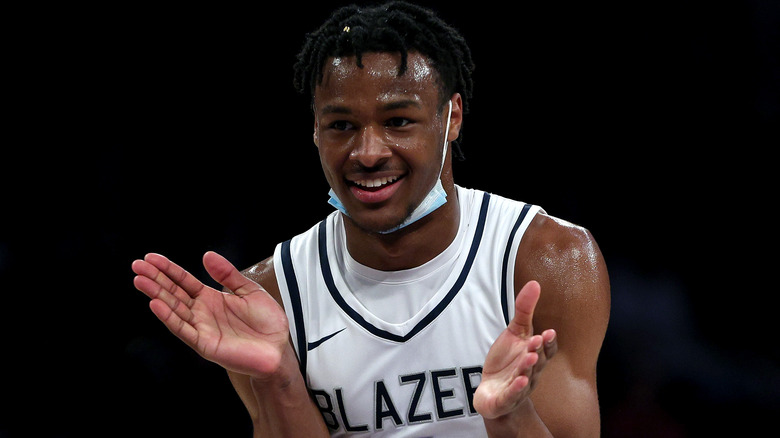 Harry How/Getty Images
Bronny James signed his first major sponsorship deal on February 24 when it was announced he was partnering with PSD Underwear. "It's official! Who's ready for @bronny collection! Welcome to the fam," the brand wrote in an Instagram post that featured the Sienna Canyon High School star holding a pair of the brand's flamboyantly-designed underwear. NBA stars such as Ja Morant, Jimmy Butler, and Trae Young were already among PSD's basketball roster, per Yahoo! Sports. Bronny said he had been a fan of the brand for years, so the sponsorship was a natural fit. "When the connection is real and authentic, it makes a partnership like this really exciting," the high school junior said in a statement. "I'm looking forward to sharing my ideas and input to create some pretty unique pieces."
LeBron James playfully congratulated his son on the new deal while already jockeying for free gear. "Who's ready for the Bronny collection that's coming with @PSDunderwear??!!! Well I know I am!! Need those ASAP son! Thank you in advance," he tweeted after the deal was announced.
The PSD sponsorship will likely only be the first of many for Bronny. Thanks to his on-court talents — and being the son of LeBron — the high school basketball phenom had amassed a giant online following. Experts believed he would continue to leverage his Name, Image, and Likeness (NIL) in several deals projected at $5.1 million before he even graduated high school, per On3.