Piers Morgan Has A Far-Fetched Request For Meghan Markle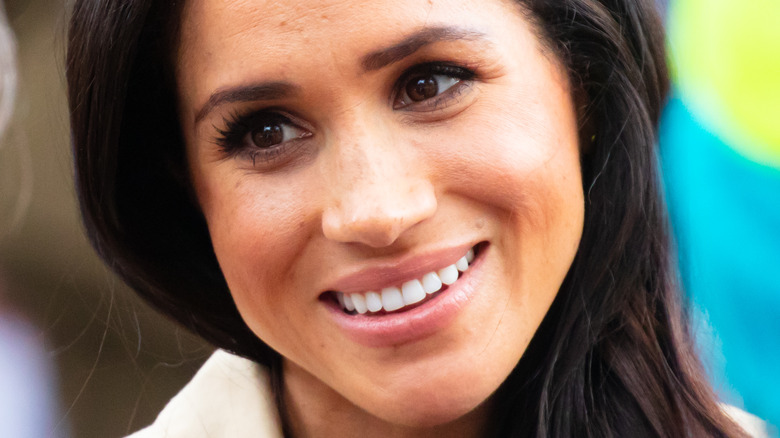 FiledIMAGE/Shutterstock
It's hard to imagine a scenario in which Meghan Markle would agree to sit down with Piers Morgan for a spirited chat, but the controversial British journalist has now actually made such a request. Morgan has gone on record, asking the Duchess of Sussex to be the very first guest on his upcoming TalkTV chatfest. That's right.
During an appearance on Sky News Australia, Morgan described his upcoming show as a "platform for free speech and democratic debate" as he denounced today's cancel culture. "[I want] people to come on and have their own opinion without being shamed and canceled, because that's the way back for society," Morgan explained. He then issued an appeal to Markle, with whom he's had quite a history. "If Meghan Markle's watching — I'm sure she is — if you want to be my first guest, we have a bit of unfinished business," Morgan told the outlet. "I'm available."
Sure, he is — it's his show— but is Meghan ready to go toe-to-toe with the outspoken TV host? 
Piers Morgan previously slammed Meghan Markle and left his show over his remarks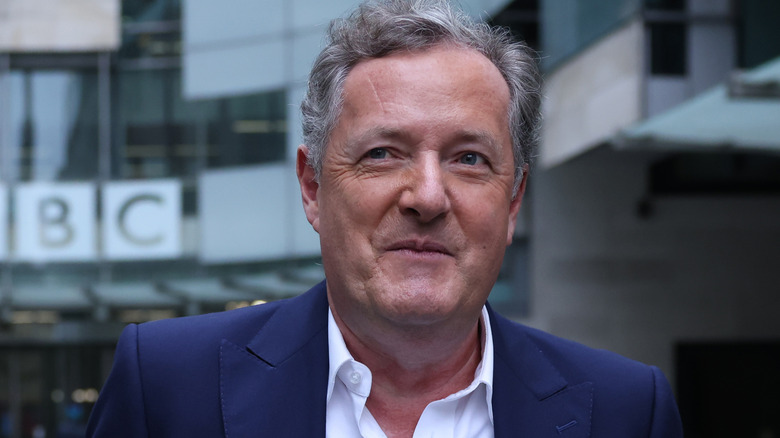 Hollie Adams/Getty Images
In 2021, Piers Morgan was under fire for comments he made about Meghan Markle's famous sitdown interview with Oprah Winfrey.  He was ultimately forced to end his six-year run on ITV's "Good Morning Britain" after saying he didn't buy Meghan's claims about the mental health issues and racism she endured as a member of the royal family. Meghan filed a complaint against Morgan with the UK communications watchdog Ofcom, but it was ruled that the TV journalist had been entitled to share his opinions, the Independent reported.
This came after Morgan blasted Meghan and Prince Harry in a fiery op-ed for the Daily Mail after they announced their decision to step down as working members of the royal family in 2020. At the time, Morgan slammed Meghan as "a selfish, ruthless social climber" who ghosted him once she met her prince and was now "playing this despicable race card." He also accused Meghan of wanting to rid herself of "the boring bits" of royal life, but still be a royal star. Morgan capped off his royal roller coaster by tweeting that he still didn't believe Meghan's story about her experiences. "If you did, OK," he wrote. "Freedom of speech is a hill I'm happy to die on. Thanks for all the love, and hate. I'm off to spend more time with my opinions."
But if Morgan is now trying to woo the royal over to his talk show, he may want to stop shading her. In December 2021, Morgan tweeted a photo of Kate Middleton with the caption, "A proper duchess," per Metro. Perhaps she would make a better first guest?