Ukraine's President Just Refused American-Offered Evacuation. Here's What We Know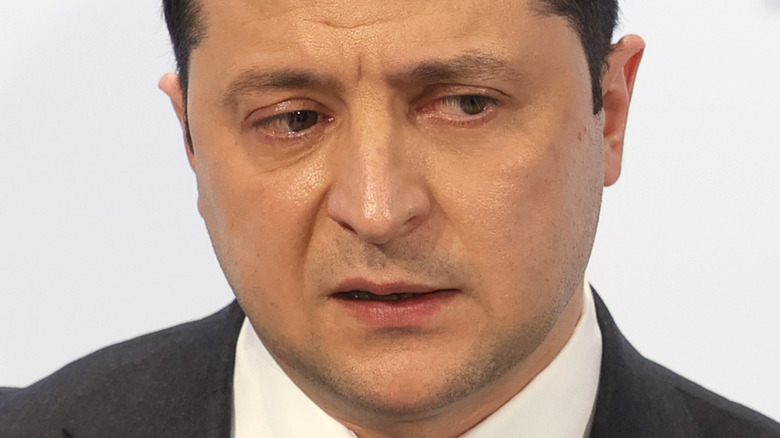 Pool/Getty Images
Ukrainian President Volodymyr Zelenskyy has become a global hero fighting for his country. Zelenskyy's leadership and the bravery of the Ukrainians fighting against President Vladimir Putin's troops have inspired the world. But Zelenskyy made headlines after refusing an offer from the United States. On February 26, Zelenskyy posted a Twitter video. According to a CNN translation, he said: "Do not believe the fakes. I am here. We are not putting down arms. We will be defending our country because our weapon is truth, and our truth is that this is our land, our country, our children, and we will defend all of this." He continued, "That is it. That's all I wanted to tell you. Glory to Ukraine." 
The Ukrainian leader's efforts since Russia's unprompted attack have motivated citizens to remain strong and he has garnered the praise of nations across the globe. The international community has widely condemned Putin's attack upon Ukraine, with mounting economic sanctions and assistance from NATO nations and neighboring countries pouring into the country. Despite the looming danger Zelenskyy faces as Russia's publicly declared enemy No. 1, Zelenskyy has refused to leave the country. Axios reported on the day Russia invaded Ukraine that Zelenskyy told world leaders on a video call, "This might be the last time you see me alive."
Now, the United States is offering Zelenskyy an escape plan, and his response will leave you speechless.
President of Ukraine said he needs ammunition, 'not a ride'
Ukrainian President Volodymyr Zelenskyy shocked the world by refusing American-offered evacuation. People reported on Zelenskyy's stunning bravery, as he tweeted, "The fight is here; I need ammunition, not a ride." On February 26, Reuters reported that US Secretary of State Antony Blinken announced President Biden released an additional $350 million in weapons for Ukraine to fight Russia. Blinken said the latest weapons shipments to Ukraine were "unprecedented." According to CNN, the Federal Communications Commission has opened up an investigation into media companies with ownership ties to Russia to stop disinformation. American bars and restaurants are even taking Russian vodka from their shelves.
CNN reported late on February 26 that the United States, the EU, the United Kingdom, and Canada announced they would expel key Russian banks from SWIFT. Russia's disconnection from the high-security network connecting thousands of financial institutions worldwide is a blow. But all of the countries involved pledge to "collectively ensure that this war is a strategic failure for (Russian President Vladimir) Putin." "President of Ukraine" is trending on Twitter in the United States, with Americans commenting on the Ukrainian leader's brave actions as compared to American politicians. American media outlet Good posted a photo of Zelensky and tweeted: "This is Volodymyr Zelensky. President of Ukraine ...He is standing up to a dictator. Because he is brave. Because he knows what happens if you don't."