Lisa Kudrow And Mira Sorvino Reference One Of Their Most Iconic Looks At SAG Awards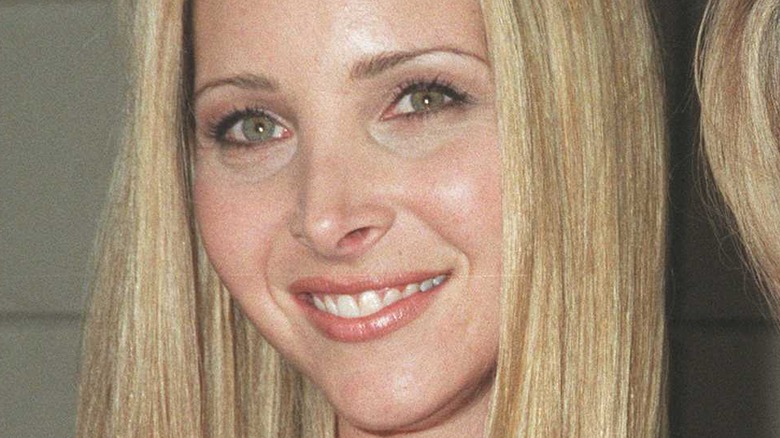 Albert Ortega/Getty Images
Thanks to Lisa Kudrow and Mira Sorvino, the 2022 SAG Awards got a blast from the past — 25 years past, to be exact. In 1997, Kudrow and Sorvino teamed up to play the iconic duo, Michele Weinberger and Romy White, respectively, in the famous film "Romy and Michele's High School Reunion." The two were best friends to the extreme — dressing in nearly matching outfits, styling their mutually blonde hair alike, and certainly standing out from the crowd. 
"Romy and Michele's High School Reunion" is a movie about testing the bonds of friendship. In the iconic comedy, the two are virtually inseparable and want to upstage their old classmates at their reunion. Once they get there, they mingle with former peers, trying to reinvent themselves by pretending to have invented Post-it notes, just to impress everyone. Of course, it eventually all blows up in their faces — and they realize the best thing to be is themselves.
According to a YouTube virtual gala streamed live by Variety in September 2020, Sorvino was definitely hopeful for a sequel to the cult-classic. "It's not in my hands. It's up to Disney. I would be so grateful if they would decide to do it," she said at the time. Whether Disney will ever do a sequel is still a matter of debate. That didn't stop Sorvino and Kudrow from giving fans a mini-reunion anyway, as they stepped onstage to present the award for outstanding ensemble in a comedy series at the SAGs.
Mira Sorvino and Lisa Kudrow stepped back in time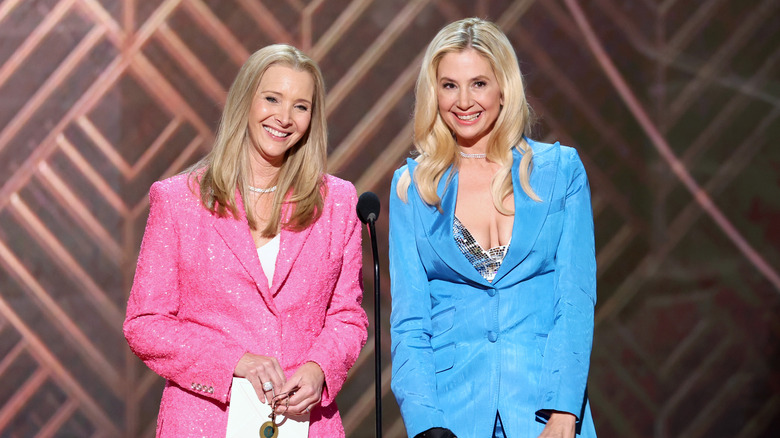 Rich Fury/Getty Images
To celebrate the 25th anniversary of their classic comedy "Romy and Michele's High School Reunion," Mira Sorvino and Lisa Kudrow threw a mini-reunion at the 2022 SAG awards and coordinated their outfits to be reminiscent of their dresses from the beloved movie. The two were set to deliver the award for Outstanding Ensemble in a Comedy Series, and according to People, slipped easily back into their ditzy characters for their speech. Stepping on stage to Cindy Lauper's "Time After Time," the two smiled as their intentions became obvious. 
"You look cute," Sorvino told her former co-star. "I know, thanks. So do you, of course," Kudrow replied. "I just realized this; we're wearing great ensembles while at the same time presenting to great ensembles," Sorvino added. "You are so right. You are so right and these cast ensembles are so hilarious," Kudrow replied. "And you knew that ensemble had two meanings. Okay, you're genius."
Perhaps the best moment came when Sorvino pulled out Post-it notes, another nod to their funny film, pretending that the nominees for the ensemble comedy category were written on them. Eventually the two did reveal that Apple+'s smash hit "Ted Lasso" garnered the award, per USA Today.