Fran Drescher Completely Stole The SAG Awards With Her Gorgeous Look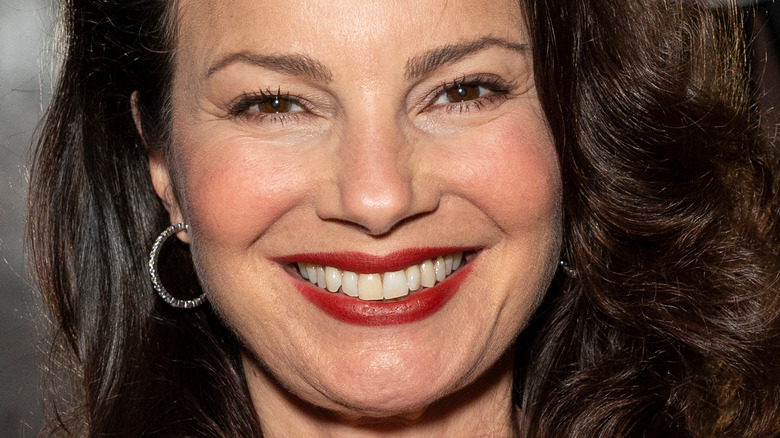 lev radin/Shutterstock
Award season brings about plenty to see, celebrate, criticize, and enjoy. Putting Twitter chatter of award snubs aside, the 2022 SAG Awards offered viewers classic red carpet looks, timely speeches, and exciting moments like the reunion of Mira Sorvino and Lisa Kudrow looking very Romy and Michele. There was also new leadership to be featured for the evening.
Fran Drescher arrived at the SAG Awards for the first time in a new position. The actor was elected president of the SAG-AFTRA in September 2021. In a statement shared with The Hollywood Reporter, Drescher said she was "honored" to serve the union. "Together we will navigate through these troubled times of global health crisis and together we will rise up out of the melee to do what we do best, entertain and inform," she added.
This could be the beginning of a return to the spotlight for Drescher, especially as her popularity still holds strong. Fans of "The Nanny" have been getting a nostalgic fix as the series headed to HBO Max in January — an announcement Drescher was thrilled to share alongside her TV mother Sylvia, played by Renée Taylor. A fun Instagram post of the two revealed a lot of love from the fans, a similar response to any appearance Drescher makes that channels her iconic character, Fran Fine. Her look for the SAG Awards was no different.
Fran Drescher stunned in a regal gown fit for her new title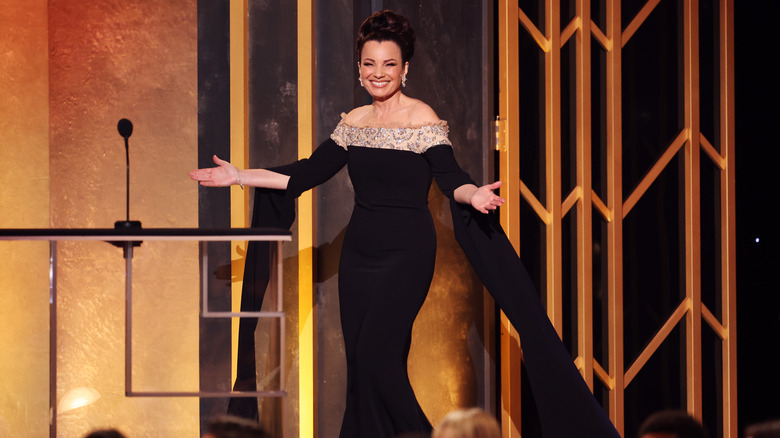 Rich Fury/Getty Images
Fran Drescher wore a sleek black Reem Acra gown with a gold embroidered section around her shoulders to the 2022 SAG Awards. She completed the look with a classic smokey eye, a nude lip, and a bejeweled updo that delighted fans. The actor shared the finished look on Instagram and fans commented praise of "perfect, elegant, timeless, iconic!!!" and many noted the "Fran Fine vibes."
The SAG-AFTRA president shared the process of getting glam for the big night in a post and revealed, "it only took three hours." Drescher gave a big laugh and gave credit to her squad, saying they "did a yeoman's job." Her "A-team" included John Lieckfelt on hair, Gregory Arlt on makeup, and stylist Brenda Cooper — a longtime collaborator who styled iconic outfits on "The Nanny," according to Vogue.
Drescher spoke with People during the pre-show: "I'm honored to be here and to celebrate all this wonderful talent." Her new role at the event prompted quite a bit of buzz from her peers. "Everyone is saying 'Madam President' and 'I voted for you' and 'I'm so happy that you're our president'," she shared. Looking forward to the "jam-packed" event, Drescher noted with the attendance of so many incredible actors and ensembles, "it's just going to be wonderful stargazing." As she enjoyed the surrounding glamor, the spotlight found her continuing a legacy of choice fashion moves and going above and beyond in the next chapter of her career.