The Truth About Iowa Governor Kim Reynolds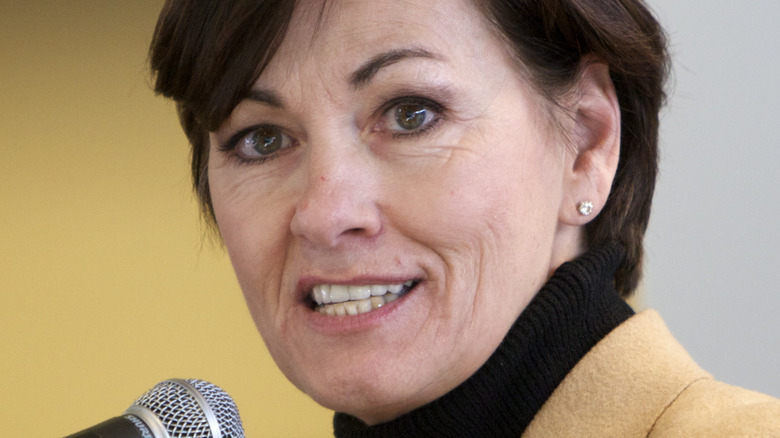 Rich Koele/Shutterstock
On February 22 Republican leader Mitch McConnell announced that Iowa Governor Kim Reynolds would be delivering the rebuttal following President Joe Biden's first State of the Union address. "While Washington Democrats fail working Americans, Republican governors are fighting and winning for families. Governor Kim Reynolds' brave, bold, and successful leadership for Iowans has put her right at the front of that pack," he penned in a statement.
Reynolds relished in the opportunity with her own statement that read, "Republican Governors across America are leading the charge in defending liberty and securing unmatched economic prosperity in our states. The Biden Administration is governing from the far-left, ignoring the problems of working-class Americans while pushing an agenda that stifles free speech, free thought, and economic freedom. The American people have had enough, but there is an alternative and that's what I look forward to sharing on Tuesday evening." 
Still, not everyone was thrilled with the pick. "Heard on radio while driving: '...Kim Reynolds will deliver the Rep Party's rebuttal to President Biden's State of the Union address....' Must confess my first response was, "Wait, WHO?" So yeah, I was able to pull it up after a minute, but what rationale have I missed?" another user wrote. So who is Kim Reynolds? And what is there to know about the politician? The answer just might surprise you... 
Governor Kim Reynolds was dubbed 'COVID Kim' by critics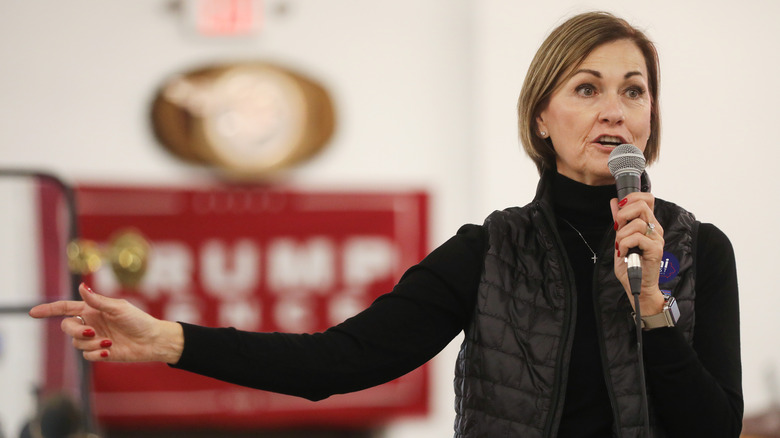 Mario Tama/Getty Images
Conservative politician Kim Reynolds fancies herself a "small-town, rural Iowa girl at heart," according to the official Governor for Iowa website. But that's not all — she's also a wife, mother of three, and grandmother of 11. "It is very important for me to carve out time for my family and my grandchildren. ... They keep me grounded and they help me do a better job," she once told the Des Moines Register.
Aside from her personal life, however, cutting taxes, improving access to childcare and increasing renewable energy are among her priorities as the governor of Iowa. Notably missing from her agenda, however, were any stay-at-home orders, mask requirements, or vaccine mandates, even during the height of the COVID-19 pandemic — a move that prompted some critics to give her the nickname, "COVID Kim," per Iowa Starting Line. "I put my trust in people to do the right thing. They did the right thing. I didn't close us down," she explained to WHO13 about her decisions governing during a pandemic. "So I ask Iowans to step up. To take that extra step, even though it was over the holidays, to maybe keep those gatherings small or just with immediate family. And because I think I hadn't just overburdened them and gone too far with some of the regulations when I needed them to do it, they stepped up, they did it."