Nancy Pelosi's Facial Expressions Have Twitter Talking For All The Wrong Reasons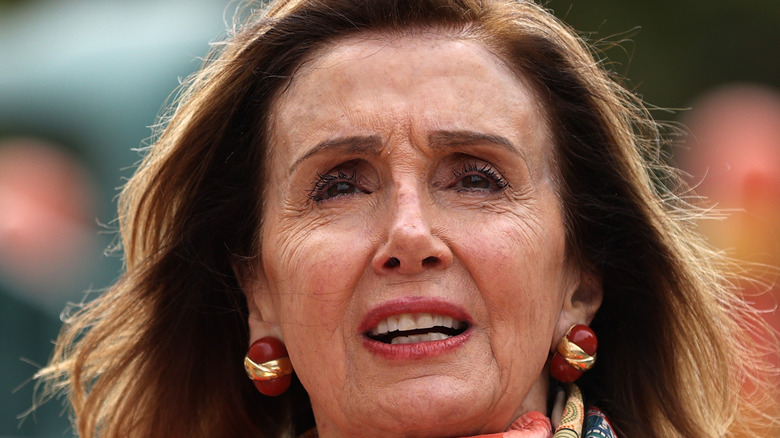 Justin Sullivan/Getty Images
Millions of people across the globe look forward to the State of the Union every year for a variety of reasons. For one, they want to hear what the American president has to say about the current issues the country is facing, along with new policies and strategies. For another, they want to see how House Speaker Nancy Pelosi reacts.
In 2020, Pelosi went viral for tearing Donald Trump's speech in half amid the applause he was getting from the Republicans in the room. While many balked at the move, saying how it was unprofessional, Pelosi simply said that it was "a courteous thing to do considering the alternative. It was such a dirty speech." She added, "He shredded the truth so I shredded his speech."
In the same State of the Union, the "Pelosi Clap" was also born. As seen in many a video and GIFs, Pelosi was seen clapping directly towards Trump in a seemingly mocking manner. Many thought that the applause was a form of shade and not because she loved what he had said that night. Fast forward to today, Pelosi is once again being talked about on Twitter, but for a very different reason.
Twitter thinks Nancy Pelosi got plastic surgery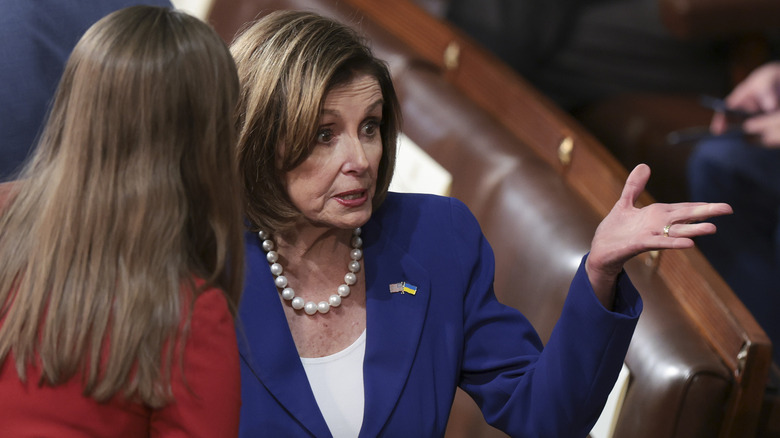 Win Mcnamee/Getty Images
Just like in previous State of the Union addresses, Nancy Pelosi was within the camera's frame again in 2022, so many are zeroing in on her reactions throughout the speech. But this time around, Twitter has a collective assumption: the politician got plastic surgery.
"Nancy Pelosi's plastic surgery dimples makes her look like the joker when she smiles," one user said. "Is Nancy Pelosi's makeup peeling or is the plastic falling off from surgery?" another user observed. A user also theorized that her surgeon had gone overboard. "Is @SpeakerPelosi trying to keep her teeth in her mouth or what's the issue," they tweeted. "Too much plastic surgery or what." But there are also some who thought that she looked amazing. "People have a lot of opinions about Nancy Pelosi but I think we can agree that whoever is doing her plastic surgery is a magical wizard," one user shared. "Pelosi's plastic surgery looks great tho.. nice face lift," tweeted another.
Whatever the case, whether she got surgery or not is irrelevant anyway. We may not get clear answers, but one thing's for sure, you'll see a whole lot of the iconic Pelosi clap throughout the night.