Nancy Pelosi Didn't Hold Back In Her Post-Impeachment Statement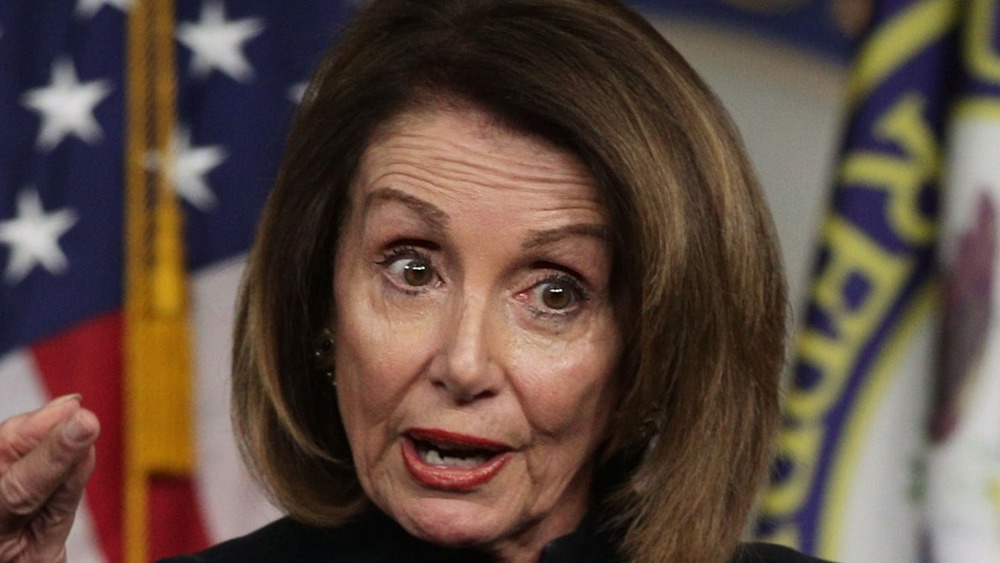 Alex Wong/Getty Images
Nancy Pelosi had harsh words for Senate Republicans after Donald Trump was acquitted in his second impeachment trial on Feb. 13, 2021. After the verdict, Speaker Pelosi appeared at the House impeachment managers' press conference blasting Senate Republicans and saying that "justice was not done."
Fox News reported that the Senate acquitted Trump (again) with a 57-43 vote to convict the former president, coming up 10 votes short of the majority needed to find Trump guilty. According to Fox News, Pelosi said, "What we saw in that Senate today was a cowardly group of Republicans."
In an official statement, Pelosi said, "Our House managers laid out a case of overwhelming and irrefutable evidence of this searing truth: that Donald Trump incited a violent mob to attack the Capitol and then refused to intervene to stop the attack, even as his mob threatened to 'hang Mike Pence.'"
She continued, "Trump's incitement of insurrection against our Democracy put Senators, Members of the Congress, staff and heroic law enforcement officers in mortal danger." Keep reading to find out more about how Speaker Pelosi didn't hold back after the impeachment verdict.
Nancy Pelosi has a message for Mitch McConnell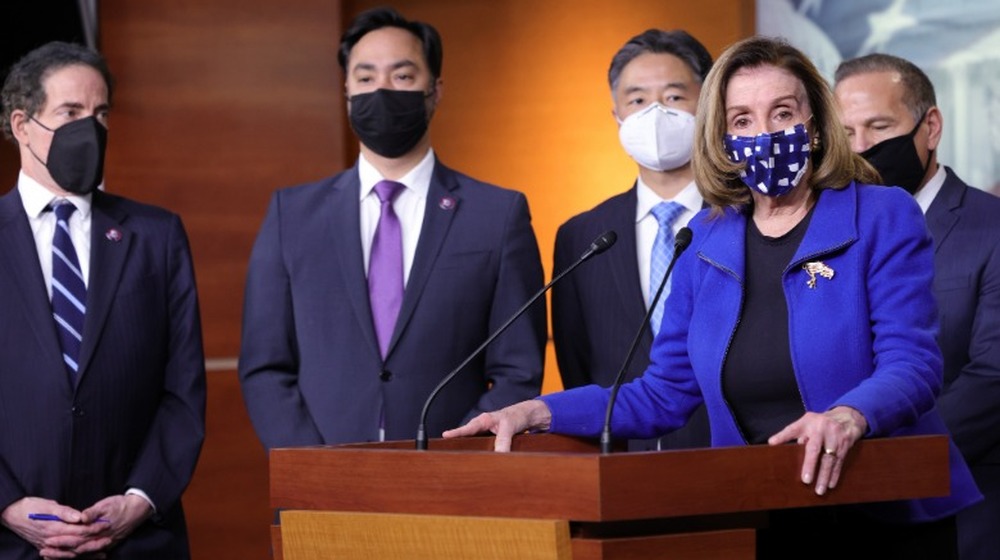 Win McNamee/Getty Images
Nancy Pelosi singled out Republican leader Mitch McConnell during her appearance at the post-verdict press conference. Speaker Pelosi blasted McConnell for delaying Donald Trump's impeachment trial, then saying that he couldn't vote to convict the former president because the trial took place after Trump left office.
At the House managers' press conference, Pelosi revisited the reason for the timing of the trial. The Daily Mail reported on Speaker Pelosi's recap of the situation and how McConnell "refused to accept the impeachment article against Trump before Joe Biden's inauguration."
It was clear that Pelosi was angry at McConnell; she said, "So for him to get up there and make this indictment against the president and then say, 'but I can't vote for it because it's after the fact.' The fact that he established! The fact that he established that it could not be delivered after the inauguration."
Pelosi was reacting to a statement Sen. McConnell made after he voted to acquit former President Trump, stating that the House managers made their case. According to NBC News, the GOP leader said Trump's actions were a "disgraceful dereliction of duty." McConnell went on to say, "There's no question, none, that President Trump is practically and morally responsible for provoking the events of the day. No question about it."