The Many Famous Faces Vying To Play Madonna In Her Biopic Revealed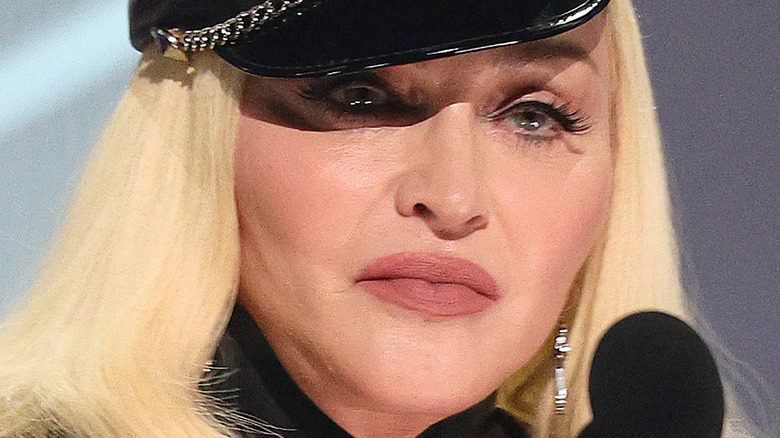 Theo Wargo/Getty Images
Madonna is without a doubt one of the most legendary entertainers in the world, and she has a fascinating story behind her success. When she first arrived in New York after leaving her home state of Michigan, Madonna had plans to become a dancer, per Biography, before deciding to embark on a career as a singer. In an Instagram post from August 2020, Madonna shared a throwback photo of herself in her early days in New York, which included the message, "No YouTube, No Vine, No The Voice, No American Idol, No Disney. Just $35 and a dream," referencing the slim amount of money she possessed when she set foot in the Big Apple.
The unparalleled success Madonna has achieved throughout her career almost sounds like a movie come to life, so it made sense when it was announced on the singer's website in 2020 that Universal Pictures would be creating a project depicting the singer's life story, with Madonna herself directing the biopic. The announcement has left everyone wondering: who will play the Queen of Pop in the film?
Some famous Euphoria co-stars are being considered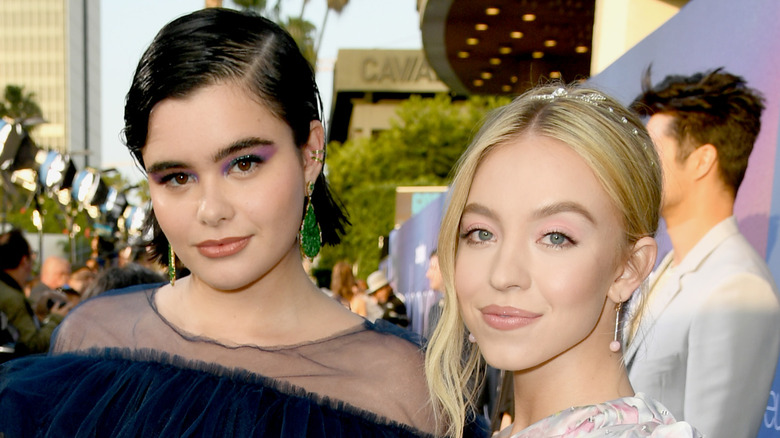 Kevin Winter/Getty Images
Since it was announced that Madonna would be writing and directing a project based on her true life story, there have been reports that a few actors are being considered to play the pop icon. In September 2021, while speaking on the red carpet to ET Canada at her "Madame X" premiere, Madonna was asked about the possibility of "Little Women" actor Florence Pugh playing her. "We haven't decided yet, but she's definitely up there ... on the list, if she'll have me," Madonna said.
Since this statement was made, the Daily Mail has reported that two lead actors from the hit HBO series, "Euphoria," Sydney Sweeney and Barbie Ferreira, are also being considered, and both have auditioned for the role. Furthermore, "Ozark" star Julia Garner has also been named as an actor who auditioned for the part. With many talented names in the mix thus far, it will be very interesting to see who ends up winning the coveted role.
Madonna will have the final say in who gets the part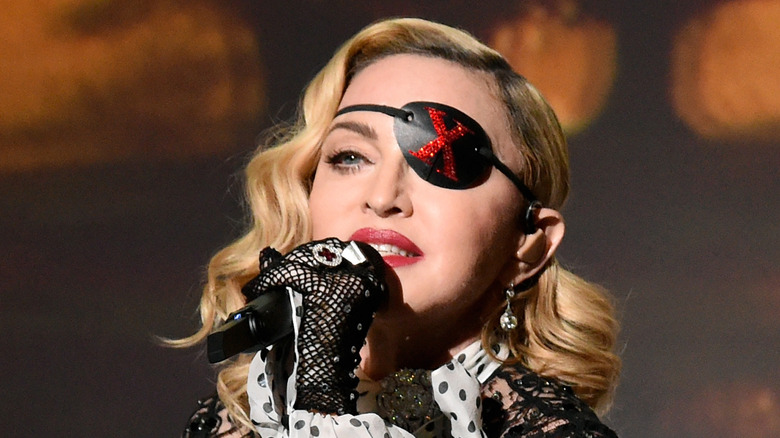 Kevin Mazur/Getty Images
While we don't yet know which actor will be portraying her in the upcoming film documenting her life story, this choice will ultimately be up to Madonna herself. "The final decision will be Madonna's alone, since she's directing and it's her story," a source previously told Mirror.
As casting rumors continue to swirl, one thing is certain: Madonna is ready to make a biopic that tells her story the way she sees it. In an interview on "The Tonight Show Starring Jimmy Fallon" in 2021, Madonna detailed how she decided to step in and take charge of this venture.
"The reason I'm doing it is because a bunch of people have tried to write movies about me, but they're always men," she said. Madonna further stated that she decided to take matters in to her own hands when a major movie studio sent her a script on her life that she said had "nothing true" written in it, and with a director on board whom she felt had "no respect for women." Madonna told Fallon, "I just said, 'You know what, there is nobody on this planet that can write or direct, ... [or] make a movie about me better than me.'" Watching the film, which she referred to as a "visual autobiography," when it's completed will be even more powerful knowing that Madonna had such a hands-on role in sharing her story with the world.