Who Are Maude Apatow's Famous Parents?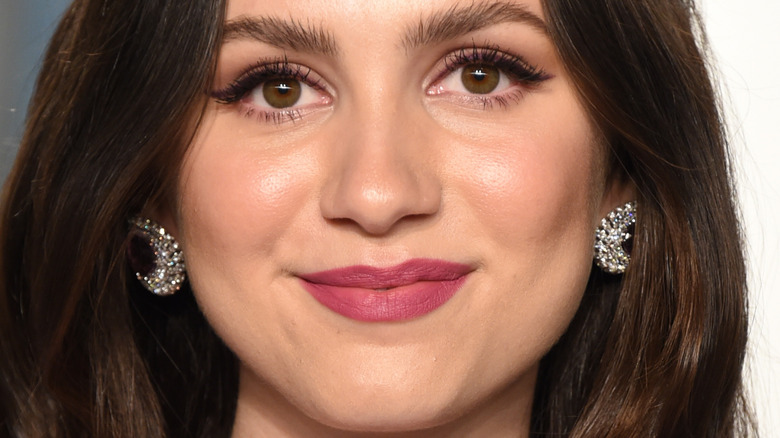 John Shearer/Getty Images
Maude Apatow is currently one of the hottest young actors in Hollywood for her portrayal of Lexi in the HBO series "Euphoria." The series' second season was highly anticipated by loyal fans, who were not disappointed by these new episodes. As reported by Deadline, early 2022 saw a surge in viewers for the edgy high school drama. The viewership spike resulted in "Euphoria" becoming one of the best-performing shows on HBO in two decades, second only to "Game of Thrones."
Apatow opened up about playing Lexi and revealed she relates to her character's passion for arts. "I think Lexi's very similar to me, but also very different in a lot of ways," she said in a L'Officiel USA interview. "I think I relate to my character in high school ... We were both very aggressive theater kids." Apatow's interest in performing isn't a big shock to anyone who may be aware of her two famous parents, who are two of the most influential people in the entertainment industry.
Her parents are Judd Apatow and Leslie Mann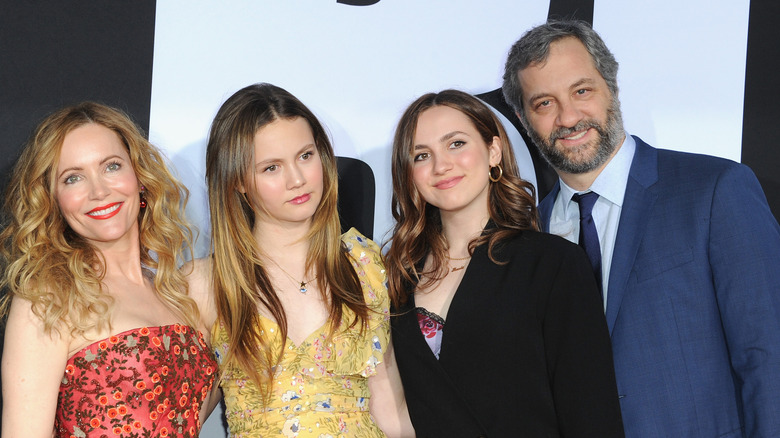 Albert L. Ortega/Getty Images
While Maude Apatow is forging her own successful path in Hollywood by acting in projects like HBO's "Euphoria," she was surrounded by some of the best artists in the business right at home. Her parents are writer, director, and producer Judd Apatow and actor Leslie Mann. As her IMDb page states, Maude's earliest parts were in projects that her famous parents were involved in, including roles in "Knocked Up," "Funny People," and "This Is 40." Judd wrote and directed all three films, and Leslie played lead roles in each. Their collaborations have continued up to recent years, as Maude starred in the 2020 film "The King of Staten Island," directed and written by her dad Judd. In an interview with Elle UK, Maude opened up about the experience of working with her dad as she promoted the movie.
"The best thing about working with my dad is ... I think he knows me really well, and he pushes me because he knows what I'm capable of ... I think I like working with him because he knows how to talk to me and direct me well, and we have fun working together," she said. This talented family always manages to create an impressive and entertaining project, and they also have publicly shown how close they are in real life.
The Apatows are a tight-knit family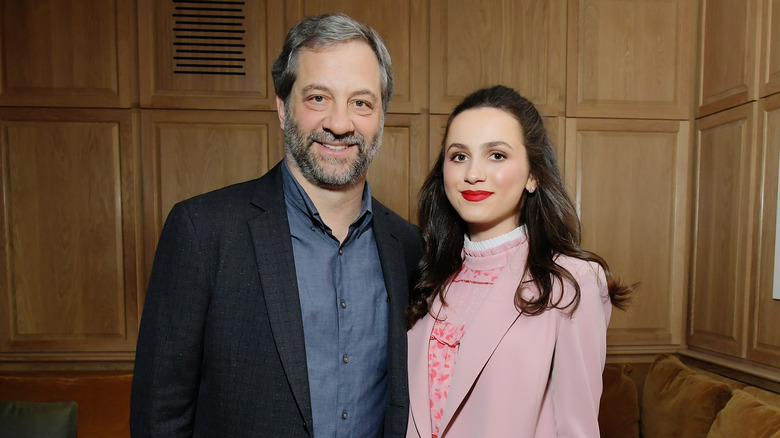 Charley Gallay/Getty Images
Actor Maude Apatow has a history of Hollywood success in her blood since her parents are Hollywood greats Judd Apatow and Leslie Mann. Judd and Leslie have made their names well-respected in the business through leading many comedy movies over the years, such as "The 40-Year-Old Virgin" and "Knocked Up." Aside from Maude working on numerous films with her parents and younger sister, Iris, over the years, she has also branched out to participate in advertisements with her mom. Leslie and Maude have starred in some commercials together for Jergen's skincare products, which they spoke about for a Mother's Day interview with Entertainment Tonight in 2021.
During this chat, Maude was asked what her mom means to her in her life, and she said, "I'm so lucky, I have the best mom, and my mom's my best friend." In 2020, Maude also did a fun father/daughter interview with Judd for BuzzFeed, in which they discussed topics ranging from their favorite TV shows to their pet peeves and demonstrated how well they know each other. The Apatows' joint career ventures have proven that the family works together brilliantly on and off-screen!