The Truth About Lily Allen's First Marriage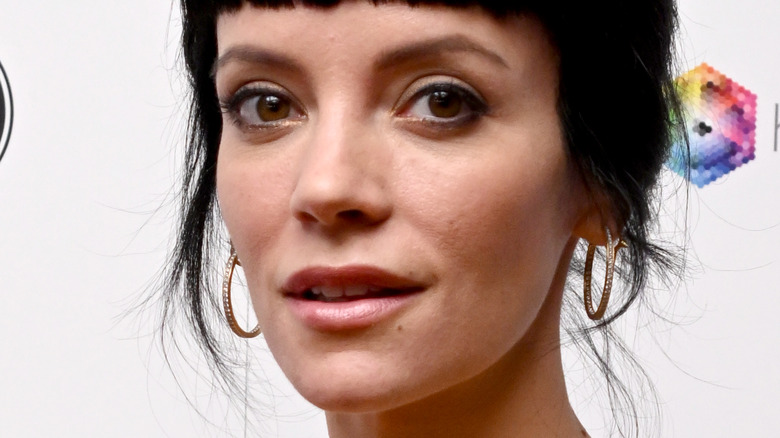 Jeff Spicer/Getty Images
Lily Allen has been a regular face in the public eye for over 15 years, and throughout that time has been very open about her personal struggles. Even though the "Smile" hitmaker is currently married to "Stranger Things" actor David Harbour, it isn't the first time she has walked down the aisle. As previously reported by Hello!, Allen got engaged to her ex, decorator Sam Cooper, on Christmas Day in 2010. Per the outlet, Cooper got down on one knee on the balcony of their hotel while the two were enjoying a vacation in Bali. The engagement came months after a personal tragedy of their own. 
Earlier that year, the pair had hopes of starting their own family, which didn't go to plan. After announcing they were expecting their first child, Allen, unfortunately, delivered a stillborn son, who they named George. "For ten hours between my baby dying and me getting him out, I entered a realm I'd never been to before. It is a realm I'd never been to before," Allen explained in her 2018 memoir "My Thoughts Exactly," (via E! News) adding, "It is a realm I cannot describe or revisit, even if I wanted to."
Allen and Cooper both said "I do" in June 2011 while expecting their first daughter Ethel, per People. After giving birth that same year in November, they welcomed another second daughter, Marnie, in January 2013, according to Standard. However, it wasn't long after Marnie's birth that Allen's marriage began to falter.
Lily Allen and Sam Cooper split after years of marriage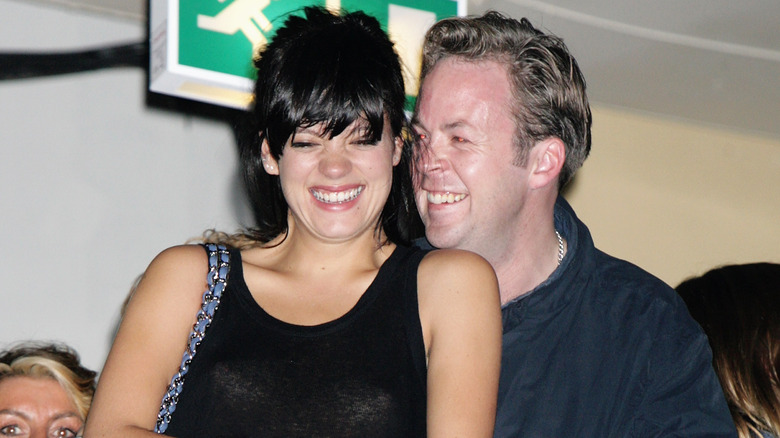 Dave M. Benett/Getty Images
Throughout their relationship, Lily Allen always credited Sam Cooper as being her rock. During her 2010 BRIT Award-winning speech, the "Not Fair" chart-topper thanked her "beautiful boyfriend Sam" while citing him as her inspiration for some of the songs on her 2014 "Sheezus" album. However, things started to become complicated around that time, as Allen was constantly partying, as noted by The Guardian. While on the road, the singer admitted in a now-deleted Instagram post (via Metro) that she was sleeping with "female escorts" ahead of the release of her book. Even though Allen admitted on social media she was "not proud" of her behavior, she admitted she was "not ashamed," of it, either.
While on tour with Miley Cyrus in North America, Allen would miss pre-arranged FaceTime calls with Cooper and her two daughters due to her heavy substance use and depression. In 2015, Allen and Cooper broke up after Cooper made the singer tell him about every single infidelity. Despite it being a difficult split, Allen believes it was a step in the right direction. "It was really sad," she told People in 2018, adding, "I think it was the right decision and it was necessary, and ultimately, I just want to make a safe and secure environment for my kids, and that was ironically the best way of doing that."
Both Lily Allen and Sam Cooper have moved on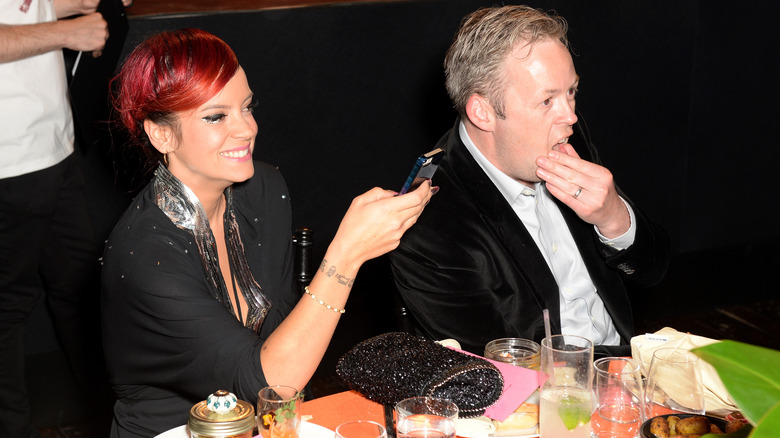 Dave Hogan/Getty Images
During a 2018 television interview with Australia's "Today" show, Lily Allen explained that as a working mother, "divorce is really handy" because she and Sam Cooper share custody of their two daughters, Ethel and Marnie. The reason shared custody works so well, per Allen, is that it allows her to work away from home when needed.
Since calling it quits with Cooper in 2018, Allen has found love in "Stranger Things" actor David Harbour. The pair tied the knot at an intimate ceremony at the Graceland Wedding Chapel in Las Vegas in September 2020. (Fittingly, they also had an Elvis Presley impersonator officiate their big day, per Express.) While appearing on "The Ellen DeGeneres Show" in 2021, Harbour talked about being a stepfather to Allen's two children. Harbour credited Cooper for being "a wonderful father" and a "great man" while referring to Ethel and Marnie as "incredible, vulnerable, and beautiful" beings "who break your heart."
Cooper, who enjoys staying out of the spotlight, has also moved on from Allen. As previously reported by the Daily Mail, he got married in September 2021 to designer India Windsor-Clive.