The Truth About Lily Allen And David Harbour's Relationship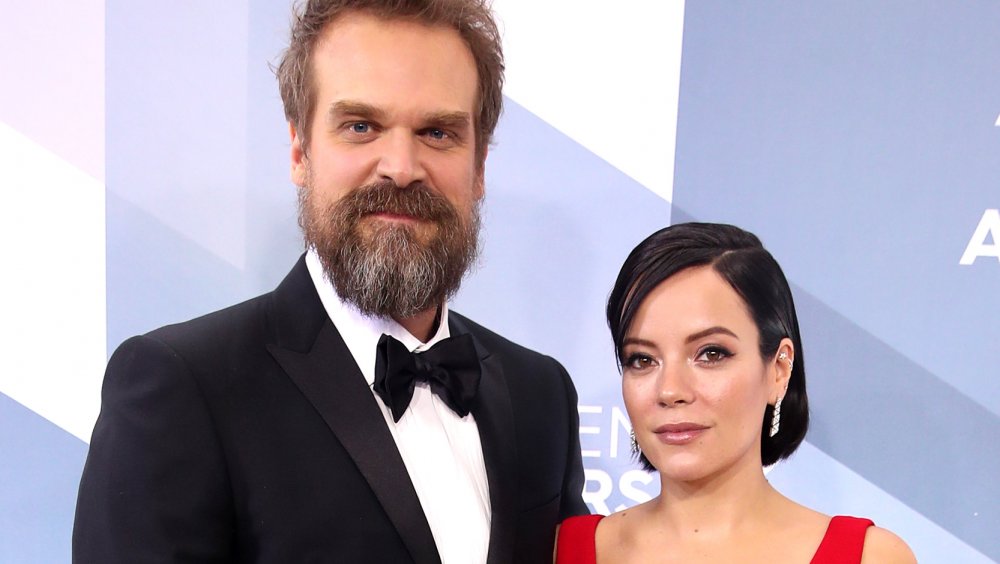 Rich Fury/Getty Images
Just when you thought "stranger things" couldn't happen in 2020, actor David Harbour and singer Lily Allen have officially — and adorably — tied the knot! According to Entertainment Tonight, the Stranger Things actor and the "Smile" singer got married in Las Vegas on Sept. 8, 2020. Per People, the ceremony came one day after the lucky-in-love pair obtained their marriage license. And it was a Vegas wedding through-and-through, with the duo getting hitched at the Graceland Wedding Chapel, complete with a crooning Elvis Presley impersonator and a "small reception," as Harbour captioned his Instagram post, at In-N-Out Burger afterward. 
"In a wedding officiated by the king himself, the people's princess wed her devoted, low born, but kind credit card holder in a beautiful ceremony lit by the ashen skies courtesy of a burning state miles away in the midst of a global pandemic," Harbour joked, as he referenced current events alongside his slideshow of photos from the big day. "Refreshments were served at a small reception following." Aww!
In fact, Harbour and Allen both celebrated by posting wedding pics to Instagram, which spread across the internet like (metaphorical) wildfire. Allen even sashayed down the aisle in a 60s-style Dior dress, which fit the mood and, as Page Six noted, retails for $4,300. "Lily Allen and David Harbour getting married is some positive news for this chaotic year," one Twitter user wrote. Here's more about David Harbour and Lily Allen's relationship leading up to their surprise marriage! 
Lily Allen accidentally revealed her engagement to David Harbour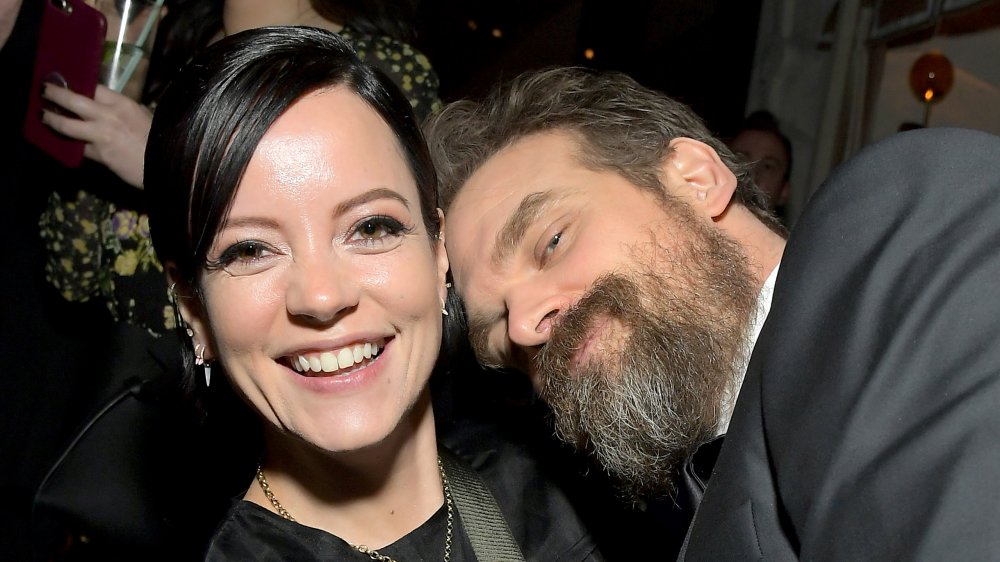 Charley Gallay/Getty Images
So what should fans know about newlyweds Lily Allen and David Harbour's relationship? According to Entertainment Tonight, the pair, who's kept their romance relatively mum, has been "romantically linked" since at least October 2019, when Harbour was spotted smooching Allen in New York City. Harbour then made news when he reportedly referred to Allen as "my wife" on Instagram Live in March 2020. 
According to TMZ, Allen first revealed the engagement back in May 2020, but not intentionally. One keen Instagram follower spotted a shimmering ring on Allen's finger in a selfie. The commenter asked if she was actually wearing an engagement ring, and Lily's answer gave her secret away when she replied: "First rule of engagement club...." (A Fight Club reference, mind you). According to ET, this is Harbour's first time down the aisle, while Allen was previously married to Sam Cooper, whom she divorced in 2018 after seven years of marriage. They share kids Ethel and Marnie. 
Meanwhile, Harbour is adorably taking on the father role as, per the Daily Mail, the four have been quarantined together. Their isolation looks a little more luxurious than their tampered-down wedding, with Harbour and Allen sharing sun-bathed family photos on a vessel in Croatia back in August 2020. The soon-to-be blended family looks adorable in the glowing pics, with Harbor even dancing to Bruno Mars' "Uptown Funk" alongside Marnie aboard the boat, per Allen's Aug. 27, 2020 Instagram post. We can't get enough of this adorable couple!