Victoria Beckham Reveals The Exact Moment Her Life Changed Forever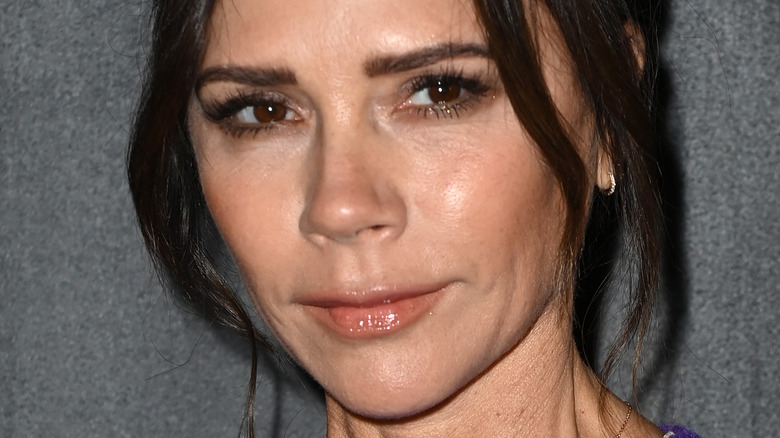 Pascal Le Segretain/Getty Images
Since rising to fame, we can assume Victoria Beckham has had many pinch-me moments. As a member of the Spice Girls, Victoria — sometimes referred to as Posh Spice — achieved global success and numerous hit songs. As noted by ChartMasters, the pop phenoms' debut album "Spice" sold just under 22 million copies worldwide.
Since her days with the group, Victoria stayed away from the music scene and focused on a career in fashion and beauty. "I've been obsessed with make-up and skincare and wellness for longer than I can remember," she told Harper's Bazaar in 2020, before explaining why she decided to launch her own makeup line Victoria Beckham Beauty in 2019. Victoria continued, "I wanted to create a brand of the future — focusing on what's in the formulas but then also sustainability. The other thing that was key was making sure it was very inclusive — whether it's makeup or skincare, this is for every skin type and tone, and for both women and men."
While many hope she will join her band members again on-stage one day, the "Viva Forever" hitmaker admitted she reflects on her time with the Spice Girls with a "smile" and believes their purpose was to make "people embrace who they are, being happy with who they are, being the best version of themselves and for that to be celebrated." Despite her ongoing success, Victoria recalled the exact moment she believes was life-changing for her.
Victoria Beckham 'felt a love impossible to explain' after giving birth
Victoria and David Beckham are parents to four children — sons Brooklyn, Romeo, Cruz, and daughter Harper Seven. To honor Brooklyn's 23rd birthday, his mom took to Instagram to explain why this day is extra special to her. "23 years ago today my life changed forever, I felt a love impossible to explain," Victoria wrote, adding, "Brooklyn, you have no idea how much we all love you. Happy Birthday to the sweetest, kindest soul." As seen in the snapshot above, the "Say You'll Be There" hitmaker posted a vintage image of the duo sitting at the beach. A very young Brooklyn was captured sitting on his mom's lap while holding onto a banana. Victoria was seen sporting short dark hair in a bikini top, looking down at her child.
In the span of nine hours, her post gathered more than 500,000 likes and 1,500 comments, proving to be very popular with her 29.5 million followers. "I love seeing how close you all are. Thank you for sharing that part of your life. It's super sweet," one user wrote. "Gorgeous photo and words from a wonderful mum xxx," another person shared. "I too felt this way with my girls. A love that I could not put into words," a third fan remarked. Happy birthday, Brooklyn!