Jenna Jameson's Mystery Illness Gets More And More Complicated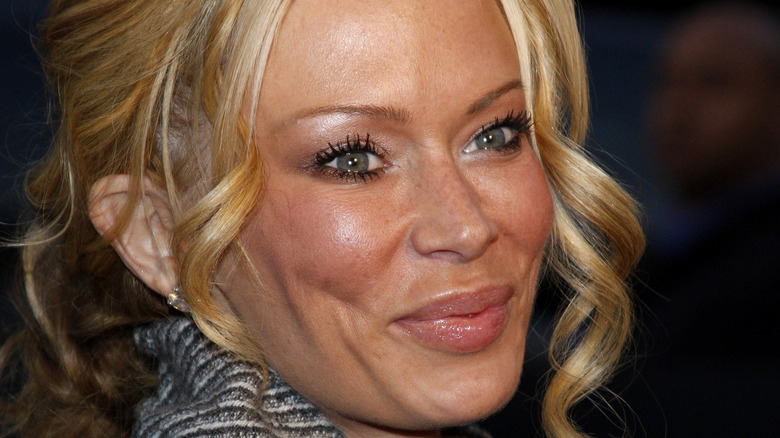 Tinseltown/Shutterstock
Jenna Jameson is still seeking answers about her mysterious illness. The model was hospitalized in early January after having difficulties walking due to weakness and loss of muscle mass in her legs, as her partner Lior Bitton revealed in a now-deleted Instagram video (via People). She was initially diagnosed with Guillain-Barré Syndrome, which the Centers for Disease Control and Prevention (CDC) describes as an uncommon autoimmune disorder that can attack a person's muscle movement. However, days after receiving the diagnosis, Bitton updated fans that Jameson was actually misdiagnosed, according to Newsweek. Bitton added that because Jameson is losing mass, her legs have become extremely skinny and she has to use a wheelchair for mobility.
Needless to say, fans have become extremely worried for Jameson's health, especially since Bitton previously said her condition has not improved even after treatment. Now, nearly two months after her hospitalization, Jameson has given her followers another update on her mystery illness and revealed if she's on the mend.
Jenna Jameson has been discharged from the hospital
After spending nearly two months in the hospital, model Jenna Jameson has returned home as doctors continue to seek answers about her mysterious illness. Jameson, who is still bedridden, posted an update on Instagram on March 3 and said she's "feeling better."
"I am still sick, as you can see. I am in bed, but I am at home, which is really nice," the mom-of-one said, adding she's recovering by "getting a lot of sleep." She continued, "We don't know what exactly is going on. I still am unable to stand, but I am feeling better and things are going a lot better, so thank you for your support."
Jameson then mentioned in her Instagram Story, according to Page Six, that doctors are continuing to do testing and are considering the possibility that her condition is linked to her femoral nerve, which is located in the pelvis and helps to straighten the legs, per WebMD. "I still have more testing to do but it seems there's something off with my femoral nerve, and it's affecting my strength in my legs," she explained in her Instagram Story. "So, I am still in a wheelchair, unfortunately, but I hope to be out of the wheelchair soon and walking, so say a little prayer."
While Jameson waits for an official diagnosis, she has stressed that this mysterious illness has nothing to do with her getting the COVID-19 vaccine. "I did NOT get the jab or any jab. This is NOT a reaction to the jab. Thank you for your concern," she said in a now-deleted Instagram post, per CNN.