RHONJ: The Truth About Luis Ruelas' First Marriage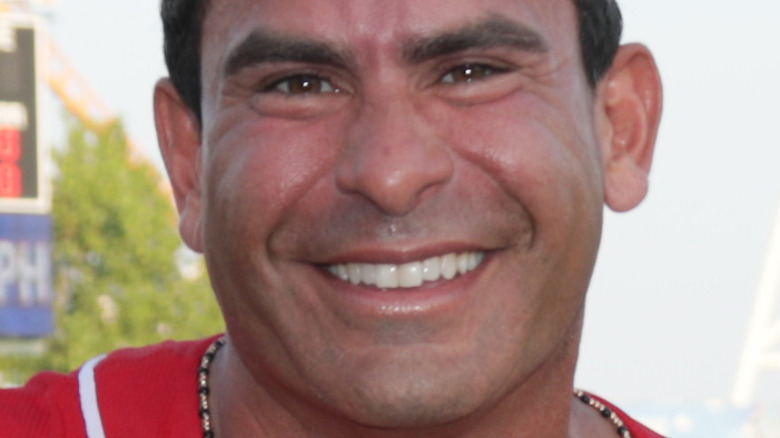 Rob Kim/Getty Images
New Jersey businessman Luis Ruelas hasn't always had a life in the spotlight. Even though Ruelas uses social media as a platform to promote his marketing business, Digital Media Solutions, per his company biography, most of the headlines about him are about his love life. The entrepreneur started dating longtime "The Real Housewives of New Jersey" cast member Teresa Giudice in November 2020, about two months after her highly publicized divorce from ex-husband Joe Giudice, reports People. The housewife told the magazine that Ruelas is her "true match" and "soulmate," adding that she and Joe were "two opposites." He's appeared alongside her ever since and gained supporters since making his "RHONJ" debut in 2021 and announcing their engagement in October that same year.
Ruelas often posts photos on Instagram showing off his new fiancée with captions describing Teresa as his "true love" who "changed" his world. But Teresa will actually be Ruelas' second wife, as he was married once prior, reports Page Six. Although there isn't much known about Ruelas' ex-wife, we can gather some pieces that give more insight on the "RHONJ" star's new partner.
Luis Ruelas' ex-wife is 'happy' about his engagement to Teresa Giudice
Luis Ruelas was no stranger to the dating game before he popped the question to "The Real Housewives of New Jersey" star Teresa Giudice in October 2021, according to Distractify. Although the businessman got engaged a few times prior to his relationship with Giudice, he's only been married once in his life. Ruelas separated from the mother of his two children, Marisa DiMartino, more than a decade ago, when the pair divorced in 2011. Little information is known about Ruelas and DiMartino's marriage because they were together before he entered the media's spotlight. However, the two exes appear to be on good terms.
In February, Ruelas' ex-wife reportedly told InTouch Weekly about how the entrepreneur is "a really good person" and added that he "takes care of me and my children, and that's what it comes down to," according to Heavy. DiMartino seemed to deem their current relationship a positive one, saying the two were "very good with each other," but ultimately got married "very young." According to Page Six, Ruelas and his current fiancée, Giudice, are happy and not "looking at the past." 
But Ruelas still might be, as a leaked video on Reddit showed the businessman supposedly calling out his love for his ex-wife.
Did Luis Ruelas beg his first wife for a second chance?
TV personality Teresa Giudice has starred in all 12 seasons of "The Real Housewives of New Jersey" since the popular reality series' original season first aired in May 2009. So, when Teresa separated from her ex-husband Joe Giudice in September 2021, per Us Weekly, and started showing off her new fiancé, Luis Ruelas, on-camera in February 2021, all eyes were on the pair's new heated romance. The two can often be found gushing about their love on Instagram. However, following the filming of Season 11 of "RHONJ," fans spotted Ruelas in a leaked video on Reddit, where he seemingly confessing that he misses his ex-wife, Marisa DiMartino. 
Ruelas can be heard saying "I love you. I love our family together. And I love our children." He and DiMartino share two sons together, per The U.S. Sun, which is why followers concluded his message was directed to her. In the video, he also says, "I hope to come home to you."
The cast of the "RHONJ" addressed the "unsettling video" with Teresa during the series' Season 12 premiere that aired in February. Teresa defended her new man, telling castmate Margaret Josephs, "I go by how me and Luis are present and future. I have a past. He has a past."