This Is Why Christopher Walken Doesn't Have Any Children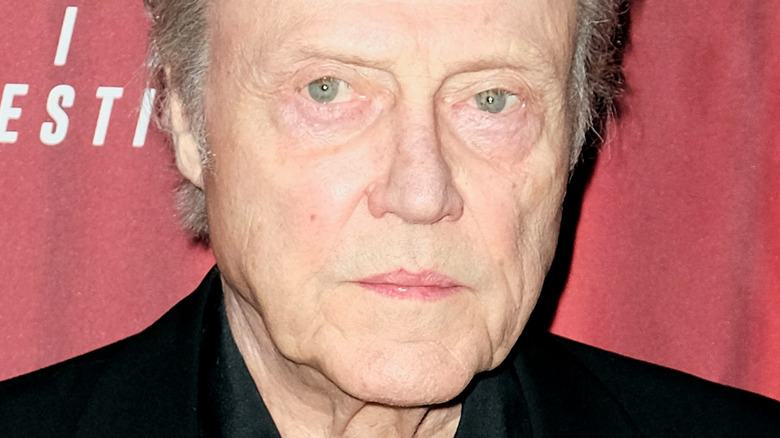 Laurent Viteur/Getty Images
There's a good chance when you read or hear the name Christopher Walken, you can imagine his voice in your head. For the better part of 50 years, this actor has been an American treasure, playing roles from the ridiculous to the ridiculously intimidating. Walken is particularly excellent in dark comedy roles, like that of Hans in "Seven Psychopaths." (It's probably the voice, to be honest.) Whatever it is, he's a gem who people love to work with.
In an interview with BuzzFeed about filming "Wild Mountain Thyme," which co-starred Walken, Jon Hamm called the legend an "absolutely lovely, lovely man." Hamm added that it was fun to see Walken experience Ireland for the first time because he was clearly "completely tickled by the experience." Love for Walken runs deep all around. He has been married for more than 50 years to casting director Georgianne Walken, whom he met when they were on a touring stage production of "West Side Story" together. The couple lives together in Connecticut.
Though he would probably make a great father — albeit one whose voice would never leave your head — he and his wife never had any children. But why? Christopher told The New York Times in 2012 that he even leaves food on his plate after eating so he could put it outside for some wild critters to feast upon. The man clearly has a heart of gold. Regardless, we now know why Christopher and Georgianne opted to remain childless.
Christopher Walken's Hollywood career and kids didn't mix
Andrea Verdelli/Getty Images
Performing has been part of Christopher Walken's life since he was 5 years old when he became a child actor, per The Guardian. From then on he was working gig after gig to stay afloat and he knew that the money wouldn't always be there. So, he and his wife Georgianne never had kids. "I'm sure many of the kids I knew as a child would have continued in showbusiness, but they had kids of their own, had to do something dependable," he told The Guardian. "I didn't, so I could get by even in periods of unemployment." Walken also told the newspaper that he's basically a homebody who doesn't do much outside of work.
That doesn't mean Walken is opposed to playing "fathers or grandfathers or uncles." In fact, he'd "like that," he told The Guardian. In 2020, he told The Hollywood Foreign Press that he's happy with his life. "I do like to work as much as I can because I don't have children, I don't have hobbies, I don't do anything else," he explained to the outlet. "And I'm glad I don't have children. I have two brothers and they have plenty of children, they come to my house and I am always very glad when they leave." Walken and his wife are proud parents to their cats and that is enough.
Daily exercise keeps Christopher Walken going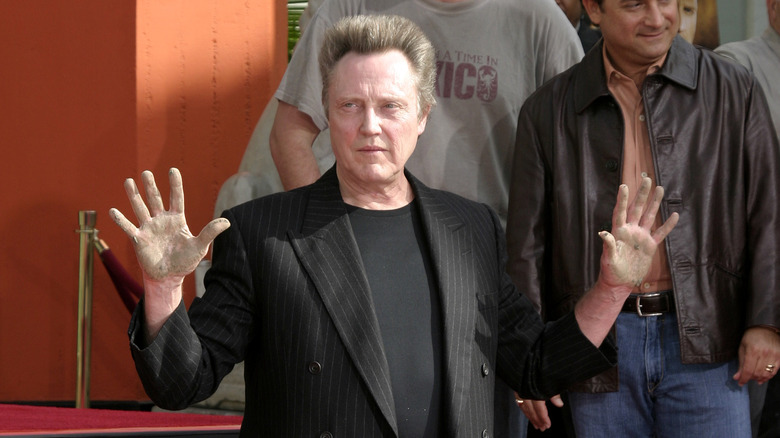 Tinseltown/Shutterstock
At 78, Christopher Walken is not hanging up his cowbell anytime soon. (Sorry Mr. Walken, we know you hate that joke.) Now he's on a new Apple TV+ series called "Severance" with Adam Scott, so he has to stay limber. With a background as a dancer, Walken knows better than most how important it is to keep our bodies moving as we age. Walken told The Washington Post that he still carries his dancing days with him — and even exercises every day.
"Not a big deal," he told the newspaper. "But I do it every day for about an hour. I'm sure it's because I was a dancer. If I don't do it for some reason, I feel lousy. That's part of being a dancer, you get into that groove and your body tells you what to do. There's a physical mind at work." Not living in a big city while also trying to take care of himself probably helps, too. Walken says his "strong work ethic" comes from his father, but he also just really loves acting. So, lack of future Walken kiddos aside, we're glad he is still doing what he loves and hanging out with his cat children. Walken also loves internet cats, per his interview with The Talks. He's a major Henri le Chat Noir fan.