Nicki Minaj Won't Stand For Britney Spears Thinking She's Anything Less Than A Queen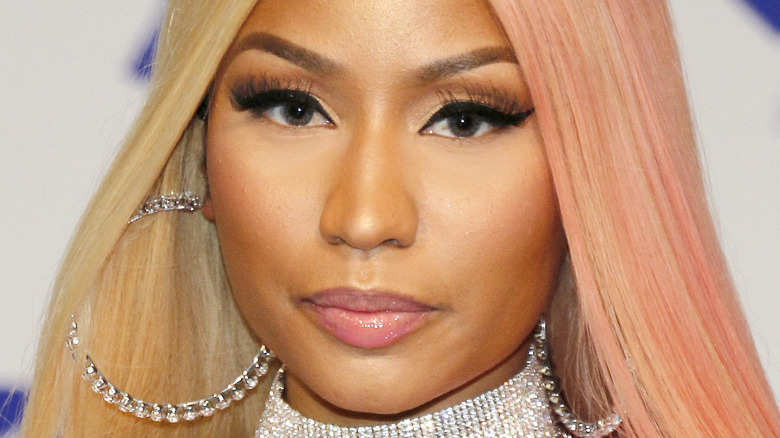 Tinseltown/Shutterstock
Often referred to as the "Queen of Rap," Nicki Minaj is well aware of what it feels like to be considered royalty. And because of that, she knows a fellow queen when she sees one.
Music icon Britney Spears has been in the game for over 20 years and remains a household name and an inspiration to many. In 2016, singer Tinashe collaborated with Spears on her single "Slumber Party" and expressed her love for the former teen star on Instagram. "The face you make when the rumors are true and you collabed with your idol & basically your whole life is a dream so you keep it cute for Brit but inside you are wigless and dead," Tinashe captioned her photo with Spears. 
With that being said, Tinashe isn't the only celeb who idolizes the "Oops! I Did It Again" chart-topper. During an interview with Ryan Seacrest on his radio show, "On Air with Ryan Seacrest," Selena Gomez revealed that Spears' "Baby One More Time" album was the first CD she ever owned and the first concert she ever attended. For her "We Own The Night" tour, Gomez even paid tribute to the legendary performer and declared her the "Princess of Pop" on MTV.
Despite being the superstar that she still is, Spears recently doubted her ability to dance and Minaj is having none of it.
Nicki Minaj insists Britney Spears is 'the best dancer'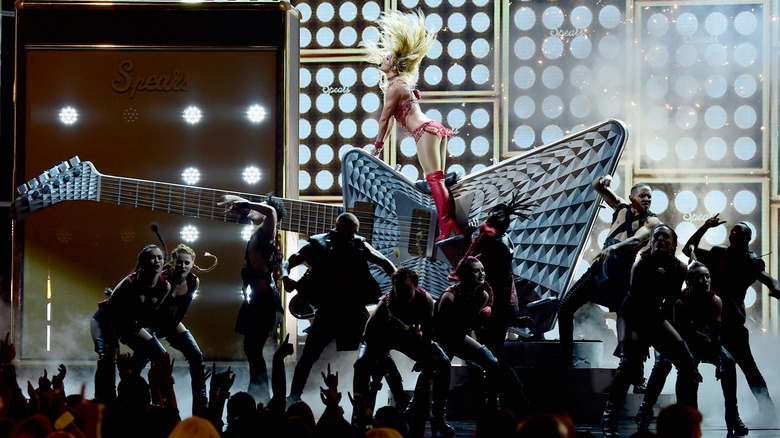 Frazer Harrison/bbma2016/Getty Images
On March 6, Britney Spears took to Instagram to upload a video of herself dancing inside a studio. Even though the clip showcased the singer's obvious talent, she expressed in her caption how she still doubted herself. "I recorded 30 videos of dance when I was in Maui ... that's fun to me !!!" she said. "I know I'm not the best dancer, a lot of people make fun of the way I move but honestly as long as I'm moving and expressing my body outwardly in someway at this point ... that's healing to me !!!"
It appears that as soon as Nicki Minaj saw Spears question her ability, she dived straight into the comments section to remind the "Criminal" hitmaker of her worth. "Not the best dancer? BRITNEY! PUT YOUR CROWN BACK ON & LEAVE IT THERE BABY!!!!!!" the rapper wrote, adding, "you ARE the best dancer!!! Settled that, what's next? BIG SAG ENERGY." Minaj's comment didn't go unnoticed and gathered more than 47,000 likes within a day, proving that people agree with her statement.
If there's anyone who knows about witnessing Spears' talent in the flesh, it's Minaj. As previously noted by The Hollywood Reporter, Minaj opened up for Spears on her 2011 "Femme Fatale" tour and featured on a remix of Spears' song "Till The World Ends" with Kesha.