Prince Harry's Latest Unexpected Appearance Has Fans Asking So Many Questions
Kevin Mazur/Getty Images
Prince Harry has made it no secret that he's acclimated quite well in his new home of California. In fact, the unexpected birthday gift that Meghan Markle bought for Harry suggests that he's traded in polo games for surfing lessons instead. He may even be enjoying his wife's infamous avocado toast in the morning than a traditional English breakfast. If that weren't enough, Harry has also been enjoying the good life with his cousin Princess Eugenie, as the two were spotted watching the Super Bowl in February. The Duchess of Sussex told Ellen DeGeneres in an interview (via People) that she and Harry are "happy" with their new lives in California. "We moved here during lockdown, exactly when things shut down, so we've just been able to spend a lot of time at home and creating our home," she said, "but I think it's just the lifestyle and the weather is pretty great."
While Harry has made it pretty clear that he's enjoying all things Americana, his latest and most unexpected appearance has a lot of fans asking a whole lot of questions about it.
Prince Harry experienced his first rodeo in Texas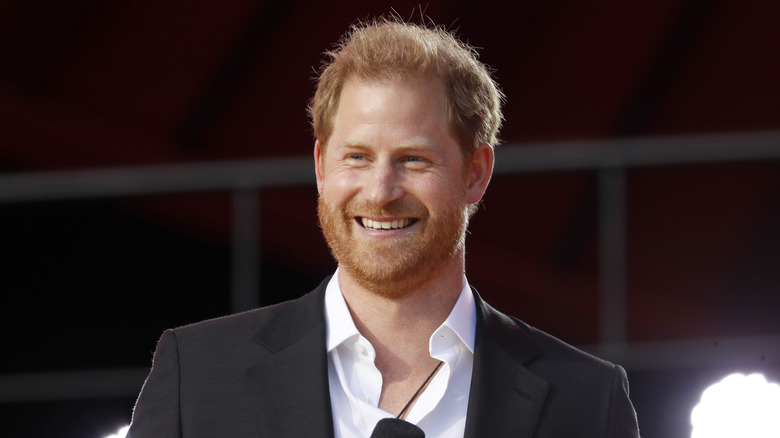 John Lamparski/Getty Images
If you are going to go anywhere to experience your first rodeo, it might as well be in the great state of Texas. And that's exactly what Prince Harry did, as he made a surprise appearance at a Texas rodeo wearing — you guessed it — a cowboy hat, according to People. The Duke of Sussex was on hand for all of the action at the Stockyards Championship Rodeo at the Cowtown Coliseum in Fort Worth, Texas. The Stockyards Championship Rodeo secretary Cindy Reid posted (and then later deleted) a photo of Harry's visit along with the caption, "Where was Prince Harry Saturday night? Oooooh, just hanging out behind the bucking chutes at the Stockyards Championship Rodeo!! Loooove it!! Thank you for the visit!!" Royals reporter Omid Scobie also shared a photo of Cowboy Harry, adding that the prince got "a VIP tour of the venue."
While the reason behind Harry's visit to Texas is still unclear, one thing is for certain: the surfing lessons, the In-N-Out burger stops, football games, and rodeo appearances mean that he's quickly becoming America's favorite adopted prince.