Jocelin Donahue Dishes On Her New Horror Film Offseason And Working On Doctor Sleep And Insidious 2 - Exclusive Interview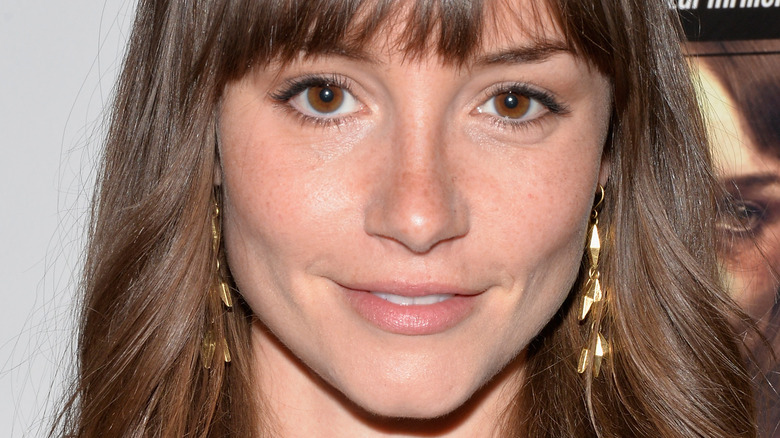 Michael Tullberg/Getty Images
Jocelin Donahue has carved out a nice little niche for herself in the horror film genre, having starred in Ti West's critically acclaimed "The House of the Devil" and appeared in Stephen King's "Doctor Sleep" and "Insidious: Chapter 2." Her latest film, "Offseason" –- which will be in theaters and available on VOD and Digital Friday, March 11 –- is also steeped in horror, with a sinister mystery unfolding on a remote offshore island.
As Marie, Donahue returns to the isolated vacation town where her late mother is buried, just as the only bridge to the mainland is raised for the winter. Stranded, Marie has one strange encounter after another with the locals, who she soon realizes harbor a deep, dark secret. And to make it out alive, she must unravel the mystery behind her mother's troubled past.
In an exclusive interview with Nicki Swift, Donahue discussed what makes "Offseason" so creepy, reflected on her time on the sets of "Doctor Sleep" and "Insidious: Chapter 2," and revealed the surprising genre she'd like to tackle next.
Offseason's practical effects are 'incredible'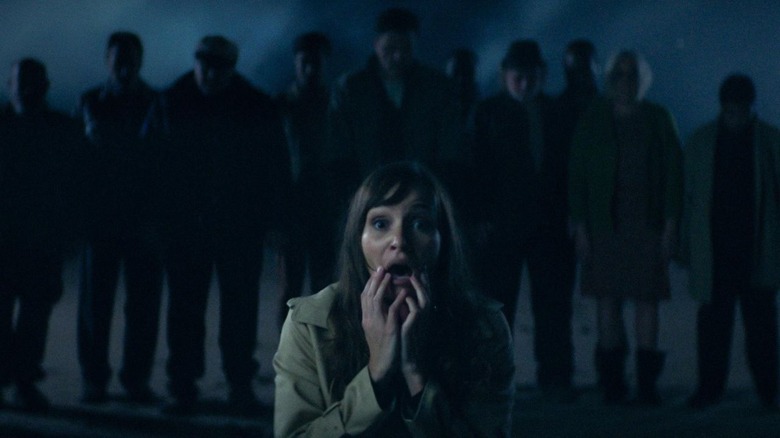 So, I watched the movie this morning in my kitchen while drinking coffee, and I still got creeped out ...
Wow, that's a great testament. I love it.
What was the creepiest scene to film and why?
I won't say too much, but there was a scene in the fisherman's house that was super creepy. And everything on this film was practical effects, or almost everything, but that scene in particular, the special effects, the creature people did such an incredible job. And Jeremy Gardner, who plays the fisherman, is such a good actor who comes from the horror genre, too. So, he made it really scary.
Did anything creepy or supernatural happen on set? Anything that hit a little too close to home?
I don't know about supernatural, but, for sure, the locations were really evocative and helped create that creepy atmosphere. I really didn't even know that kind of environment was in Florida. We were shooting in these jungly, tropical places in the Apollo National Seashore. So being in a foggy jungle by the beach was pretty cool, and also being in the town of New Smyrna, where we shot, which was built in the 1940s. There's a little main street that seems untouched. It was really helpful to be in these interesting environments.
And now, what creeps you out in real life?
I mean, just real-world violence, random violence ... that creeps me out. Home invasion stuff, and cults. Yeah, those are just a few.
Insidious: Chapter 2 has been the 'highlight' of Jocelin Donahue's career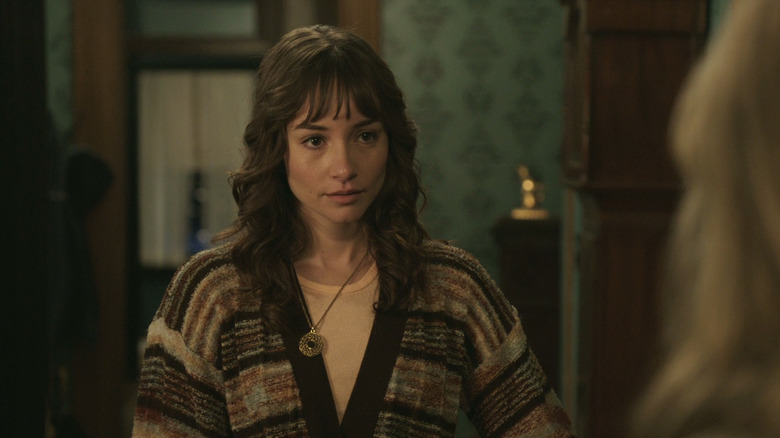 FilmDistrict
"Offseason" was a pretty straightforward, serious film, but did anything funny happen on set that you can share?
There were a lot of funny people working on this set. Like, Joe Swanberg [who plays George] is a really funny guy. I had to be careful not to giggle in our scenes because our relationship is pretty tense as characters. But, I mean, it was a very playful and fun set even though what you see on screen is very creepy and serious.
You've done quite a few horror films over the course of your career, what's appealing about them to you?
Horror is great for actors to work in because we get to do so much. We get to play the drama and the emotion, sometimes there's comedy and lightness, but you also get to have these really high-stakes life or death scenarios. You get to do a lot. The genre in general can explore so many different things because anything can be scary. Your intimate relationships can be scary, or your existential dread is scary, or real-life violence ... There's just so much. I feel like horror encompasses all genres.
One of your past films is "Doctor Sleep" with Ewan McGregor. What was that experience like? And what was it like working with Ewan?
Well, I didn't have any scenes with Ewan. He had all his scenes with my [onscreen] daughter, who was played by Kyliegh Curran. They had a lot of scenes together. So, mostly, I was a mom concerned about these powers that I know my daughter has. In that sense, it was a very emotional role. And [writer/director] Mike Flanagan is just so, so talented and brings this real grounded sense of mentality to his work. So, even though it's scary, there's always these real, authentic family dynamics. And that was fun to get to work with him and play that with Kyliegh.
And in "Insidious: Chapter 2" you played Barbara Hershey's younger self. What was it like working with her? And how did you feel being picked to play a younger version of someone so iconic?
That was really a highlight of my career to get to play her. But since I'm playing a younger version of her, I didn't have any scenes with her, but I did get to meet her in a fitting, and she was lovely. And James Wan, the director, is another massive talent who creates a really welcoming, open environment for his actors. So, that was fun to shoot. During [one] part of it, we shot at an abandoned hospital in Downtown L.A. and that was very creepy. And we also shot in a really cool old Victorian. So, yeah, these guys know how to pick out places that will take you there right away.
The actor would like to voice a character on Rick and Morty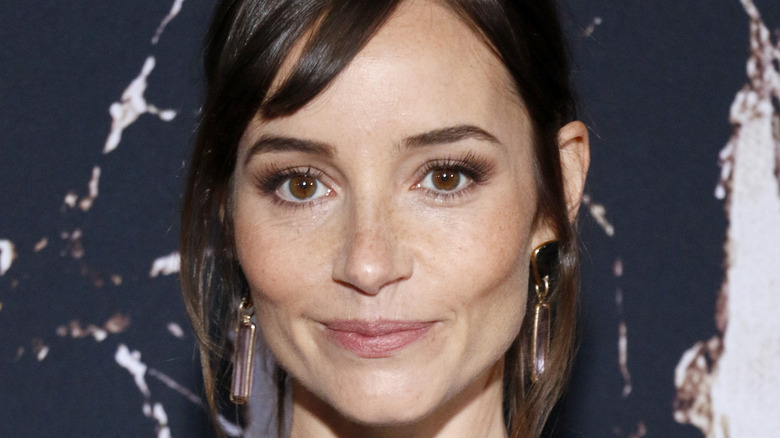 Tinseltown/Shutterstock
In terms of actors, who do you look up to, whether in the horror genre or beyond?
I mean, I love Kirsten Dunst, I think everything she does is great. Laura Dern. I love Regina King. Andrea Riseborough ... I don't know if you've seen "Mandy," but, I mean, she's amazing in everything she does, but her performance in "Mandy" was just mind-blowing. So, those are a few.
What's your favorite horror film of all time and why?
That's a tough one. It changes, and I feel I have different ones for different subgenres. I used to say "The Shining" was my favorite horror film until I started seeing [more films]. Now I feel I know more. I still love "The Shining," that's the ultimate. But I also love "Rosemary's Baby" and "Repulsion" and that trilogy. More recently, I loved "Ex Machina" and "Annihilation," Alex Garland's two movies in the genre.
And now, outside of horror, what's your dream role or dream genre you'd like to tackle? Do you, say, see any romantic comedy in your future?
It would be fun to do a romantic comedy after a horror film, as a palate cleanser. But I'd love to do more straight drama stuff, I'd love to do more episodic, and I would love to do some animation and voiceover stuff too. That would be fun. During lockdown, I watched all of "Rick and Morty" and "Solar Opposites." So, it would be fun to be a character on one of those cartoons. Anything creative in the voiceover world.
"Offseason" will be in theaters and available on VOD and Digital on Friday, March 11.