Sharna Burgess Completely Shuts Down Comparisons To Brian Austin Green's Ex Megan Fox
Ga Fullner/Shutterstock
When it was announced earlier this year that Brian Austin Green and girlfriend Sharna Burgess were expecting a baby boy, many eyes turned to Megan Fox to see how the "Jennifer's Body" actor — and Green's ex-wife — would react. After all, although Fox has since gotten happily engaged to musician Machine Gun Kelly in January, she and Green already share three sons, Noah, Bodhi and Journey, over their decade-long marriage that ended in 2020, per ET.
Reportedly, Fox was supportive of the joyous news. As a source claimed to Hollywood Life in February, the actor even directly congratulated her ex and the "Dancing With the Stars"' ballroom pro dancer on their upcoming addition. "Megan feels like Sharna is a total blessing and thinks she's going to make an amazing mom," the insider told the outlet. Another source told Us Weekly at the time that although Fox was "surprised" by her ex's baby announcement, she wasn't personally invested in Green's post-divorce love life. "She cares the most about Brian being a father to their boys and being there for them," the source explained.
Now, Burgess has opened up to fans, sharing some in-depth thoughts on the inevitable comparisons between her and Fox.
Sharna Burgess isn't following Megan Fox's footsteps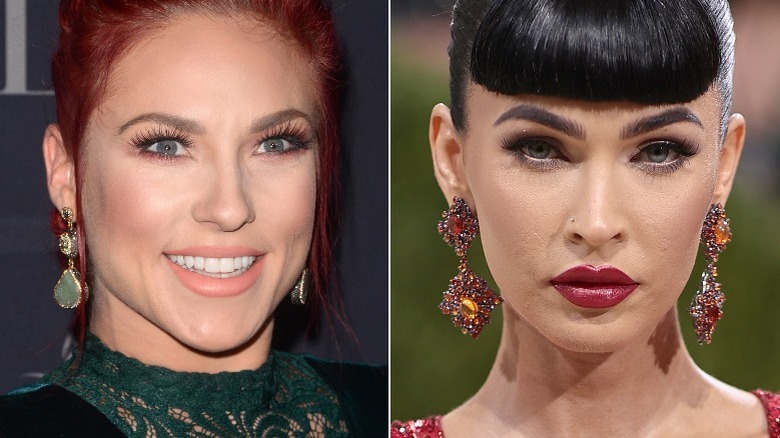 Kathy Hutchins/Shutterstock & Dimitrios Kambouris/Getty
Sharna Burgess says there are enough crowns for women to go around. During an Instagram Q&A on March 7 (via E!), a fan asked Burgess, "How do you deal with following in Megan Fox's footsteps?" The "Dancing with the Stars" performer then issued a thoughtful and lengthy response — widening the issue to in-gender competition in society. "Normally, I won't answer these types of questions," she began, continuing, "But I think many women struggle with comparing themselves to a partners' x. Or to other women in general. That's because society has made it out that we are a b****y and competitive gender, that we can't be possibly be happy with who we are without wanting what 'she' (whomever that is you) has." 
Calling Fox "her own self and an amazing woman," Burgess opined that comparing oneself to a partner's ex "will lead to the same result. The relationship ending." Adding a note worthy of Women's History Month, the ballroom dancer emphasized "that women are wonderful creatures" and "We do not need to tear down others to make ourselves feel stronger ... A community of women around you is a gift."
Burgess has made a stamp on social media for her other posts supporting women. In a February Instagram post, the expectant mother assured "all the single women in their 30s" to not give into societal pressure to "have babies before it's too late" — further writing, "Don't listen. Your timeline is not theirs."