What Patrick Mahomes Eats In A Day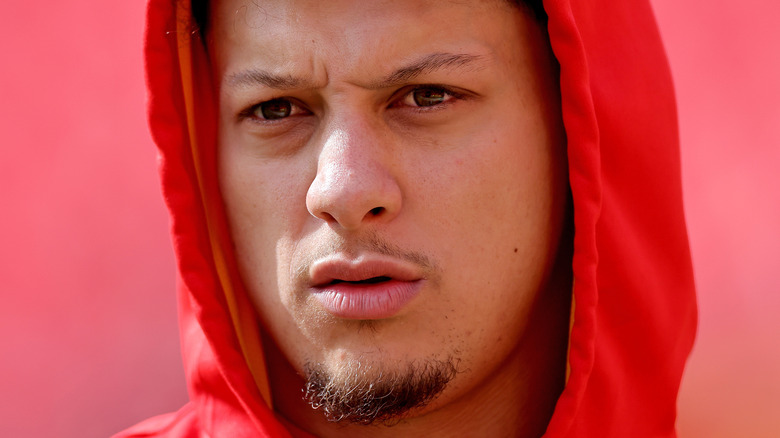 David Eulitt/Getty Images
We may receive a commission on purchases made from links.
NFL player and 2018 MVP award recipient Patrick Mahomes is no stranger when it comes to working hard in the gym. 'You have to grind every day. You can't just show up and play on game day. You have to prepare throughout the week to get ready for the game," he explained to Men's Journal. But Mahomes is quick to clarify that how he fuels his body is equally as important if he wants to take home the W on game days. "I've gotten much better with my nutrition as of late. It's something you have to take care of when you get to the NFL to stay in the best shape possible. It's so important."
So what does the Kansas City Chiefs quarterback eat in a day? And does he ever allow himself to indulge in any guilty pleasures? The answers may surprise you... 
Patrick Mahomes eats... a lot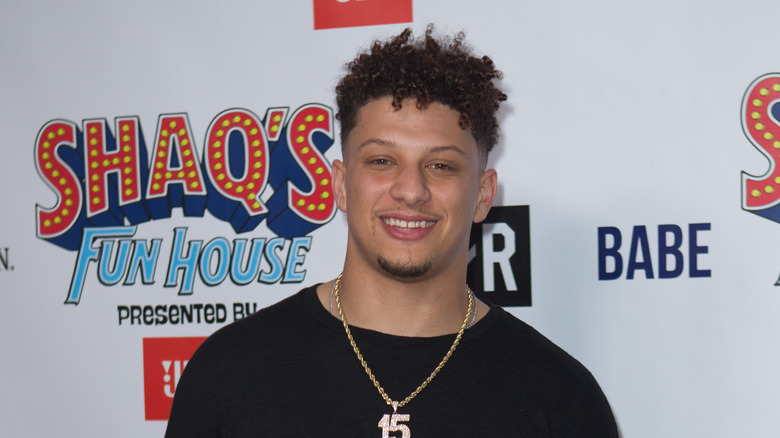 Jamie Lamor Thompson/Shutterstock
Talented athlete Patrick Mahomes eats a lot... five meals a day, to be exact. 
"I usually eat four to five meals a day. I eat breakfast, then lunch and then spread out my dinners to make sure I'm not eating too much at any one time," the famous footballer dished to Men's Journal. Yes, that's "dinners" — as in plural. 
But what are Mahomes favorite meals? As it turns out, he is a big fan of fast food. According to Kansas City's local news channel, KSHB 41, the famous footballer's favorite indulgences include burrito bowls from Chipotle and chicken biscuits from Chick-fil-A via the convenient food delivery service Postmates. But that's not all. Apparently Mahomes really, really loves his ketchup! "There's just certain things I put ketchup on that people don't like," he confessed to CBS Sports in July 2020. You don't have to put it on everything, but it does add a little flavor to certain things people won't try it on," he added. "The three things I put it on that people don't like are steak, mac and cheese, and eggs. I love it. When I go to a steakhouse and I ask for ketchup, they look at me weird and I just say 'Hey, I'm buying an expensive steak. I'm eating it the way I want.'"
Patrick Mahomes' diet is very different to that of Tom Brady's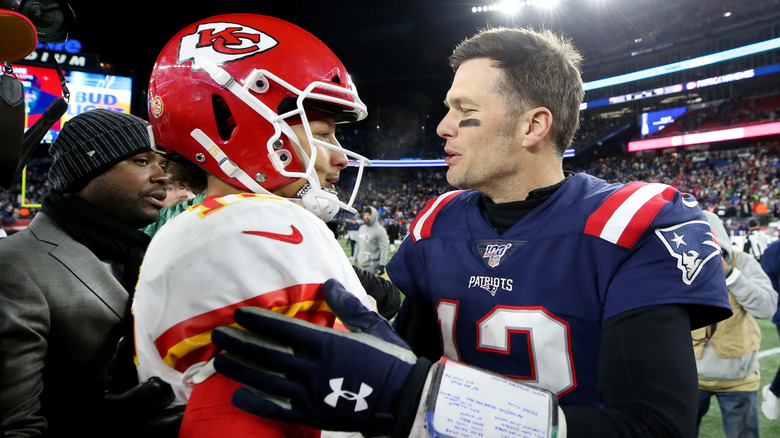 Maddie Meyer/Getty Images
Speaking of picky eaters, people have often compared Patrick Mahomes to legendary quarterback and now retired NFL player, Tom Brady – but make no mistake about it, their diets wildly differ. 
"Many people have conditioned their bodies to a nutritional regiment made up of lots of white or pale-looking foods—french fries, potato chips, white bread, chicken nuggets—that don't exist in nature," Brady penned within the pages of his book, "The TB12 Method," per Men's Health. "The regimen I follow is a mix of Eastern and Western philosophies," he explained. "Some of these principles have been around for thousands of years. My nutritional regimen may seem restrictive to some people, but to me it feels unnatural to eat any other way."
Registered dietician Christina Jax argued, however, that it might behoove Mahomes to start eating more like Brady. "Mahomes if he started better habits sooner, he may have that longevity that he may not if diet. So Tom Brady learned that really really early and that could be one of the keys to his success," she advised in an interview with WTSP 10 Tampa Bay. Whether or not he takes her up on that advice is TBD, we suppose...