Jana Kramer's Boyfriend Admits Their Relationship Has Been Far From Perfect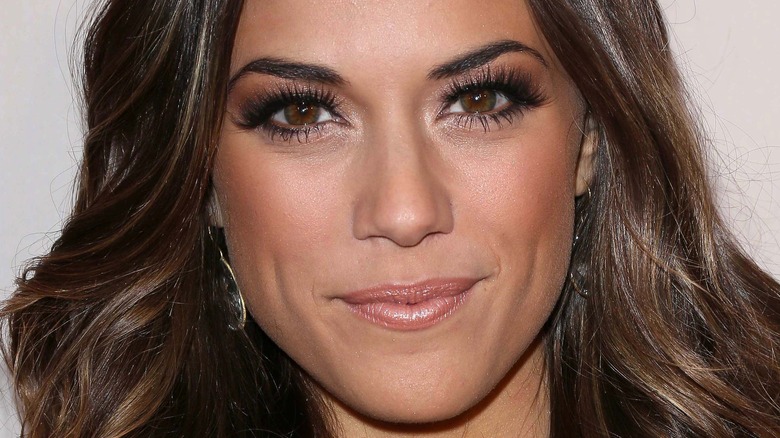 s_bukley/Shutterstock
Actor and singer Jana Kramer has recently been making headlines for the success of her February 25 single "The Story," which climbed to the #1 spot on iTunes sales charts the day it came out, Headline Planet reports. The hit single is seemingly about her recent separation from her ex-husband and former NFL player, Mike Caussin. Kramer and Caussin divorced in April 2021 after six years of marriage due to "irreconcilable differences and adultery," cites E! News. In the chorus of "The Story," Kramer sings, "Once upon a time he loved me / Once upon a time I loved him too / It all fell apart in a moment." One fan going through a separation themselves commented on YouTube, "honestly this song just hits different when you're in the same position."
Us Weekly notes the "One Tree Hill" actor has been divorced three times now. But once again, Kramer has pushed aside the past with Caussin and moved on. In January, she shared a photo to Instagram showing off her new man to her 2 million followers. Kramer wrote in the post's caption, "damn it feels really nice to find happiness." Sparking even more conversation about her romantic life, Kramer's new beau recently gave insight into how he really feels about their pairing.
Jana Kramer's boyfriend feels they live 'different lifestyles'
Jana Kramer launched her podcast "Whine Down" in May 2018, which includes the actor talking with guests about everything from motherhood to romance. In exciting news for fans, Kramer formally introduced her new boyfriend, Ian Schinelli, to the world through a new episode released on March 7. The description of the episode says he was "the most anticipated guest" in the podcast's history. Dishing all the new relationship tea, Schinelli said the two have been "really good together," but they are sometimes in separate worlds (via People). He explained that they both have "different personalities and lifestyles," like going to bed at different times each day. Kramer apparently wakes up later and goes to bed later than her new man.
To continue a healthy relationship, Kramer added that it's important for her to be "more private" about "issues" this time around with Schinelli — a different approach than her past relationships, which were covered in detail by the media. Overall, the new couple said they fixed their initial problems after they got "more understanding" about each other's wants, needs, and desires. But it doesn't appear Kramer will be running to the altar anytime in the near future with Schinelli, telling People in February she's focusing on "continuing to heal and grow" from her "toxic" past. Thankfully, the actor noted her new Navy SEAL reserve member boyfriend is "very patient."