Who Is Bridgerton's New Star, Simone Ashley?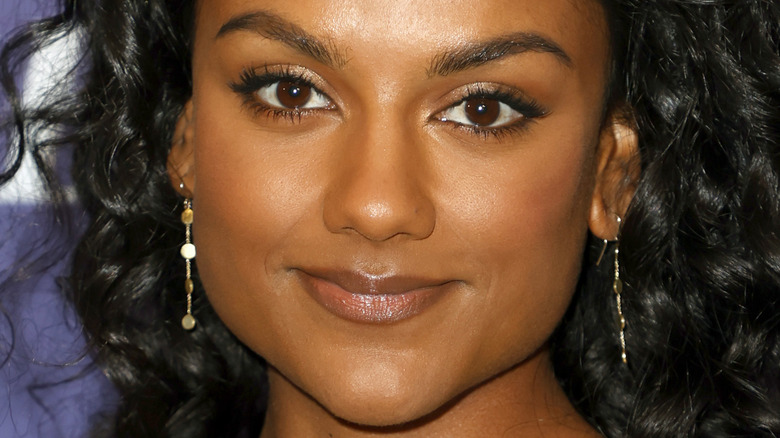 Frazer Harrison/Getty Images
The wait is almost over! In January, Netflix announced "Bridgerton" would return with Season 2 on March 25. If you weren't already aware, the first season of "Bridgerton" took the internet by storm when it was released in December 2020 and introduced viewers to breakout stars like Regé-Jean Page and Phoebe Dynevor, who played the leads. The show is based on Julia Quinn's series of novels of the same name, which focuses on the Bridgerton family in the Regency era, and the storylines of the eight Bridgerton siblings as they fall in love and deal with personal struggles in high society, per Marie Claire.
While the first season centered on the eldest Bridgerton daughter, Daphne, the second season will follow the story of the eldest Bridgerton sibling, Anthony, played by Johnathan Bailey, per Us Weekly. In the trailer released on March 9 for Season 2, Anthony can be seen falling in love with Kate Sharma. While viewers will have to wait and see how their romance pans out, here's everything we know about Simone Ashley, the new star who plays Sharma.
Simone Ashley is a Netflix regular
Season 2 of "Bridgerton" is one of the most highly anticipated releases of the year and Simone Ashley will be ready for the spotlight to be on her. Per Variety, Ashley (whose full name is Simone Ashwini Pillai) is a British actor of Indian descent. She grew up in an artistic household, singing Italian opera at a young age, and performed in musicals as a young child. Per her IMDb page, Ashley landed her first television role in 2016, and became a Netflix regular a few years ago, with roles in "Broadchurch" and "Sex Education."
In an interview with Veylex, Ashley explained that she always wanted to be a performer, despite coming from an academic family. "I've just always wanted to create and anything that allows me to do that has got my attention!" she said. "It allows me to be spontaneous and play. I guess it's something I've always wanted to pursue and didn't think twice about it." She added that her father was a big influence on her growing up and encouraged her to go into the arts. "Growing up, the record player was always playing rock n' roll tunes or Bob Marley, and the TV always had epic movies on, like 'Kill Bill,'" she said.
When she's not filming, Ashley gives an insight into her busy and very fashionable life on Instagram, where she boasts 489,000 followers. We're sure that follower count will go up massively when Season 2 of "Bridgerton" premieres later this month.
Simone Ashley went to the same school as another famous actor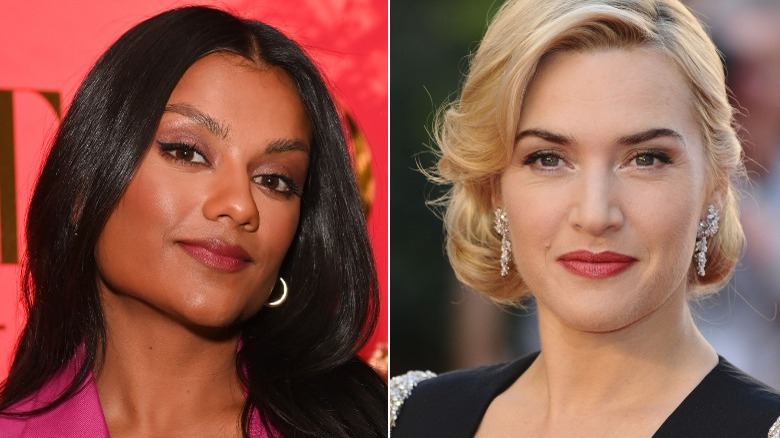 David M. Benett/Getty & Feature Flash Photo Agency/Shutterstock
Simone Ashley may be relatively new to the industry, she worked hard to get where she is today. Ashley told Veylex she came from an academic household, meaning that even though she didn't become a doctor or lawyer or scientist, she still had to work hard in acting school. As per the Mirror, Ashley attended Redroofs School for the Performing Arts for two years while she completed her high school degree. The school also had another famous alumni in Kate Winslet.
Redroofs' principal, Samantha Keston, told the outlet that Ashley had a "burning passion" to become an actor and was determined to make it in Hollywood. "Students that really do break through into the big time so often have that absolutely burning passion," she said. "They simply don't want to do anything else – this is their life." As for the similarity between Ashley and the "Titanic' star, Keston added, "Both Kate and Simone had that exact same work ethic and that same blinkered vision."
As per a Facebook post by Redroofs in 2017, Ashley achieved "outstanding results" in the program and was accepted to a three-year musical theater program at ArtsEd, a famous drama school in London. And as the saying goes, the rest was history.