Kanye West Goes After Pete Davidson In Another Disturbing Music Video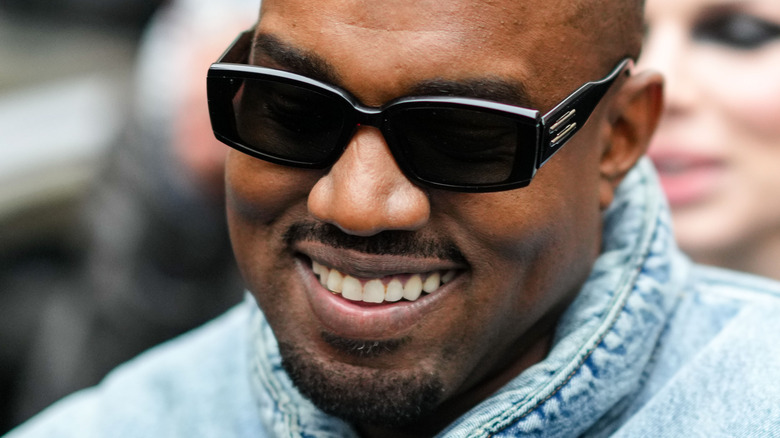 Edward Berthelot/Getty Images
If you thought Kanye "Ye" West would back down following the backlash his first music video depicting the violent murder of Pete Davidson generated — well, we're sorry to say that you thought very, very wrong. Instead, Ye appears to be ramping up his artistic attacks against the comedian — who is known globally to be dating Ye's ex-wife Kim Kardashian — in yet another music video for his song "Eazy." 
The first video, which Ye posted to his Instagram account, is a stop-motion scene of the rapper kidnapping and then burying Davidson alive, ending with Ye planting roses around his rival's head, which eventually bloom as Davidson watches. The video ends with a screen cap reading, per Page Six, "EVERYONE LIVED HAPPILY EVER AFTER, EXCEPT SKETE YOU KNOW WHO. JK, HE'S FINE" — "Skete" being Ye's nickname for Davidson. Davidson apparently laughed off the sinister video, according a source in Entertainment Tonight, finding the claymation version of himself "hysterical." 
And now Ye has doubled down on his cartoon-murder videos, which he has defended as "free speech," according to Rolling Stone.
Kanye West's new video shows Pete Davidson getting beaten up
Unlike the first one, Pete Davidson is not a starring character in Kanye West's second, more official music video for "Eazy," but he still doesn't get off "eazy." Per Page Six, about three-quarters of the way through the song, the CGI animated video shows a skinned monkey beating up a figure with its face blurred — like you'd see in an episode of "Cops" — but wearing a sweatshirt reading, "Skete." In case you weren't sure what Ye was driving at in this scene, it occurs as he raps, "God send me from that crash/just so I can beat Pete Davidson's ass," followed by a woman's voice asking, "Who?"
The moment probably would have been more shocking if Ye hadn't already released the decapitation version of the music video. Plus, violent as it appears, it's not unlike other controversial imagery directed at specific individuals that Ye has put out with his music. Like, for example, the video for his song "Famous," which depicted him in bed with a string of naked celebrities he's feuded with, including Taylor Swift.