Kanye West Just Sent A Disturbing Message To Pete Davidson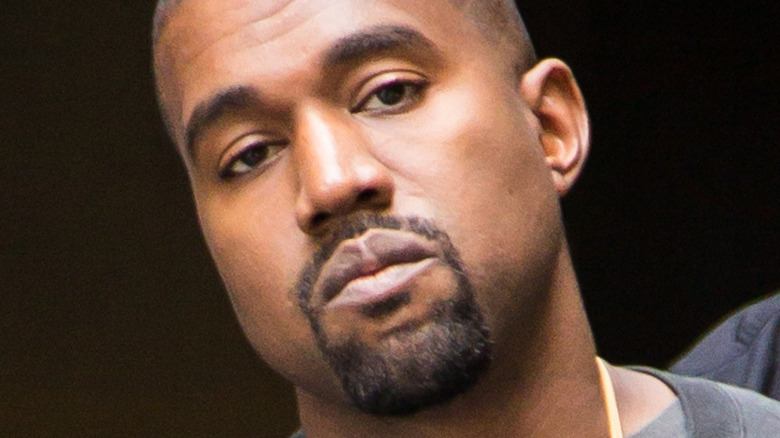 Liam Goodner/Shutterstock
Kanye "Ye" West appears to be having a hard time moving on from his estranged wife, Kim Kardashian. TMZ reported in January about Ye's (false) claim that Kim wouldn't let him attend their daughter Chicago's birthday party. The clothing designer took to social media, saying, "Won't nobody give me the address to my daughter's birthday party right now." But Ye is in the headlines again for sending another disturbing message to Kim's boyfriend, Pete Davidson. In January, Ye appeared to threaten Davidson in a song, rapping, "God saved me from that crash, Just so I can beat Pete Davidson's a**."
But even worse, after the rapper's January threat-by-song to Davidson, TMZ broke the news that Ye was spreading a rumor that the "Saturday Night Live" comedian had AIDS. But all of the weird drama Ye created appears to be strengthening Kim and Davidson's bond. A source close to the situation told Page Six that Ye's efforts are "actually bringing Pete and Kim closer together." A source close to Kim revealed to Page Six, "She is worried about how all of these things that are being played out so publicly on Kanye's end will affect their kids in the future and feels that any issues should be resolved privately." Ye didn't get the memo on dialing down the drama because the rapper just threw more shade at Davidson.
Kanye West's new threat to Pete Davidson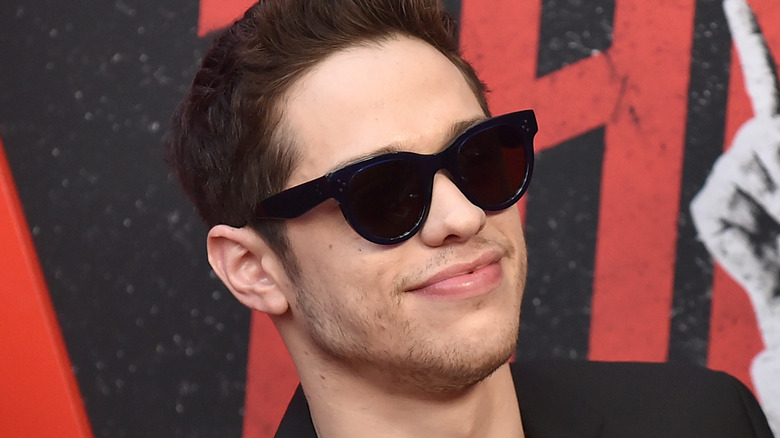 DFree/Shutterstock
Kanye "Ye" West sent a disturbing message to Kim Kardashian's boyfriend, Pete Davidson, in the new Fivio Foreign song, "City of Gods." According to the Daily Mail, Ye rapped: "This afternoon a hundred goons pullin' up to SNL / When I pull up, it's dead on arrival." Ye sent a message to Kim in the new song, too. Variety reported Ye rapped: "And if I let 'em have my wife, n****s should thank me ... With this Balenciaga and Balenci' boots and a new blue Yankee."
It seems Ye still doesn't have his jealousy under control when it comes to Kim dating the "Saturday Night Live" comedian. Ye wiped his Instagram of posts that included Kim and their four kids, then switched up his strategy a few days later. On February 9, the rapper switched strategies, posting a photo collage on Instagram of Kim and the kids with the caption: "GOD PLEASE BRING OUR FAMILY BACK TOGETHER." Kim has remained mum about Ye's actions but alluded to her divorce in a Vogue interview. Kim said, "For so long, I did what made other people happy ... in the last two years I decided, I'm going to make myself happy ... I think it's important to be honest with yourself about what really makes you happy. I've chosen myself. I think it's okay to choose you."