Meghan King Opens Up About The Far-Reaching Effects Of Her Son's Health Issues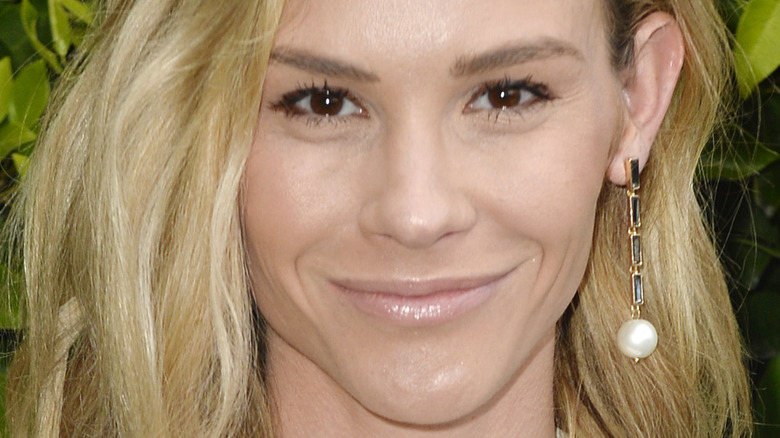 Jerod Harris/Getty Images
Being a parent is hard work in any circumstance, but being a parent to a child with a disability can pose unique challenges of its own. Meghan King, former star of "The Real Housewives of Orange County," doesn't often talk about the harder parts of managing her son Hart's cerebral palsy diagnosis, but is always honest about her motherhood journey. 
Meghan announced her son's diagnosis in October 2020, after months of sharing updates on his health and treatments after his brain damage diagnosis. "Even though he's the same kid I expected it to hit me hard. But it didn't. It didn't hit me hard at all. In fact I felt relieved," she wrote in a blog post at the time, going on to say that she'd been convinced it was cerebral palsy since he was just a few months old (via People). Meghan's blog post ended on an upbeat note, saying she was confident he'd go on to live a full and independent life, and hopes "Hart can inspire others with a 'diagnosis' not to hide it for fear of judgement but to wear it as a badge of honor, a source of pride for all the hard work he's accomplished that most of us will never understand."
When Meghan King shares updates on her son Hart's health, it's usually to talk about his progress or how well he's doing. Meghan also keeps it real with her followers, and sometimes shares the difficult aspects of her family life, too.
Meghan King got real about her son's health
In a March 10 Instagram post, Meghan King acknowledged that her son Hart's cerebral palsy diagnosis can be downright hard. In the long caption under a teary-eyed selfie, Meghan got real about the bad days because, she wrote, "the reality is that Hart's brain injury affects all of our lives daily."
"Although CP is defined as a motor disability, its symptoms rear their heads in a plethora of other ways," Meghan wrote, saying this was the second day in a row when Hart was sent home from school early for behavior issues, leading to missed work and also frustration. "Is his environment too inconsistent?" she questioned. "Is he not getting enough attention? How do I balance his needs with the other needs in the household? Is there such a thing as balance? Is there a solution? Is happiness achievable or are we bound to a lifetime of rollercoaster behaviors, merry-go-round therapies, and erratic emotions that eat into everyone's time and energy?" Meghan said it's the "unknown" that's most daunting. And unlike many other influencer moms, Meghan didn't offer any solutions at the end of her post — but that doesn't mean there aren't any. 
After all, Meghan resolved to "mom the s**t outta" 2022 in an Instagram post vowing to be an awesome mom to her children this year. We're wishing Meghan and all three of her little ones better days ahead!