Kellyanne Conway's Thoughts On The Biden Administration Has Everyone Saying The Same Thing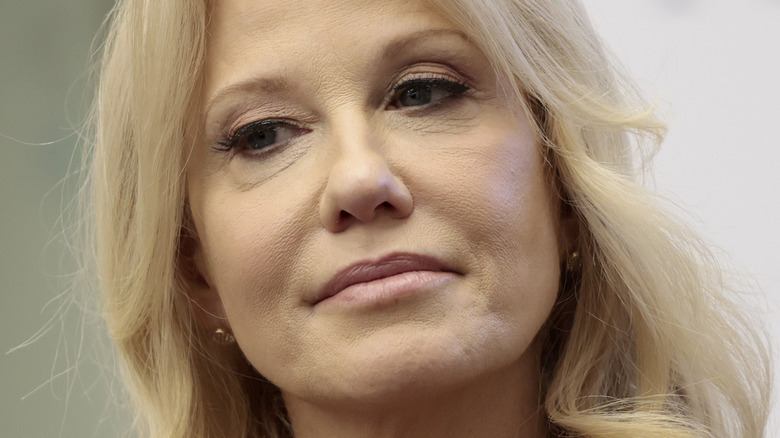 Anna Moneymaker/Getty Images
Kellyanne Conway, who served as a senior advisor to ex-President Donald Trump from 2017 to 2020, has mostly stayed out of the public eye since she left the White House in August 2020, according to The Washington Post. At the time, Conway decided to resign because she wanted to spend more time with family and focus on her children. Her daughter, Claudia, had a contentious relationship with her and frequently aired their disputes on TikTok.
During her three years in the White House though, Conway became one of Trump's most influential and loyal advisors, but it was her on-air shenanigans that made the most impact on audiences. In a 2017 interview with NBC's Chris Matthews, Conway blamed refugees for the "Bowling Green massacre" — a non-existent event she attributed to Iraqi citizens while defending the infamous travel ban, per The Guardian. Of course, who could forget Conway legitimizing the term "alternative facts" in defense of former press secretary Sean Spicer?
Now, after staying relatively quiet for two years, Conway has criticized the Biden administration for being untruthful, which has many people calling her out for hypocrisy.
Kellyanne Conway thinks Biden's administration has a 'fact problem'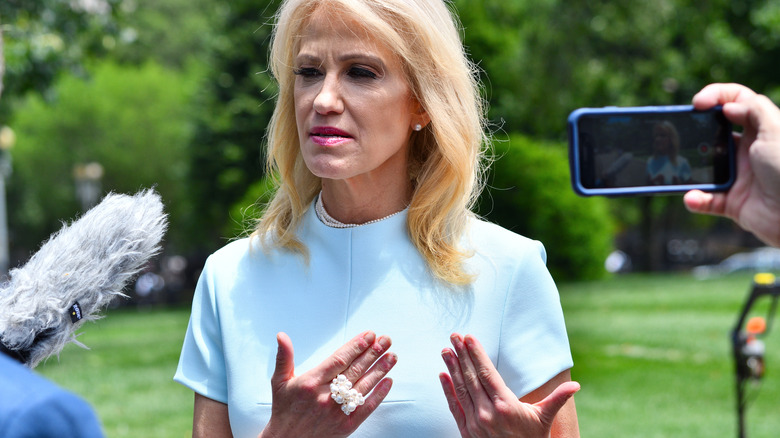 Evan El-Amin/Shutterstock
During an appearance on Fox's "The Ingraham Angle" on March 10, Kellyanne Conway said the Biden administration has a "fact problem." She also claimed President Joe Biden and press secretary Jen Psaki have "lost their credibility" in delivering information to the public, per Fox News.
"Americans know that everything they basically said is not true," Conway told host Laura Ingraham. "They've all been lies. The border surge was not seasonal, they've created records there. Inflation was not transitory, it's here to stay ... The Biden administration continues to break all these records in all the wrong ways." Conway added that the Biden administration "don't seem to do anything well," and said their disapproval ratings show that many Americans share the same criticisms as her.
Conway was widely criticized after the interview aired, with many social media users accusing her of gaslighting audiences and being a hypocrite, according to HuffPost. "Kellyann 'Alternative Facts' Conway wants to claim someone else has a fact problem???" one user tweeted. Another user wrote, "Kellyanne can't claim anyone else has lost their credibility because hers has been DEAD for YEARS," Meanwhile, others voiced their support for Psaki and said that she is "class" compared to former press secretaries in the Trump administration. We're not surprised to see that Conway is still polarizing as ever.