Inside Claudia Conway's Relationship With Her Mom
Mother-daughter relationships can be tricky — just look at Kellyanne Conway and her daughter, Claudia Conway. Kellyanne became a household name in 2016 when she joined Donald Trump's campaign as his third campaign manager, replacing Paul Manafort, per Politico. After Trump's victory, she became an advisor to the president. The Trump campaign and presidency were contentious and Kellyanne became the face of that division, especially as her troubled relationship with her husband became increasingly public.
While Kellyanne is a staunch Republican and supporter of Trump, her husband, George Conway, skews left. During Kellyanne's time in the White House, George spoke out repeatedly against the Trump administration and even endorsed Joe Biden, per The Washington Post. It would seem that Claudia takes after her dad.
Claudia has been a sort of Gen-Z equivalent of her father, making TikToks and social media posts disparaging her mother's political careers. "Growing up when your mom is Kellyanne Conway, it's really really hard to disassociate yourself with that image," she told Insider in 2020. "People look at me and are like, 'Oh, that's Kellyanne Conway's daughter,' she must love Trump," she continued. "In reality, I really don't."
Over the years, Kellyanne and Claudia's relationship has fluctuated, often with the drama or even potential legal issues playing out in a very public way. So, what's the truth about this complicated mother-daughter duo? Read on to find out.
Claudia Conway tried to get emancipated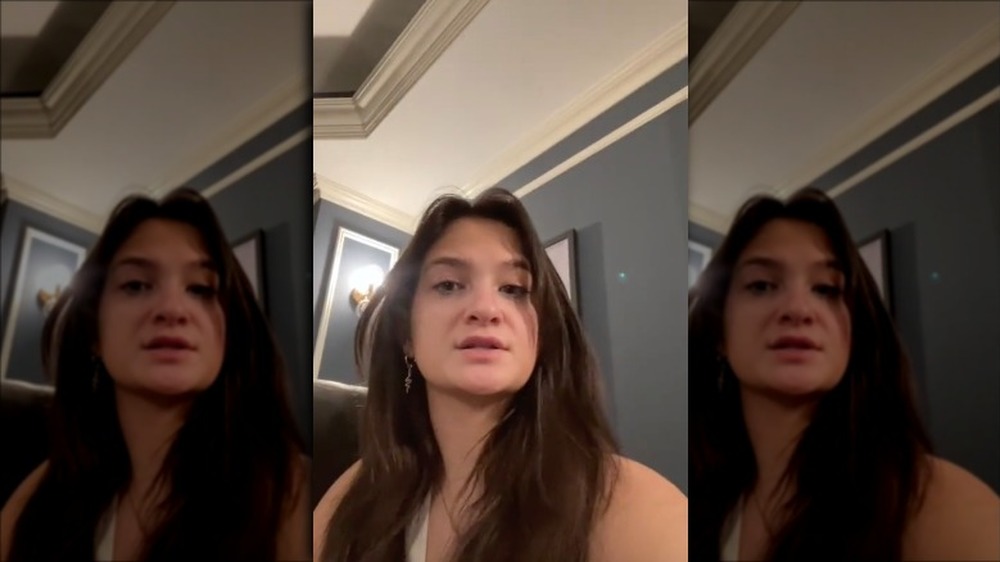 Claudia Conway/TikTok
Differing political views are enough to make any family butt heads, but it's much more intense that is when part of the family actually works in politics, as is the case with Claudia and Kellyanne Conway.
Things first seemed off when news broke that Claudia was pushing for legal emancipation from her parents. In an August 2020 tweet, Claudia, who was just 15 at the time, wrote "i'm officially pushing for emancipation. buckle up because this is probably going to be public one way or another, unfortunately. welcome to my life."
Less than 24 hours later, Kellyanne announced her plans to resign from her position in the White House, claiming she wanted to focus on her family, per The Chicago Tribune. Those who followed the story assumed that Kellyanne and Claudia's political differences had something to do with the drama, but Claudia later confirmed that things were much more serious than that. "y'all love to twist everything... i'm not getting emancipated because of my mom's job.. it is because of years of childhood trauma and abuse," the teen wrote in a cryptic tweet. Claudia has yet to go into any detail about these claims, and her parents have yet to address them publicly. Claudia did allege, however, that her mother tried to make her delete all of her social media in July 2020, per The Cut.
As of the time of this writing, Claudia is not emancipated from her parents and is still very much active on social media.
Kellyanne Conway might be facing legal trouble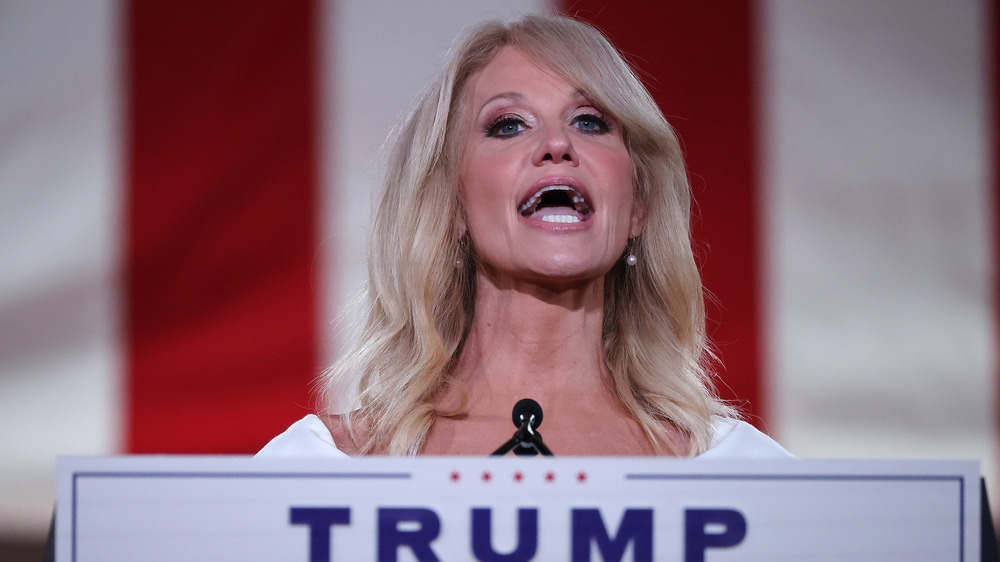 Chip Somodevilla/Getty Images
Things became even more complicated for Kellyanne Conway and Claudia Conway in January 2021. On Jan. 25, Kellyanne shared a partially nude photo of Claudia, who was just 16 at the time, on the fleet feature of Twitter, per The Sun. Because this is the digital age, even if something is posted only temporarily, there's nothing to stop someone from taking a screenshot. It didn't matter that Kellyanne seemingly deleted the photo shortly after sharing it, as it was already making the rounds on the internet.
Claudia responded to the scandal by posting a since-deleted TikTok video, in which she reportedly confirmed the photo was real but claimed it was a misunderstanding. The teen told her followers that her mother routinely goes through her phone and screenshots photos from her camera roll, which is apparently how Kellyanne came to be in possession of the picture. "The picture's from months ago and I'm assuming that when my mom took my phone...she took a picture of that, so that was on her phone," Claudia said, per The New York Post. 
Things became more confusing when Tana Monague live-streamed a FaceTime with Claudia that evening, apparently showing a confrontation between Claudia and Kellyanne, who were eventually joined by a police officer, per Buzzfeed. The following day, Claudia posted a series of TikToks professing her mother's innocence, saying she believed Kellyanne was hacked, and announcing her plans to "get off of social media" to work on their relationship in person.  
If you or someone you know may be the victim of child abuse, please contact the Childhelp National Child Abuse Hotline 24/7 at 1-800-4-A-Child (1-800-422-4453) or contact their live chat services at www.childhelp.org/hotline.