How Tall Is Jason Momoa?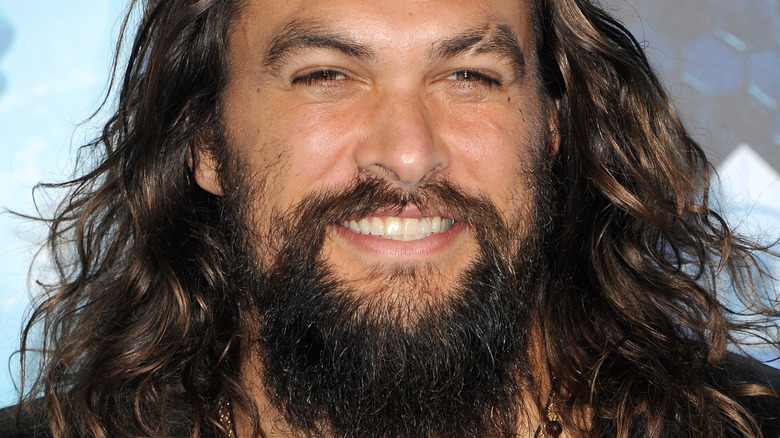 Tinseltown/Shutterstock
If you're a fan of Jason Momoa, then you're well aware that he has tackled quite a few memorable projects during his on-screen career, such as the title role in 2011's "Conan the Barbarian," Khal Drogo on "Game of Thrones," and Aquaman in 2017's "Justice League," as well as the 2018 film named after his DC hero. To take on these parts, Momoa not only needed to put his acting skills to work, but he also had to have a certain kind of physical presence. 
What exactly does that mean? Well, he had to be big. Really big. Frankly, even though Momoa has experienced quite a transformation over the years, his physique has been helping him nab gigs and win fans ever since he appeared on "Baywatch" in 1999, according to Us Weekly. When it comes to his size, Momoa explained to Men's Health, "It's just genetics ... Hawaiians are big people."
That may be true, but the fact remains that Momoa is both impressively muscular and taller than others. While the average height of men in the United States is 5-foot-9, per Healthline, Momoa stands quite a bit taller than that. But how tall is he?
Jason Momoa says his height scares casting directors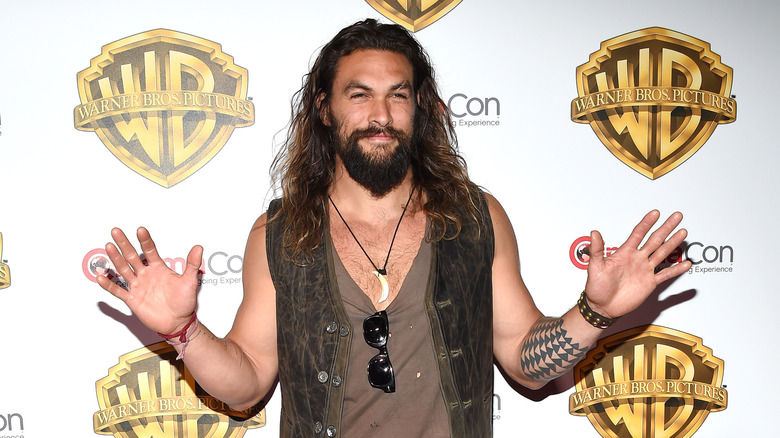 DFree/Shutterstock
It's no secret that Jason Momoa is tall. However, there might be a little confusion when it comes to just how tall he really is. While he's supposedly 6-foot-4, according to Celeb Heights, the actor himself claims to be an inch taller. He also revealed that his height — along with a certain accompanying behavior — can freak people out.
"When you have a big 6'5" Hawaiian, screaming at the top of his lungs ... casting directors were kind of very scared," Momoa admitted during an interview with Access while talking about auditioning for certain parts. At the same time, he acknowledged that what the casting directors saw "worked" for them and he ended up landing the enviable gigs.
Indeed, Momoa has definitely found success in the entertainment industry, perhaps in part because of his size. Being so tall certainly hasn't seemed to hurt his career and the same can be said for other stars who are also 6-foot-5, such as Tyler Perry, John Corbett, Joe Manganiello, and Dwayne "The Rock" Johnson, according to Men's Health. Of course, not everyone is as tall as Momoa. For instance, there happens to be one person in his life who is quite a bit shorter.
Jason Momoa towers over Lisa Bonet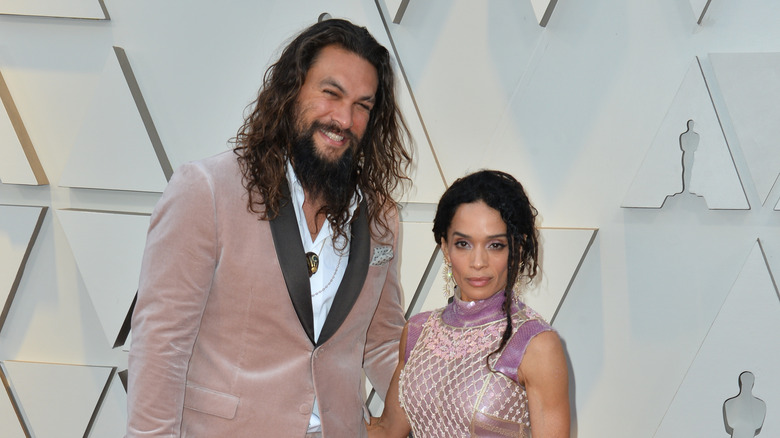 Featureflash Photo Agency/Shutterstock
Jason Momoa and Lisa Bonet's relationship first kicked off when the two stars met at a jazz club back in 2005 and were introduced by friends, according to Life & Style. Hitting it off right away, the two were together for years before announcing their split in January, which was followed by a possible reconciliation the next month. Whatever the status of their relationship happens to be, Momoa once explained the nature of his love for and life with Bonet, telling People, "We are a perfect fit."
Although Momoa was likely referring more to how the couple interacts, their common beliefs, and their shared goals, he may or may not have also been talking about the difference in their height.
If you've ever seen Momoa and Bonet making a red carpet appearance together, then you'll know that he's a lot taller than her. At 6-foot-5, that means he's over a foot taller than Bonet who stands at 5-foot-2, according to Celeb Heights. While that might make it seem like they're mismatched when it comes to their sizes, if you've spotted them cozying up together, you'll know that she fits perfectly in his arms. While Momoa and Bonet's future may not be clear, there's no doubt that these two fit together in all kinds of ways.