Janet Jackson Was Just Pictured In Public For The First Time In A Year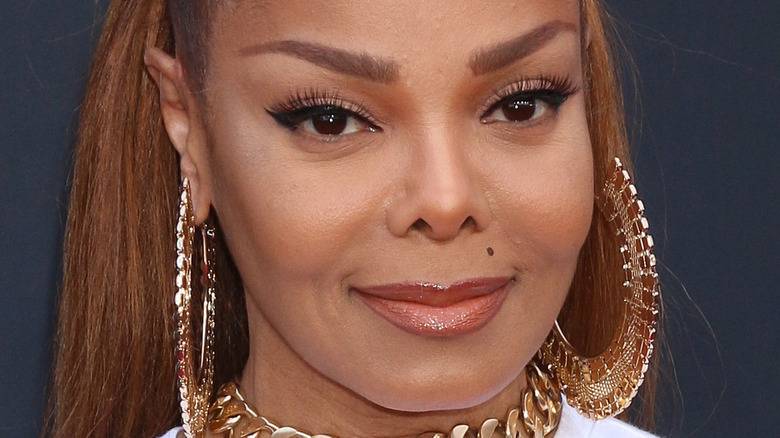 Kathy Hutchins/Shutterstock
Out and about! That's what Janet Jackson was doing this past week, as she was just spotted in public for the first time in a year.
Over the past year, the pop star has been keeping a low profile despite making headlines for her documentary series. The self-titled documentary took cameras behind the scenes of her career, her family life, and the infamous Super Bowl halftime show scandal with Justin Timberlake, according to HollywoodLife.
But this past year, the singer also began venturing back into public life — just from behind the Zoom screen. Appearing on "The Real" and "The Tonight Show Starring Jimmy Fallon," Jackson discussed her new documentary and hinted at new music, per Rolling Stone, before becoming the cover star for Allure's February issue. As Jackson stepped back into the spotlight, one of the main topics she discussed with Allure was control and how she's in command of her own life. Now, with her story and message out there, the "All For You" singer has been spotted out in public in the most assured yet confident way.
Janet Jackson was spotted running errands in a casual outfit
Stepping out in London, England on March 10, Janet Jackson was spotted running some errands in a casual, yet chic ensemble.
Rocking a monochromatic outfit, the "Rhythm Nation" star donned a black sweatshirt and sweatpants with an ombre scarf in shades of gray, black, and white wrapped around her neck to keep warm. Accessorizing her look, the star added a black head scarf, large circular sunglasses, and a pair of white and black, platform sneakers to finish it off. During her stroll around the city, the pop star was seen smiling as she exited a flower shop, per HollywoodLife, before catching up with friends, according to Just Jared.
While this is the first time fans have seen Jackson out in public in the last year, it luckily doesn't seem to be the last time, either. This summer, as the Essence Fest returns to an in-person concert event, Jackson is set to headline alongside Nicki Minaj and Kevin Hart, per CNN. Keeping it short and sweet, Jackson posted the announcement to her Instagram, saying, "See u guys in NOLA at Essence Fest July 2," alongside a kissy face emoji. While Jackson has yet to reveal a set list or sneak peeks regarding the concert, knowing how Jackson feels about being back in control could be a sign that a new Janet Jackson era is on the way!