The Truth About Dr. Phil's Battle With The National Enquirer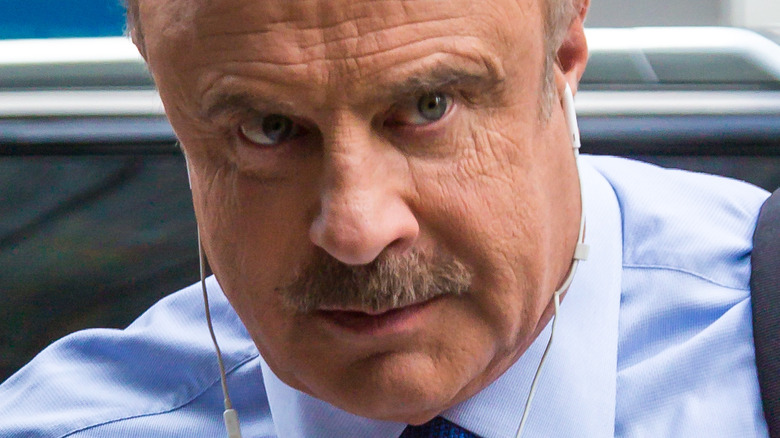 Liam Goodner/Shutterstock
Dr. Phil McGraw scored his own TV gig after appearing on "The Oprah Winfrey Show." Per Biography, McGraw claims to have a Ph.D. in psychology, but he quit being a therapist to become a motivational speaker and life coach. He also launched a litigation consultancy company called Courtroom Sciences, which is how he first met Oprah. When his services resulted in a lawsuit win for the talk show titan in 1998, McGraw became a regular Oprah guest.
According to Courtroom Sciences website, the company works with "corporate legal departments and law firms throughout the entire litigation lifecycle." They provide deposition training, witness coaching, trial preparation, and aiding in jury selection. And it's a good thing that McGraw owns the litigation specialists, as he's been the subject of multiple lawsuits over the years — ranging from "embarrassing to weird to serious."
Per the Daily Beast, Dr. Phil's been sued by a woman who was allegedly bitten by his dog, a woman who was purportedly "brainwashed" and molested during a therapy session at his home, and two brothers who were falsely portrayed as being involved in the murder of Natalee Holloway, in addition to many other legal actions. And Dr. Phil is not shy when it comes to firing off his own lawsuits, either — particularly against The National Enquirer. McGraw and the tabloid have a long and contentious history. Here's the truth about Dr. Phil's battle with The National Enquirer.
Dr. Phil McGraw goes to war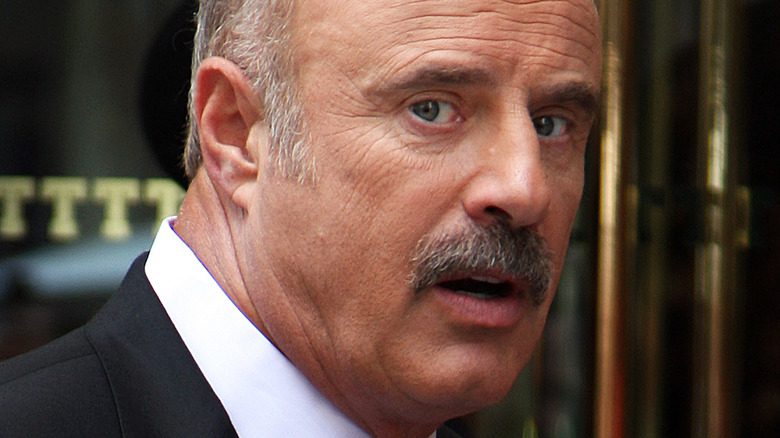 Paul Hakimata Photography/Shutterstock
Dr. Phil McGraw's decidedly rocky relationship with The National Enquirer spans back over nearly two decades. According to court documents (via USA Today), the tabloid and its sister titles published more than 85 stories about the McGraws between 2003 and 2016, equating to an average of one every two months. Among the many stories were claims that the couple's marriage was on the rocks, that they were heading for divorce and that Dr. Phil was emotionally and physically abusive to Robin McGraw.
In 2016, Dr. Phil decided he'd had enough. Despite one of his "Ten Life Laws" stating "there is power in forgiveness," the McGraws filed a $250 million defamation lawsuit against American Media Inc. (AMI), The National Enquirer, Star magazine, and RadarOnline. In the court documents, Dr. Phil and Robin's legal eagles accused AMI — the company that owns each of the aforementioned publications — of using the pair to help boost flagging sales. "The unauthorized misappropriation of the McGraws' names and likenesses, coupled with false and sensationalized articles about the McGraws, sells magazines," they claimed.
The lawsuit listed each and every one of the couple's philanthropic efforts and claimed the McGraw name "evokes trust and positive feelings, with the public viewing them as trusted guides and advocates through some of life's most perplexing and difficult problems and times." They charged that the stories run by AMI publications painted Dr. Phil as a "philandering pervert," in addition to a man who's guilty of "infidelity, sexual assault, sexual battery."
Dr. Phil's bad press battle continues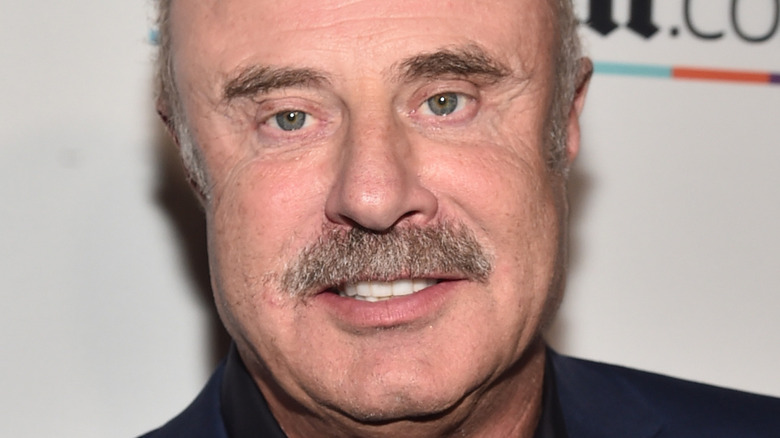 Alberto E. Rodriguez/Getty Images
Sadly, Dr. Phil McGraw never got to have his day in court and the opportunity to publicly restore his reputation because, just months after filing their defamation demand, the McGraws dropped the lawsuit against American Media Inc. and its publications.
Dr. Phil, Robin McGraw, and AMI's attorneys managed to hash out a settlement. Neither side has revealed how much the McGraws were awarded, but it's safe to say that it was nowhere near the $250 million they were seeking. "The lawsuit has been resolved to the mutual satisfaction of all the parties," an AMI spokesperson told BuzzFeed News. "The parties have agreed to make no further comment about the lawsuit or its resolution."
Dr. Phil may have won the tabloid war, but that doesn't mean his foes are defeated. The National Enquirer still has its anti-McGraw stories online. A 2009 "secret divorce deal" post claims Robin is writing a "warts and all" memoir revealing her soon-to-be ex-husband's "darkest secrets." Dr. Phil has also failed to stop more negative stories from cropping up. A BuzzFeed report alleges Dr. Phil has created a "miserable" and "toxic workplace" that's normalized racism, verbal abuse, and threatening behavior. "Dr. Phil — the show about mental health where everybody who works on it has terrible mental health because our work conditions were really bad," one ex-staffer shared. Perhaps there will be more lawsuits in Dr. Phil's future after all.