The Bizarre Avril Lavigne Conspiracy Theory Explained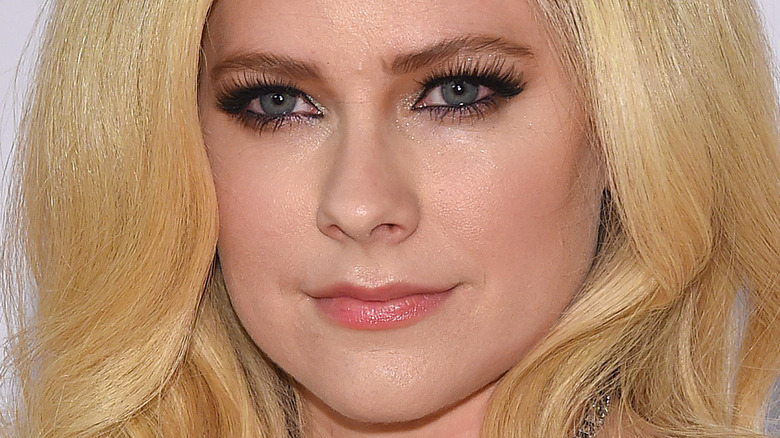 DFree/Shutterstock
In her 2007 smash girlfriend "Girlfriend," Canadian singer Avril Lavigne refers to herself as the "motherf***ing princess," which is hard not to agree with based on her impressive resume. Since bursting onto the music scene in the early 2000s, Lavigne has sold more than 40 million albums worldwide, according to NBC, and continues to be a force that inspires the new generation.
In February 2022, Lavigne released her seventh studio album, "Love Sux," which heard the "When You're Gone" hitmaker return to her punk roots. That same month, the Grammy-nominated star spoke to SPIN about how appreciative she feels to have had a long career that is still going strong. "I was born loving music. I started writing songs really early on as a kid, and I can't believe that I'm so lucky that I get to do this for a living," she explained, adding, "I think every day about how cool of an opportunity this is and how rare and unique and special it is, and I just feel really grateful. I love looking back at my older albums, and I think that's what's great about touring."
Despite being famous for nearly two whole decades, Lavigne manages to keep her private life mostly a mystery. For this reason, many believed in a bizarre conspiracy theory about Lavigne's personal life that first started back in 2005.
Rumor has it, Avril Lavigne was replaced by a look-alike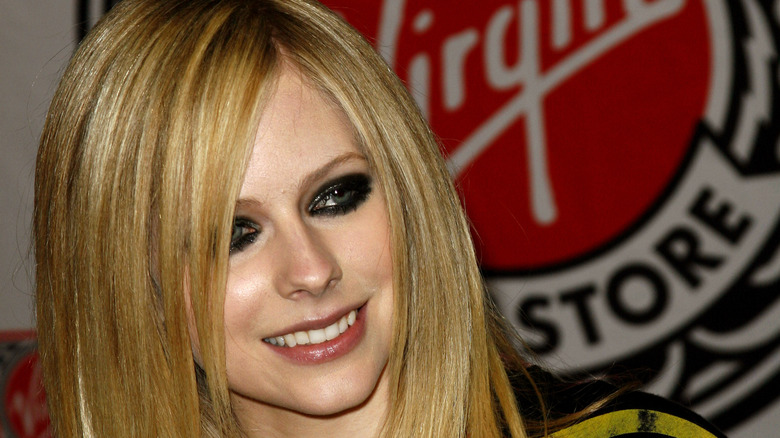 Tinseltown/Shutterstock
Many people around the world believe that the Avril Lavigne we see today is in fact someone who looks just like her. It all started when a Brazilian fan page started this theory in 2005, according to The Guardian. The conspiracy theory claims that the young Lavigne that we all first laid our eyes on struggled with fame in the early 2000s, and used a body double named Melissa as her decoy. According to Metro, the conspiracy theory suggests that the real Lavigne died after struggling with depression in 2003 and was found by her record label, leading them to replace her with Melissa to have the public believe nothing tragic ever happened to the teen idol.
Even though this theory first emerged in 2005, it resurfaced in 2017 and became a huge talking point across social media. What made many people think this could be true is that Lavigne once posed with the name "Melissa" written on her hand, as noted by Metro. Like many celebs who rose to fame at a young age, Lavigne's appearance had also changed throughout the years and some extreme fans took Lavigne's transformation as a sign she was replaced by a body double. But aside from dying her hair and an evolving sense of style, Lavigne's transformation wasn't deemed as drastic, leaving other fans wondering how realistic this theory could actually be. After years of staying hush-hush about the rumor, Lavigne finally spoke up.
Avril Lavigne was 'flabbergasted' by the theory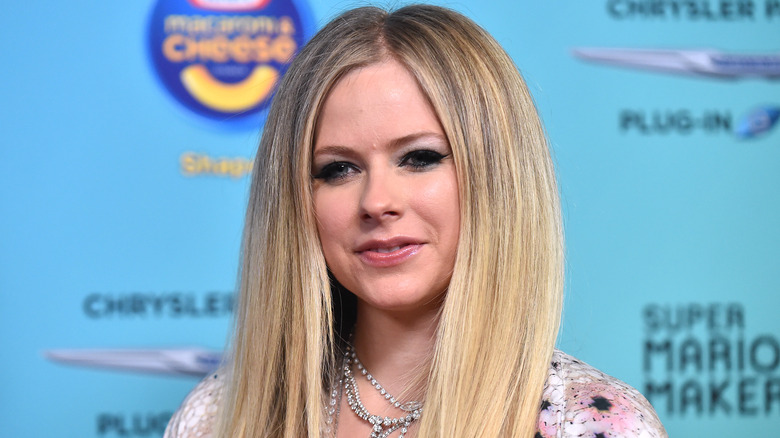 DFree/Shutterstock
Many fans thought that Avril Lavigne would never speak on the bizarre 2005 conspiracy theory that claimed she had been replaced by her record label with a look-alike named Melissa. However, in October 2018, Lavigne did a press tour in Australia and was questioned about it on "The Kyle & Jackie O Show." "Some people think that I'm not the real me, which is so weird," she said." Why would they even think that?" Even though her answer at the time was brief, it wasn't the only time Lavigne addressed the strange theory.
The following year, she was asked in February about the theory again by Entertainment Weekly, which inquired about how all the talk affected her on a personal level. Lavigne, however, didn't refer to the story as a conspiracy theory and boldly stated it was a "dumb internet rumor" and was "flabbergasted" that people believed it was true. "Isn't that so weird? It's so dumb," Lavigne fired back. "And I look the exact same." The "Bite Me" hitmaker continued, "On one hand, everyone is like, 'Oh my god, you look the same,' and on the other hand people are like, 'Oh my god, she died.'" Clearly, the princess of pop-punk doesn't have time for people suggesting she's actually Melissa.