The Truth About Zoe Kravitz And Robert Pattinson's Relationship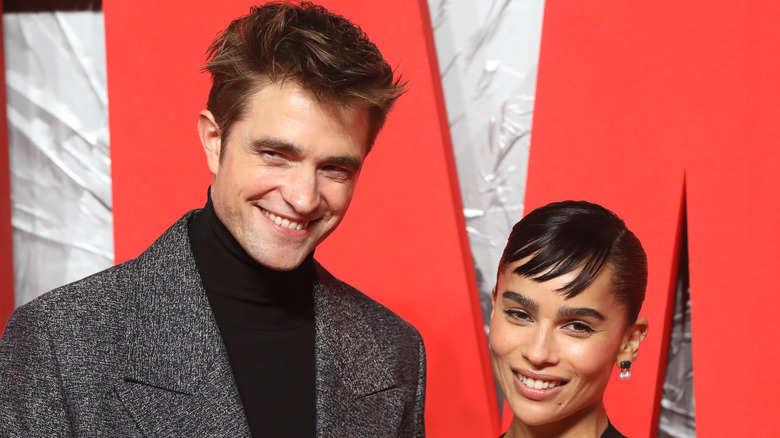 Lia Toby/Getty Images
Like most movie fans, you've probably heard the buzz about the chemistry between Zoë Kravitz and Robert Pattinson in "The Batman." The hotly anticipated film premiered in March, after nearly two years of COVID-19 setbacks and rigorous filming. Pattinson plays the titular superhero, also known as playboy billionaire Bruce Wayne, while Kravtiz plays the mysterious Selina Kyle, alias Catwoman. Since its debut, the three-hour feature has been praised for its immersive storytelling and brutal action sequences. But it's the tensely-charged moments between Pattinson and Kravitz's characters that have sparked fans' curiosity.
Due to the duo's magnetic chemistry, many have wondered if the two were romantically involved off-camera. But it's all Hollywood magic; their romantic connection is strictly fictional. Robert Pattinson is involved with actress Suki Waterhouse, and Kravtiz has been dating "Magic Mike" star Channing Tatum for a few months. Although the two aren't a couple, they have given fans insight into their supportive friendship
Zoë and Robert are longtime friends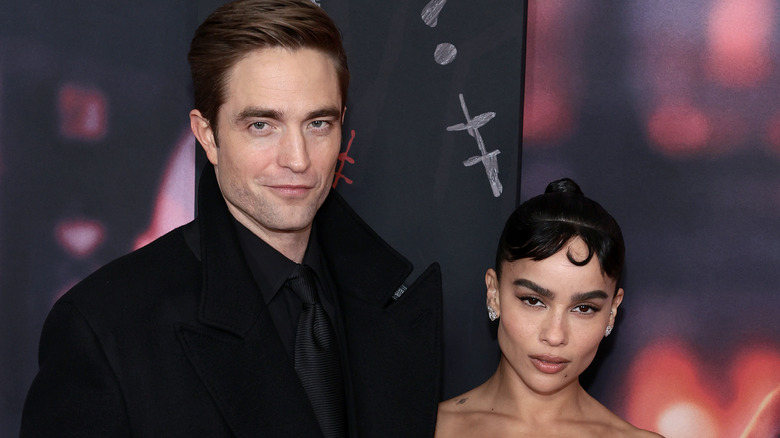 Dimitrios Kambouris/Getty Images
Due to Hollywood's small social circle, actors are bound to link up outside of work. In the case of Kravitz and Pattinson, the two have established a 12-year friendship. In 2019, the Twilight actor first discussed his friendly relationship with the "Kimi" star after it was announced that she would be stepping into the iconic catsuit. "Zoë's great and I've known her for years and years and years," he told Entertainment Tonight. "I mean, I've been friends with her for like ten years and she's brilliant."
In a recent interview with Jimmy Fallon, Kravitz seemed to echo Pattinson's sentiments and revealed that the actor was present during her screen test. "I knew Rob, from around but had never worked with him. I had to camera test with him and that was kind of funny," she explained. She then explained her initial reaction to seeing Robert Pattinson in the costume. "Just to camera test with someone you know dressed as Batman and you haven't seen him in a while. But then you kind of catch up and you're like 'How you been,' you know?"
Zoë and Robert's connection is clear the screen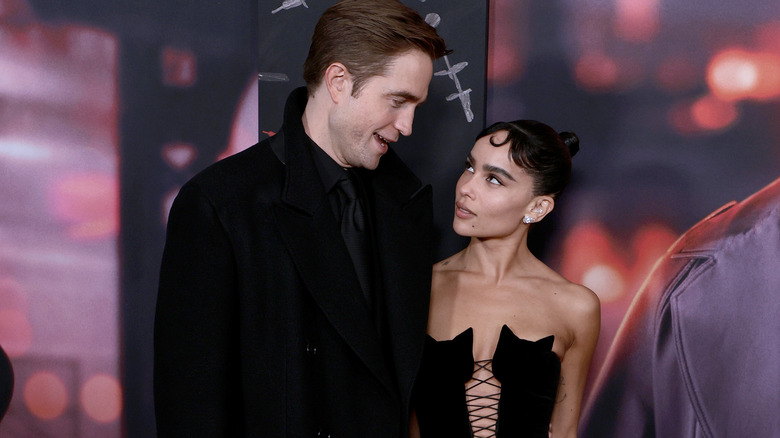 Dimitrios Kambouris/Getty Images
Kravitz and Pattinson's camaraderie helped them during pre-production and filming. In a February interview with Entertainment Weekly, Pattinson and Kravitz revealed that they both suffered from anxiety during their first screen test. "The chemistry read was really intense ... it was a proper camera test with the DP there and everything on stage," she said. "So it was intimidating, to say the least. That totally spun me into a little bit of anxiety."
Pattinson seemed to agree with Kravitz and revealed that he looked to the "High Fidelity" star for solace during the screen test. "The camera's not even on me, it's on the back of my head, and I'm literally having this major panic attack, just looking for emotional support from Zoë, who's trying to get the part," he revealed.
Like many over the last two years, COVID restrictions and lockdowns also contributed to their anxiety. Instead of spiraling, Kravitz told the publication that her connection with Pattinson helped ease her anxiety while they filmed. "There could be a lot going on in a scene, but if I was able to connect with Rob and look into his eyes, it would immediately bring me into the moment," she said. "I saw a look in his eye that I hadn't seen before. Seeing something new and very vulnerable as well was really beautiful." Zoë and Robert are officially our new friendship goals.