Tyrese Gibson Reveals The Message R. Kelly Sent Him Amid His Mother's Death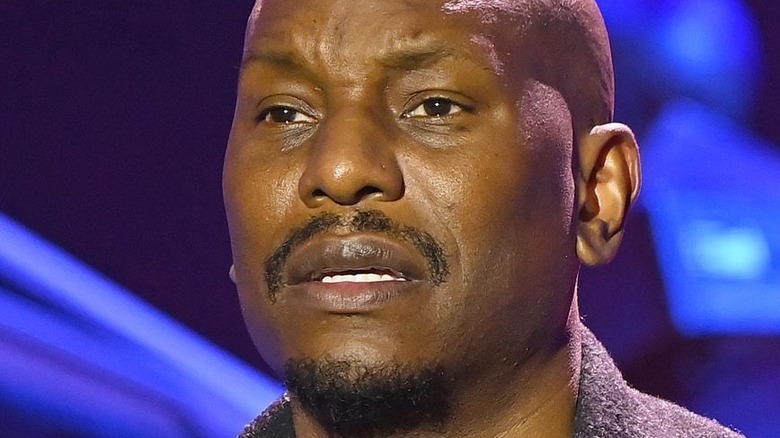 Paras Griffin/Getty Images
On February 5, Tyrese Gibson shared with fans that his mother, Priscilla Murray, was gravely ill, and it was while working that the actor learned his mother took a turn for the worse. "In the middle of filming and just got the worst phone call I've ever gotten," he wrote in an Instagram post. "My mother is in a coma, in ICU, with Pneumonia and she caught Covid they got her so sedated she can't breathe or even eat on her own," Gibson added.
Unfortunately, Gibson's mother died later that month. The "Fast & Furious" star shared an emotional post to Instagram on February 14 to announce her death. "On behalf of my family and everyone who ever spent anytime praying tor my mother This is the saddest moment of my life ... My sweet Valentine just passed away," he wrote. Gibson included a video where he held his mother's hand just shortly after she died. "Rest in peace mom ... I'm so sorry this happened, mom," the actor said in the tear-inducing clip.
Almost two years earlier, in April 2020, Gibson spoke about R. Kelly's legal woes during an Instagram Live session with rapper Fat Joe. Gibson argued that everyone had some sort of skeletons in their closet that would look terrible under public scrutiny. "Everybody is involved in something that they don't ever want people to know about publicly," he told Fat Joe (via The Jasmine Brand). Kelly must have appreciated the support, because he took time to reach out to Gibson after his mother died.
R. Kelly sent Tyrese Gibson a message from prison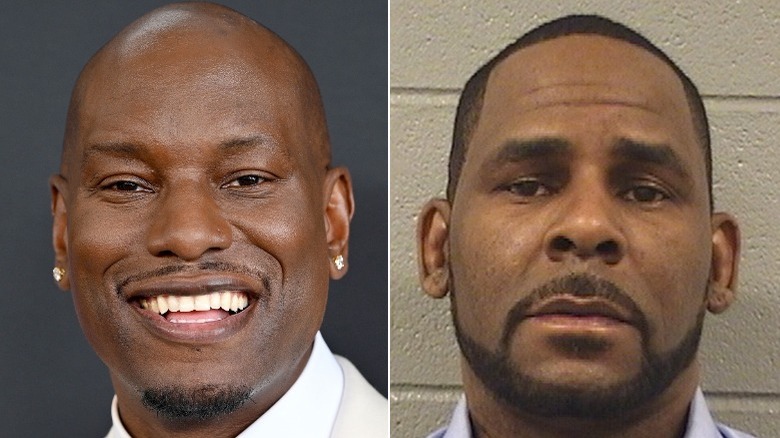 Handout & Dia Dipasupil/Getty
Even though he was in prison, R. Kelly found a way to send condolences to Tyrese Gibson when he found out the actor's mother had died. Gibson shared a screenshot of the message — that was relayed through a mutual contact — to his Instagram page on March 11. "Hey lil bro, my condolences to you about your mom. She is in a better place with my mom, and they both smiling down on us," the message read. "I know it a lot having to deal with this is the limelight, but keep ya head up," Kelly added.
Gibson was moved by the gesture from the "Ignition" singer, and shared his reaction to the text in an emotional caption. "[J]ust broke down in my trailer took me 45 mins to recover love you Kellz," the "Baby Boy" actor wrote. "[D]amn he is on the inside and still took time to get Condolences out to me and my family," he added. Gibson also mentioned how he wished Kelly had access to recording equipment, so he could produce music while behind bars.
On February 19, Gibson took to Instagram to thank friends and fans alike who had showed support while the family mourned the loss of his mother. "This is my attempt to let you guys know I NOTICED and I'm grateful that when my family needed your uplifting healing energy," Gibson wrote in the caption that accompanied a lovely photo of himself and his mom, who both sported giant smiles.