Jurnee Smollet Has Strong Words About Jussie's Jail Sentence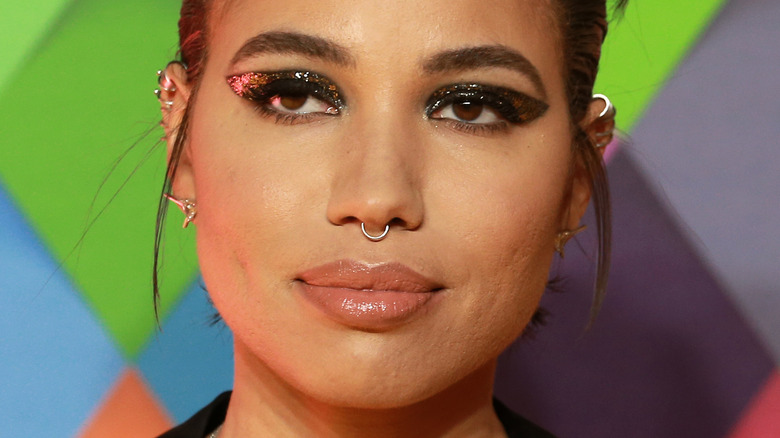 Cubankite/Shutterstock
Reactions to Jussie Smollett's sentence for staging a hate crime against himself were befitting the already-odd case. After a jury found Smollett guilty on five counts of felony disorderly conduct in December 2021, Cook County Judge James Linn sentenced the singer-actor in March to 30 months of probation, including 150 days in county jail. Additionally, Smollett must pay the city of Chicago $120,106 in restitution as well as a $25,000 fine, per CBS News.
Upon hearing his sentencing, Smollett reacted with a bizarre outburst in court, saying, among other things, "I am innocent, and I am not suicidal... And if anything happens to me when I go in there, I did not do it to myself," per CBS. Meanwhile, rapper 50 Cent was among the members of the internet who jumped on the moment. 50 posted a video of Smollett's courtroom protest to his Instagram, writing, "If i ever go to court again, i don't care if it's for a parking ticket. i'm gonna say this I AM NOT SUICIDAL... as i walk out." However, Smollett's "Empire" castmate Taraji P. Henson protested his jail-time in her own Instagram post, writing, "[T]he punishment does not fit the crime." As she elaborated, "No one in Hollywood will hire him" and for "an artist," that was punishment enough. 
Now, Jurnee Smollett, Jussie's sister and star of HBO's "Lovecraft Country," had an equally strong stance on her brother's fate.
Jurnee Smollett's response to Jussie Smollett's sentencing has many puzzled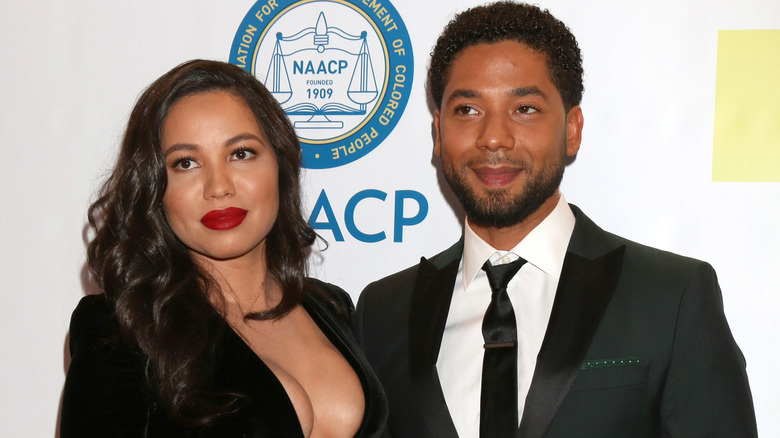 Kathy Hutchins/Shutterstock
Jurnee Smollett believes brother Jussie Smollett's innocence. In an Instagram post, Jurnee posted a simple black image with the written words "#FreeJussie" on March 12. The actor went on to write in its caption, "Black Americans are incarcerated in state prisons at nearly five times the rate of White Americans. Jussie is innocent.And...you don't have to believe in his innocence to believe he should be free," with her adding the hashtags "#FreeJussie" and "#StopLockingUpOurPeople."
Jurnee turned her post's comments off, but Twitter rang loud with reactions to her words nonetheless. While one user voiced his support, tweeting, "I'll attend the Free Jussie march hand-in-hand with Jurnee Smollett," the vast majority seemed unreceptive to her message. One contested aspect to Jurnee's defense was her citation of Black incarceration in America. One user voiced many's confusion, asking, "Does Jurnee Smollett believe only white people should be jailed for breaking the law? I don't get it." Another individual addressed Jurnee directly, tweeting,"[R]emember how your bro faked a hate crime? Yeah, that's why he's in jail. You two are delusional to believe he's locked up for no reason. This is why normal Americans hate entertainers. You're living [in] an alternate universe." 
Another user echoed Jussie's sentencing judge when he wrote, "Mr. Smollett represents narcissistic liars, not an ethnic group." (Cook County Judge James Linn accused Jussie of having "this arrogance, and selfishness and narcissism that's just disgraceful" during his hearing, per CNN).