What Celine Dion Has Said About Her Weight Loss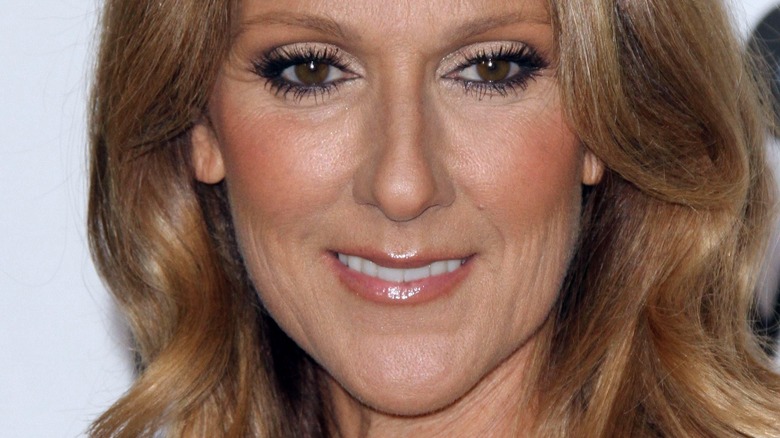 s_bukley/Shutterstock
Starting in 2021, Céline Dion has struggled with health issues. After experiencing "severe and persistent muscle spasms" in October of that year, the Grammy winner had to put her Las Vegas residency on hold, as Deadline reported at the time. By January, the Canadian singer's medical issues were ongoing, leading Dion to cancel the March and April concerts of her North American "Courage" tour. "I was really hoping that I'd be good to go by now, but I suppose I just have to be more patient and follow the regimen that my doctors are prescribing," Dion wrote in an Instagram post she uploaded on January 15. Dion then added that she looked forward to getting "back to full health" and being back on stage when the time comes.
Unfortunately, fans had been concerned about Dion's health for some time. According to The U.K. Sun, the singer seemingly started losing weight after the death of her husband René Angélil in January 2016. (There is no indication her perceived weight loss is connected to the issue that stalled her Vegas residency). Since then, a number of her Instagram followers have expressed their concerns over posts in which they deemed Dion to be in ill health. ("PLEASE MS. CELINE, please look at this picture and tell me you don't need to get help with your weight loss," one user wrote under a September 2020 Instagram photo.) Though Dion didn't appear to engage, she has still stood up for herself.
Celine Dion implemented lifestyle changes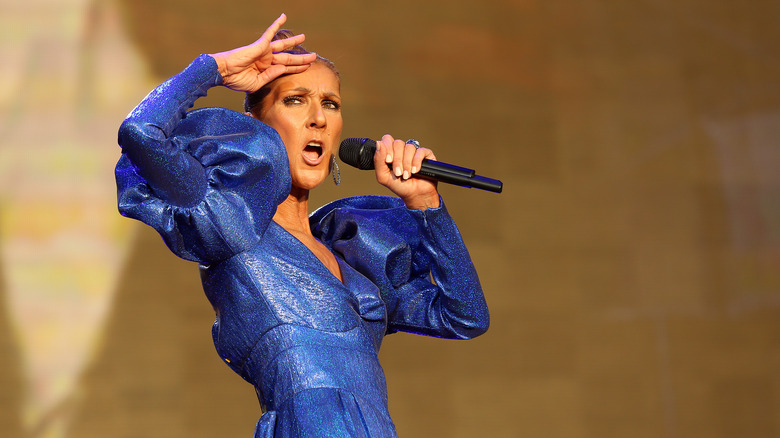 Simone Joyner/Getty Images
Though Céline Dion has admitted over the years to losing weight, she had denied that it's a consequence of unhealthy choices or health problems. "I have discovered a new passion: dancing," she told ABC News in April 2019 while explaining a perceived change in appearance. Dion credited it to taking ballet classes in recent years, which has increased her activity level. "I do this four times a week," she told People in 2019. "People say, 'She's a lot thinner,' but I'm working hard. I like to move and [weight loss] comes with it."
Indeed, Dion had long enjoyed expressing herself through physical movement. "Dancing has been in my DNA all of my life," she said to People. "It's a dream. And so hard!" Even though she feels confident in her own skin, Dion still purportedly gets bothered by those who comment on her appearance. "If I like it, I don't want to talk about it. Don't bother. Don't take a picture," she told The Sun in January 2019. "If you like it, I'll be there. If you don't, leave me alone."
For Dion, comments on her body are nothing new. In 2007, she denied suffering from an eating disorder and expressed annoyance at the body shamers. "I'm not anorexic. It pisses people off that I am thin and I don't make any effort," she told The Guardian. In fact, Dion has had to deal with these accusations her whole life.
Celine Dion was bullied as a child
Since childhood, Céline Dion (pictured above) dealt with comments about her appearance. As a schoolgirl in Québec, the singer's classmates taunted her for being skinny. "I detested school," Dion wrote in her 2000 autobiography "My Story, My Dream." Later, Dion dropped out of school to focus on her singing career, but the students were simply replaced by members of the media, per her 2005 biography "Celine Dion: For Keeps." 
As a singer with a platform, Dion eventually became a vocal supporter of anti-bullying campaigns. Speaking on behalf of the Quebec-based charity Fondation Jasmin Roy in 2014, Dion used her own experience to raise awareness, according to Yahoo!. "Because I myself was a victim of bullying at school, I can understand the distress that young people go through," she said in a French-language video made in collaboration with the non-profit. With age, Dion learned to ignore the comments regarding her looks. "Now, you know what, I feel amazing ... when you grow and you mature ... you understand the values of life and how it's important to feel emotionally balanced," she told Contact Music in 2013.
Now in her 50s, Dion feels more confident than ever. "I feel stronger, more beautiful," she told ABC News in 2019. Becoming an ambassador for L'Oréal at 51 was proof of that, she told Allure in 2019. "I would not go back to being 17 or in my 20s or 30s."
If you are struggling with an eating disorder, or know someone who is, help is available. Visit the National Eating Disorders Association website or contact NEDA's Live Helpline at 1-800-931-2237. You can also receive 24/7 Crisis Support via text (send NEDA to 741-741).