How Tall Is Chris Evans?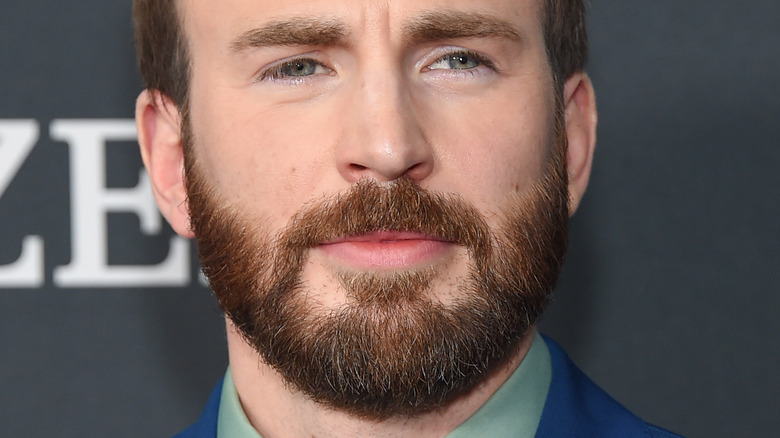 DFree/Shutterstock
Chris Evans may be famous for being a successful (and rich) actor, but there's no doubt he's also famous for his appearance. Indeed, he happens to be incredibly good-looking — even if Evans himself doesn't think so. During an interview in 2018 with the "Thirst Aid Kit" podcast (via E! News), the actor admitted: "I still feel like I'm just trying to pull a fast one over on people ... You don't know what I look like first thing in the morning! It's rough!" Evans went on to say that he was somewhat of a late bloomer, noting, "If you look back on some of my photos from childhood, it was not kind." He also explained, "I had a really bumpy road, and I think like most of us, we still feel like that — no matter what."
Despite the fact that Evans doesn't exactly feel like the super-hot man that his myriad fans definitely think he is, there's no doubt that he went through quite a transformation as he grew up. And along with that glow-up, he put on some serious muscles – and, surely, added a few inches to his height as he transitioned from childhood to adulthood. But how tall is he, really?
Chris Evans might be taller than you think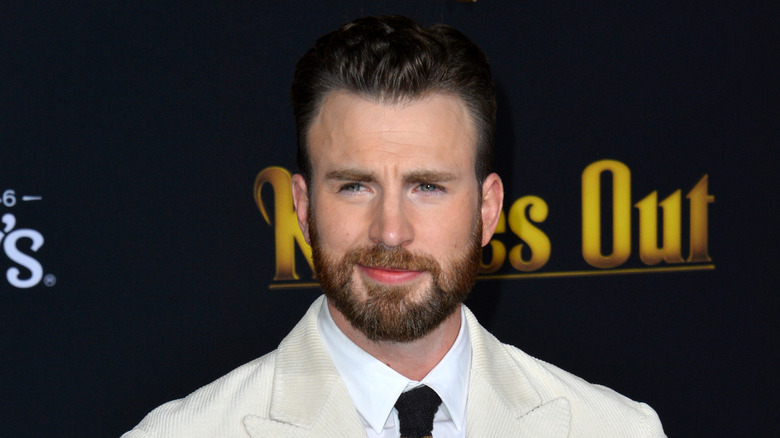 Featureflash Photo Agency/Shutterstock
When Chris Evans appeared in the Marvel Cinematic Universe movies as Captain America, he was certainly supposed to come across as an impressive figure. He managed to fulfill that requirement thanks to the fact that he's actually taller than you might have realized. While the average height of men in the United States is 5-foot-9, according to Healthline, Chris Evans stands at 6 feet, according to Celeb Heights.
That kind of stature definitely helped him stand out onscreen, especially since it means he's quite a bit taller than some of his Marvel costars. For instance, Scarlett Johansson is only 5-foot-3, while Mark Ruffalo is 5-foot-7 and a half (and the Hulk's size varies depending on the project, per CBR). Robert Downey Jr. is 5-foot-7 and three-quarters, which means that he's slightly taller than Ruffalo, but neither he nor Evans, for that matter, are quite as tall as Chris Hemsworth, who's 6-foot-3.
Granted, some people have definitely noticed how tall Evans happens to be. One person took to Twitter in 2019 just to share photos of Evans with Johannson, writing, "The height difference between Scarlett Johansson and Chris Evans!! That's so sweet." It may seem sweet, but the height difference is also something that he's seemingly used to when it comes to the women in his life.
Chris Evans has dated famous ladies of different heights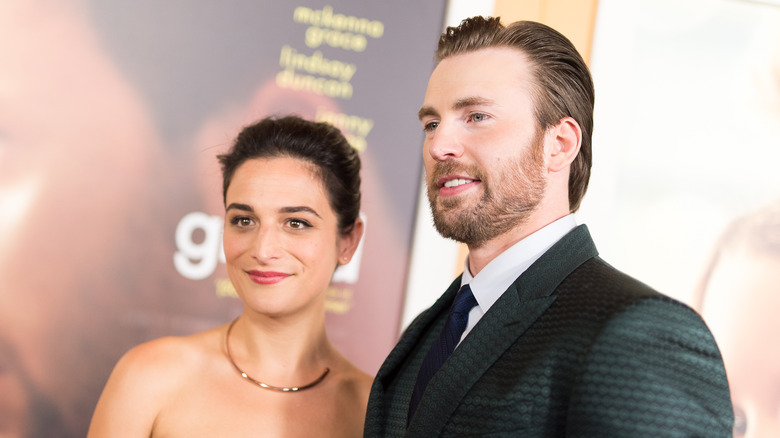 Emma Mcintyre/Getty Images
Over the years, Chris Evans has dated — or, at least, sparked romantic rumors — with quite a few famous women. Among them are Jenny Slate (pictured above with Evans), Jessica Biel, and Sandra Bullock, according to Page Six. Considering Evans is 6 feet tall, it's not too surprising that none of these ladies were able to match his height. In fact, he's dated some women who are quite a bit shorter than him while others were a little closer to his height.
For instance, Slate is 5-foot-4 while Biel is 5-foot-6 and three-quarters, and Bullock is 5-foot-7. That's not to mention Christina Ricci (half an inch over 5 feet), Lily Collins (5-foot-4), and Kate Bosworth (5-foot-5), among others. Obviously, Evans hasn't found lasting love with any of these famous figures — all of whom happen to be shorter than him. 
Perhaps Evans should try dating women who have a slightly better chance of meeting him eye-to-eye (literally), like Elle Macpherson or Aisha Tyler, who are both exactly 6 feet tall, according to She Knows. Of course, if Evans is interested in looking up to the next woman in his life, then perhaps he should ask out "The Crown" star Elizabeth Debicki, who is actually taller than him at 6-foot-3, per Elle.