Donald Trump Has Blunt Answer For Whether Mike Pence Will Be His Running Mate In 2024
Evan El-Amin/Shutterstock
Donald Trump and Mike Pence seemed pretty much joined at the hip during his single term as president. Pence, of course, served as Trump's vice president and was one of his biggest supporters both before and after the election.
Back in 2017, for example, Pence unleashed an avalanche of praise on Trump during a cabinet meeting, telling the businessman (via CNN), "You've restored American credibility on the world stage. We're standing with our allies, we're standing up to our enemies." He then continued, "I want to thank you, Mr. President. I want to thank you for speaking on behalf of and fighting every day for the forgotten men and women of America."
But, as everyone knows, their once very close relationship very much broke down at the end of Trump's presidency. Trump and his supporters famously slammed Pence in January 2021 after he refused to do more to reverse the result of the 2020 presidential election, which saw President Joe Biden beat out the businessman. A move that would have been illegal.
Trump infamously tweeted of his former friend on his since deleted Twitter account (via USA Today), "Mike Pence didn't have the courage to do what should have been done to protect our Country and our Constitution."
But while things didn't exactly end well for the two, political watchers have questioned if the two could reunite should Trump run for president in 2024. And now we have our answer.
Donald Trump and Mike Pence haven't spoken 'in a long time'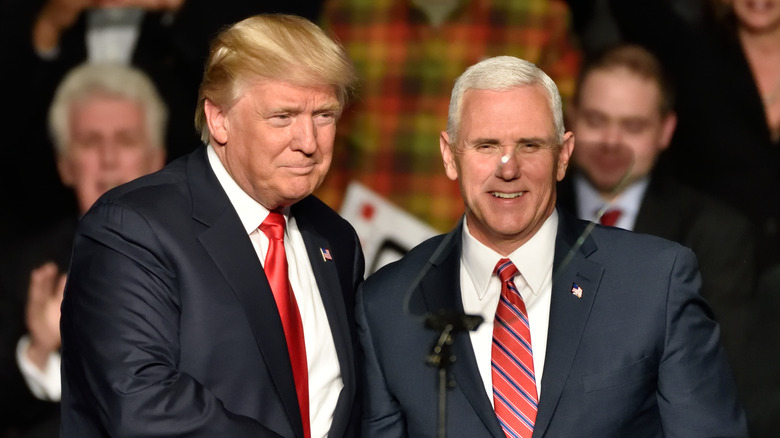 Evan El-Amin/Shutterstock
It looks like there won't be any Trump/Pence alliances in the 2024 election. Amid much speculation about if Donald Trump will attempt a second turn in the Oval Office, he was asked about the chances of Mike Pence once again standing by his side. And, well, they're very slim.
"I don't think the people would accept it," Trump told Washington Examiner, admitting, "Mike and I had a great relationship except for the very important factor that took place at the end. We had a very good relationship." He also revealed where the two stand in the wake of Pence's once unwavering support of the former president ending, admitting they've not spoken "in a long time." Pence confirmed in January that he hadn't spoken to Trump in around a year.
Trump appeared to be referencing the fact that his supporters no longer support Pence, as some even chanted they wanted to hurt him during the infamous insurrection at the U.S. Capitol Building in January 2021.
As for Pence? Well, he's hinted he may not want to become vice president again anyway, as he seemingly has some political hopes of his own. Pence has hinted he may like to run for president himself (which could potentially see him run against Trump) and, per USA Today, has even been seen to be distancing himself further from Trump in the months that followed the Trump family leaving the White House.