What Inspired Mike Pence's Latest Public Rebuke Of Donald Trump?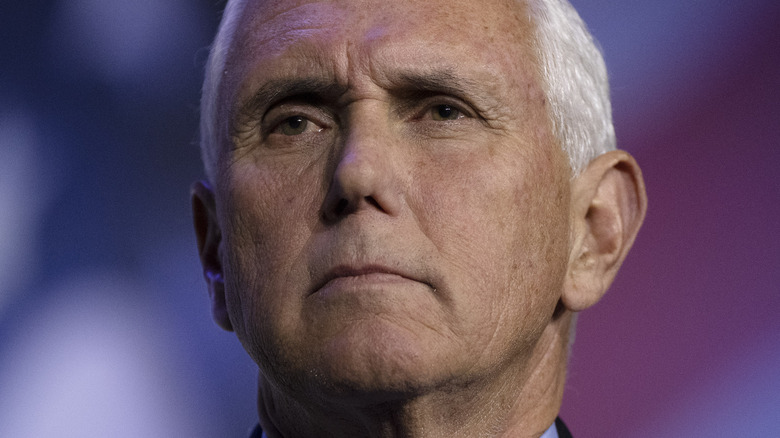 Bloomberg/Getty Images
Immediately following the end of Donald Trump's White House tenure, much was made of what would become of now-ex-Vice President Mike Pence. At the time, it was obvious what Trump's post-presidential plans would include — namely, leading a continued crusade against the November 2020 election results with baseless and thoroughly unfounded claims of voter fraud. But for Pence, his third act didn't have an obvious path. This, of course, was due in part to the Capitol Hill Insurrection on January 6, 2021, which many believe was encouraged by Trump after Pence ratified the election results against Trump's wishes. Despite reports that Pence was a main target for the MAGA-led mob by virtue of lawfully certifying current President Joe Biden's victory, the obvious schism between Pence and Trump, by all appearances, drove Pence away from the limelight for months. 
Though Pence eventually re-emerged — thanks in part to appearances at a number of GOP conventions and conservative summits — minus a few exceptions, the former VP was notably subdued when it came to the topic of Trump's continued fraud accusations. But now, it appears Pence has changed his stance on the matter — and according to sources close to the one-time vice president, it's a stance Pence doesn't plan to go back on anytime soon.
Sources say Pence has had enough of Trump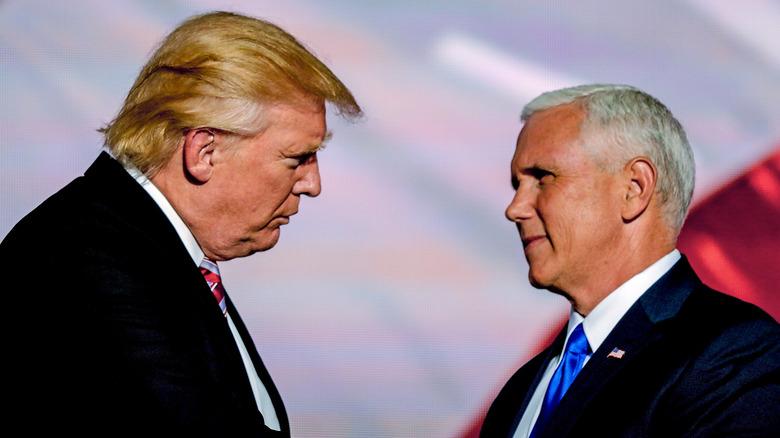 mark reinstein/Shutterstock
After a months-long onslaught led by Donald Trump against Mike Pence, it looks like the erstwhile VP has finally had enough. Pence lambasted his ex-boss during a keynote speech near Orlando at the Federalist Society Florida Chapters summit, calling Trump's continued campaign to overturn the November 2020 election results "un-American," according to CNN. He also reportedly criticized the idea the vice president has Constitutional power to halt ratification. 
In a later report, CNN noted sources close to Pence are sure that it's far from the last time Pence intends to speak out against Trump — especially if it's at the expense of Pence's political reputation. "He is not looking for this to be a main storyline, but if something is falsely said about him, he is going to correct it," one source disclosed to the network. To that end, another insider divulged he has a grander strategy than rebuking Trump in mind — party unity within the GOP.
It's a strategy that seems to be working so far. As CNN pointed out, Pence's February remarks have garnered support from center-to-right publications including the National Review to the Wall Street Journal. In the days since Pence's speech, the Associated Press also reported that Ivanka Trump, the ex-president's alleged favorite child and former senior adviser, seemingly supported Pence's position as early as January 2021, though Ivanka hasn't responded to requests for further comment.