The Reason Mike Pence Was Booed During A Speech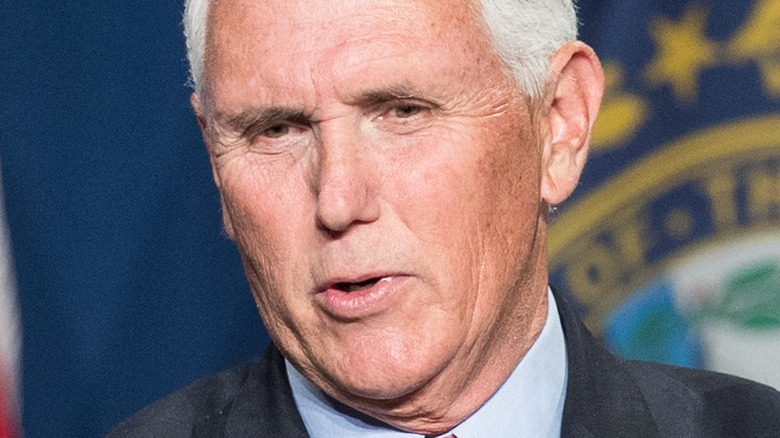 Scott Eisen/Getty Images
Ever since former vice president Mike Pence's exit from the White House in January, the public's opinion about him has been lackluster, to say the least, even among conservatives. The tide turned against Pence in the interim period between the November 2020 election and the inauguration of current President Joe Biden amid baseless and unsubstantiated accusations made by then-President Donald Trump, who spent the final phase of his tenure in the Oval Office claiming that the election had been rigged. 
Things came to a head on Jan. 6, after Trump lambasted Pence for letting the ratifications of the election results proceed at a rally held near the Capitol Building, per NPR. The rally was attended by many Trump supporters, who proceeded to storm Capitol Hill in an ensuing insurrection. Some rioters even chanted "Hang Mike Pence" during the insurrection, CNN reported at the time.
Though Pence has laid low since leaving his VP days behind (in part due to health issues), he has slowly begun to reemerge from his cocoon in Indiana, most recently at a conservative Christian conference held in Orlando on June 18. But as CBS News and others noted, it seems Pence has a long way to go in reversing the opinions of his critics after reports that the career politician was met with boos and jeers during a speech he gave at the event. So, what exactly happened in Orlando? Read on after the jump to find out.
Mike Pence was called a 'traitor' by audience members during a recent speech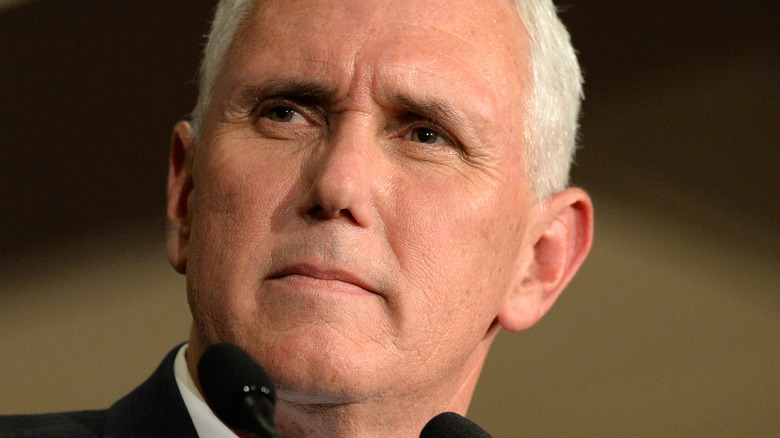 Shutterstock
According to CBS News, the latest incident involving Mike Pence occurred after the former VP took the stage to deliver an address during a session at the Freedom and Faith Coalition conference on June 18 in Orlando. During his speech, per the network, members of the audience shouted "traitor" at the ex-vice president, accompanied by intermittent booing. 
As The Guardian reported, the jeering was seemingly related to Pence's refusal to back former president Donald Trump's unfounded accusations that the 2020 election results were rigged against him. At least one conference attendee was heard announcing his plans to boo Pence during his time on stage shortly before Pence delivered his keynote, according to the media outlet. 
By all accounts, Pence has stuck to his original stance regarding the Jan. 6 insurrection at the Capitol, calling it a "tragic day." Earlier in June, Pence said of the insurrection, "I don't know if we'll ever see eye to eye on that day," referring to his relationship with Trump.