Donald Trump Believes Mike Pence Is 'Mortally Wounded' To The GOP
Evan El-Amin/Shutterstock
During his tenure in office, if there was one person that former President of the United States Donald Trump could always count on, it was his vice president and right hand man, Mike Pence. After one of the last cabinet meetings of the year back in 2017, Pence couldn't help but sing Trump's praises over and over again. "You've restored American credibility on the world stage. We're standing with our allies, we're standing up to our enemies," Pence glowed, according to CNN. "I'm deeply humbled as your vice president to be able to be here. Because of your leadership and because of the strong support of the leadership of the Congress, you're delivering on that middle class miracle."
If that weren't enough, The New York Times says that the former vice president has "demonstrated seemingly boundless fealty" to Trump, who also had no doubt in his mind about Pence's loyalty at the time. "He's been a trooper. He's been with me from as soon as I won the primaries. I could not be happier," he said back in 2018, as detailed by CNN. With that said, it seems like the tables have turned in their relationship, as Trump has not only turned on Pence, but is also making some pretty serious accusations about him.
Donald Trump is accusing Mike Pence for the downfall of the GOP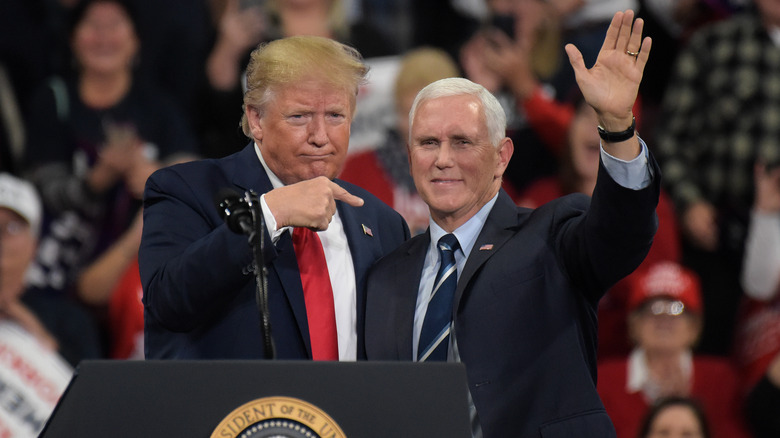 Matt Smith Photographer/Shutterstock
Donald Trump believes Mike Pence is to blame for what had happened on January 6 — and not because of the onslaught that occurred at the Capitol that day. Instead, it's because Pence didn't support Trump's quest that day to stop the certification of his opponent Joe Biden's win in the 2020 election. However, Pence doesn't seem to agree. "I will always be proud that we did our part on that tragic day to reconvene the Congress and fulfilled our duty under the Constitution and the laws of the United States," Pence said in June, according to Reuters. 
For Trump, this might have felt worse than a stab to the heart, and he is still not over Pence's actions to this very day. During the kick-off of his "History Tour" with Bill O'Reilly in Sunrise, Florida, Trump couldn't hide his disappointment and went so far as to accuse Pence of "mortally wounding" the Republican party by his inaction, per CNN. "Mike should have sent those crooked votes back to the legislatures and you would have had a different result in the election, in my opinion. I think Mike has been very badly hurt by what took place in respect to January 6," Trump told his audience over the weekend of December 11. "I think he's been mortally wounded, frankly, because I see the reaction he's getting from people." 
Pence has not responded to Trump's criticism, but, at the same time, he hasn't been singing his praises, either.