Everything We Know About Tom Hiddleston's Apparent Engagement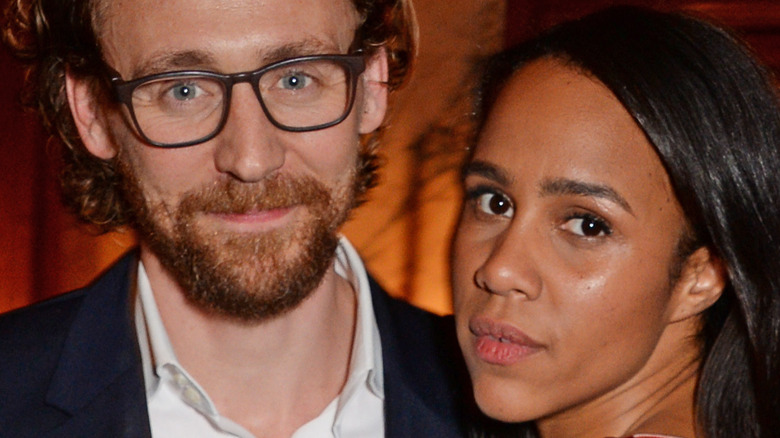 David M. Benett/Getty Images
Despite his A-list star status, there are still quite a few things that you might not know about Tom Hiddleston, especially when it comes to this personal life. That includes the fact that he has dated various women over the years. While you might be well aware of his past relationship with Taylor Swift, which took place back in 2016, per Us Weekly, not all of his romances have been so public. That includes Hiddleston's relationship with Zawe Ashton.
Meeting while they were both working on a play called "Betrayal" in 2019, the two apparently hit it off and embarked on a relationship that has flown mostly under the radar, according to People. By July 2020, the two were apparently living together, per The Sun. A source explained at the time, "Tom and Zawe have stayed quiet about their relationship but she has spent the last few weeks with him in the U.S."
"They are very well suited and enjoy the quieter side of life away from the glitz and glamour of the showbiz world," the insider added. That may be true, but the pair does step out from time to time for industry events, and it was at one of those appearances that the public found out Hiddleston and Ashton might be engaged!
Is that an engagement ring Zawe Ashton is wearing?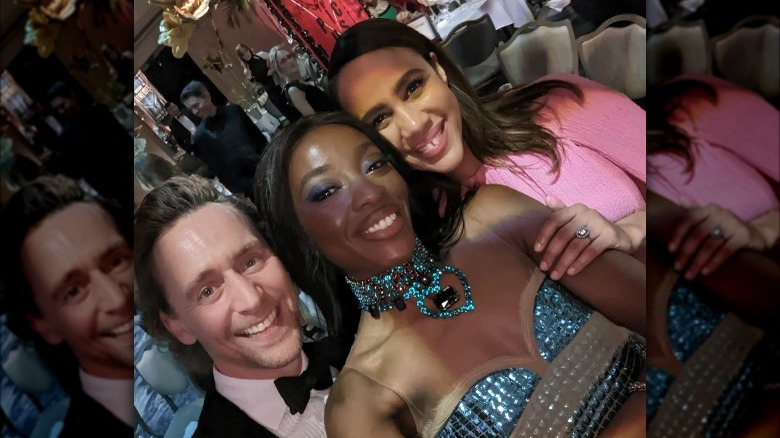 Instagram
When Tom Hiddleston and Zawe Ashton showed up at the 2022 BAFTAs, the pair looked stunning. He wore a sleek, black suit, while she wore a pink dress that floated around her like a dream. Of course, the gown also did something more than just make her look amazing: it hid something that could be rather intriguing. As the stars walked the red carpet, Ashton kept her hand tucked within the fabric of the dress, according to the Daily Mail. If you're wondering why that's such a big deal, the reason for her subtle, but somewhat strange action became clear later when she later posed for a photo with what appeared to be an engagement ring in full view.
In a selfie that was shared on Instagram by fellow BAFTA festivities attendee AJ Odudu, Hiddleston and Ashton posed with the public figure, while Ashton's hand was on Odudu's arm. It's on that hand that a rather impressive ring can be seen. Not just any ring, of course — it seriously looks like an engagement ring and it's on that finger.
Although Hiddleston and Ashton haven not yet commented on whether or not they intend to get married, fans were certainly quick to react to a possible engagement. One social media user took to Twitter to write, "IM SCREAMING TOM HIDDLESTON IS ENGAGED WTF — im so happy for him get don't me wrong ... BUT OMG." That's certainly one way to say it.