The Hilarious Reason Scarlett Johansson Would Have Passed On Dating Colin Jost In High School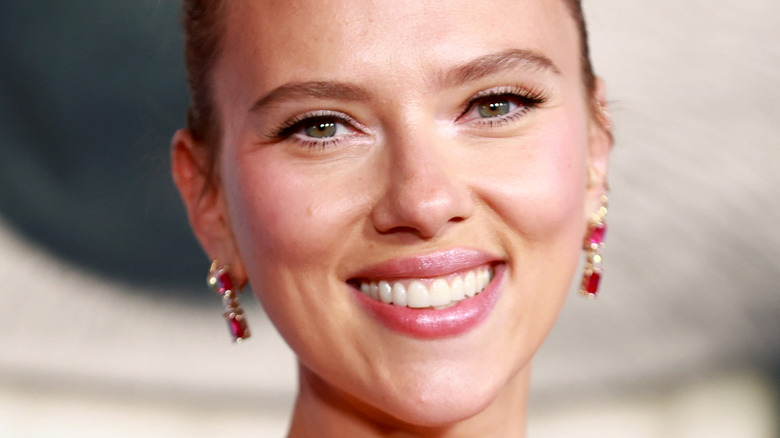 Matt Winkelmeyer/Getty Images
Scarlett Johansson and Colin Jost were both already famous and successful figures in the entertainment industry when the two stars first met back in January 2006, according to People. While they didn't form a romantic connection with each other the first time around, the timing was seemingly right when they reconnected years later.
Although the two initially dealt with buzz about a possible relationship in May 2017, they had confirmed that they were involved by that November. Two years later, in May 2019, they had gotten engaged, which was followed by Johansson and Jost's small but sweet wedding in October 2020. That's not to mention the fact that the pair — who already include Johansson's daughter from a previous marriage, Rose, as part of their family — welcomed a son, Cosmo, into the world in August 2021. While Johansson and Jost seem to be super happy, a source confirmed that he absolutely adores the woman in his life, telling Us Weekly in February 2019, "Colin is still head over heels for Scarlett ... He thinks she is incredible, kind, beautiful. He is beyond doting to her and loves showing her off when they're out."
Jost may love to show Johansson off and she, in turn, had something nice to say about how he looks these days. However, at the same time, it turns out that there's an appearance-based reason why she admits that she wouldn't have dated him in the past.
Colin Jost had a 'mushroom' haircut in high school
When it comes to Colin Jost, his wife and fellow star Scarlett Johansson thinks "he's a very ... cute guy," which is what she said when she appeared on "The Drew Barrymore Show" on March 16. Granted, if Johansson had met her now-husband back in high school, she admitted that she wouldn't have dated him due to his haircut.
After Barrymore brought up Jost's high school yearbook photo — which showed him with a "mushroom" cut — and inquired if Johansson would have been interested in a date, the wife of the "Saturday Night Live" star explained why she would haven't have been interested in a romance at the time. "My brother had that same haircut ... both of my brothers ... I just can't," she said. "There's no way, I mean, who decided on that cut as a stylish thing? Like what hairdresser was like, 'I'll try this.'"
One viewer of the show seemed to agree that Jost is much better looking these days, which is why they took to YouTube to note that Jost "had a major glow up ..." Another commenter was less interested in how Jost looked back then — or even now — and was more interested in how Johansson looked when she talked about her husband, mentioning "her smile when they talk about Colin," and adding a few crying emojis to point out how sweet it is that she seems to be so smitten with the man in her life.