The One Queen Elizabeth Look That You Never Want To Receive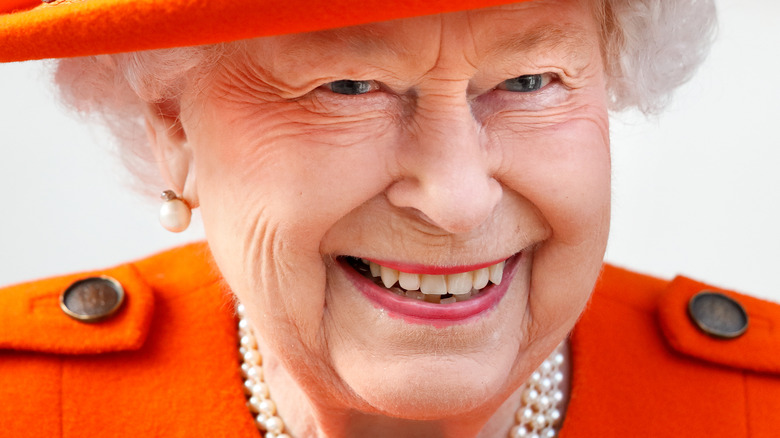 Max Mumby/indigo/Getty Images
We may receive a commission on purchases made from links.
Queen Elizabeth II is known for dry wit, which makes speculation of shady remarks, body language, and even intentional wardrobe choices fascinating to follow. While keeping up the royals, it can be difficult to decipher what goes on behind the scenes, especially with family scandals. During the Oprah Winfrey interview with Prince Harry and Meghan Markle, body language expert Dr. Reneé Carr examined the couple's behavior and determined they have great respect and comfort with one another. These examinations help paint a better picture of these dynamic figures, but what about the subtlety and stoic nature of the queen?
A royal insider told People that Elizabeth's inner circle sees a different side to her personality. "The Queen can go from being magisterial to chatty with those she trusts," they said. In the public eye, however, folks are quick to recognize moments of the monarch's shady behavior. In fact, there was some playful shade between Queen Elizabeth and George W. Bush. 
In 2007, during the former president's welcome address, he accidentally said she helped with the celebration of the U.S. bicentennial in 1776, instead of 1976. "She gave me a look that only a mother could give a child," he told the audience, per The U.S. Sun. To follow up the verbal stumble, she joked, "I wondered whether I should start this toast by saying, 'When I was here in 1776.'" Despite the moment ending with light-hearted humor, the reference of "a look" is taking on deeper meaning with insights from royal biographer Robert Hardman.
The queen has a special reprimanding look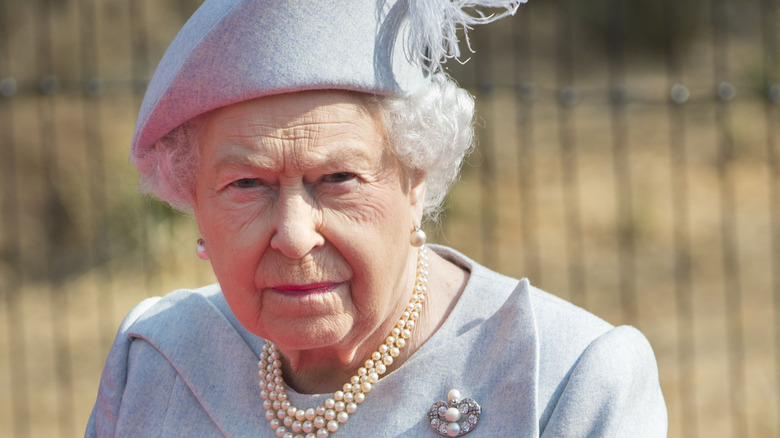 Mark Cuthbert/Getty Images
With the release of the biography "Queen of Our Times: The Life of Queen Elizabeth II" by royal biographer Robert Hardman, there is now some insider perspective on how a certain look from the monarch can be translated. In a section of the book excerpted for People, Hardman explained, "Most know that there are two hazards to be avoided when meeting with the boss: 'the Line' and 'the Look.'" What is the significance of the two? He added, "You do not want to cross the former or receive the latter."
A simple raise of an eyebrow — both brows if the reaction is extreme — offers an "are you sure?" vibe that, coming from the queen herself, could be absolutely mortifying. "There's a withering look, and it looks you up and down, and it was terrifying when it first happened to me," a senior advisor shared with Hardman. The biographer explains that the facial expression is a "silent reprimand." How is it commonly triggered? "Incompetence or else by overfamiliarity." Yikes!
According to the Dominion Post, even former Prime Minister Tony Blair experienced the intimidating expression during his first official audience. "Occasionally she can be matey with you, but don't try to reciprocate or you get The Look," he said. It seems like this royal glare has been acknowledged and feared for quite some time.