RHOC: The Truth About Shannon Beador's Boyfriend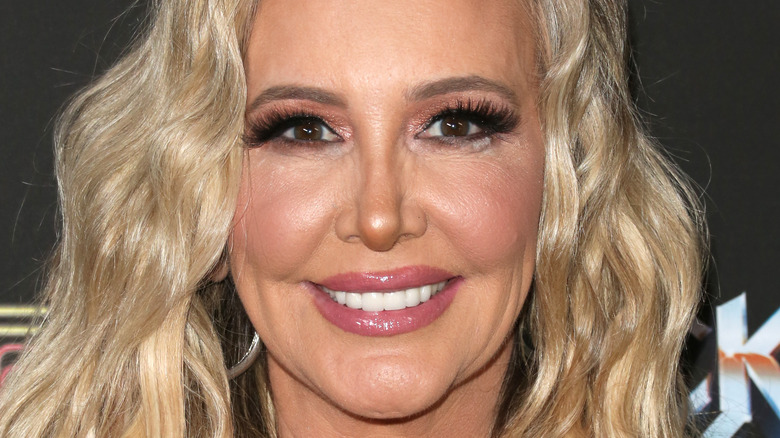 Paul Archuleta/Getty Images
Shannon Storms Beador joined the fabulous cast of "The Real Housewives of Orange County" back in Season 9. And she has remained a beloved mainstay on the show ever since. Audiences have watched Shannon become a bona fide businesswoman over the years by working hard and creating her own supplement brand, Real for Real.
When Shannon first appeared on "RHOC," she was joined alongside then-husband and entrepreneur David Beador. Shannon and David had a total of three children together and lived out their lives in sunny Southern California. Because she found out David had cheated on her, the couple divorced in 2019 after an almost two-decade-long marriage. Shannon and David are now on better terms, but there was a period of time when she was absolutely heartbroken over the infidelity and the following divorce.
But it turns out that Shannon got back into the dating game soon after her heartache, and it looks like things between her and her new beau are getting serious. So, who is the man who has restored Shannon's faith in love?
Shannon Beador's new flame is a businessman and a father
Shannon Beador is certainly not the kind of woman to let whoever she is dating define her, but John Janssen has swept the blonde off her feet. Shannon and John were introduced to each other through mutual friends and felt an immediate connection. The two have been officially dating for about three years, and Shannon and John are totally head-over-heels for each other.
But who exactly is this guy? Well, John attended the University of Southern California, just like Shannon did. According to Bustle, John is the President of Partner at the insurance company, Wood Gutmann & Bogart. He was previously married to his ex-wife, Kim Janssen, and the couple had three children together, per Radar Online.
John previously stated in an exclusive Q&A with Bravo that he "raised [his two girls and one boy] by [himself]." Shannon and John also connect on the fact that they both are single parents to three kids.
What is the next step for Shannon and John?
John Janssen loves to have fun and be adventurous; just like Shannon Beador! In the Bravo Q&A, John shared that one of his hobbies is karaoke, and he loves to take part in water sports in his free time. He also revealed that he has a tattoo on his "fanny," which he and Shannon giggled over in the interview.
"The Real Housewives of Orange County" welcomed John into the series when he agreed to film for Season 15 in 2020. He is also continuing to be featured on the show in Season 16, which is currently airing. During an episode this season, John was asked about the future of his and Shannon's relationship. "Shannon and I, we're totally committed to each other," he answered. "We're in no hurry to get married. Things are good."
John also added that he and Shannon want to buy a home together sometime soon. Shannon's main storyline for this season is that she is becoming an empty-nester because her youngest children are now preparing to go off to college. After the kids are out of the house, it seems that John and Shannon will be taking this next step in their relationship. When that happens, will there be wedding bells in their future? Only time will tell, but Shannon says she is down!