The Real Reason Daniel Radcliffe Nearly Turned Down Harry Potter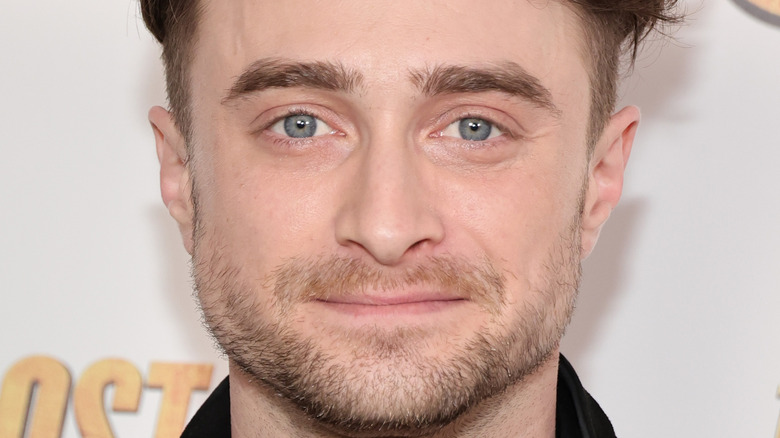 Jamie Mccarthy/Getty Images
Seven "Harry Potter" books have been adapted into eight enduring films that are well-loved by audiences years after their release, and one element of these movies that was a huge factor in their success is the cast of the film. Daniel Radcliffe, Emma Watson, and Rupert Grint were especially vital in their roles as Harry Potter, Hermione Granger, and Ron Weasley — the three lead characters of J.K. Rowling's fantasy story about the young boy wizard. 
The movie adaptations went on to gross billions of dollars at the box office, per Forbes. When he spoke to People in December 2019, Radcliffe opened up about how the "Potter" popularity explosion left him and his cast mates with a lifelong connection.
"There will always be, you know, me, Rupert, Emma, and the rest of the cast went through something crazy and lovely ... I think that we'll always recognize that it's only the other ones of us that truly know what it was like to go through it," Radcliffe said. "And so there will always be that bond." Although it's difficult to imagine, a young Radcliffe almost never took part in this life-changing experience, as he nearly turned the role of Harry Potter down when it was first presented to him.
Daniel Radcliffe almost turned down Harry Potter for a normal childhood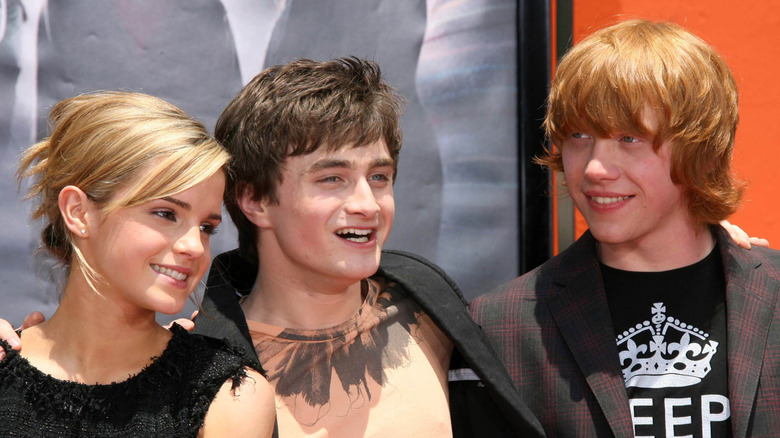 s_bukley/Shutterstock
If you're a fan of "Harry Potter" books or films, you're likely very familiar with Daniel Radcliffe's portrayal of the titular role of the franchise. His acting in "Harry Potter" began when Radcliffe was just 11 years old and ended when he was 20, per Fiction Horizon. Although he played the part for about a decade and is remembered for it to this day, Radcliffe almost never even auditioned for the movies. The actor opened up about this to The Hollywood Reporter in 2011. Radcliffe stated that Chris Columbus, who directed the first two "Harry Potter" films, had seen him acting in another project, "David Copperfield," and wanted to audition the actor for "Harry Potter." However, Radcliffe's parents initially turned this offer down, fearing its terms would his interrupt the normalcy of his childhood.
"They went to my parents, and, at the time, the deal was to sign on for — I think — six films, all to be done in LA, and my mum and dad simply said, 'That's too much disruption to his life. That's not gonna happen,'" Radcliffe said. Months later, it was decided that the filming location was to be moved to Radcliffe's homeland of England and the contract deal would be reduced to two films. This sealed the deal, and soon, Radcliffe would be taking on the part of a lifetime.
Daniel Radcliffe may not return to his 'Harry Potter' roots any time soon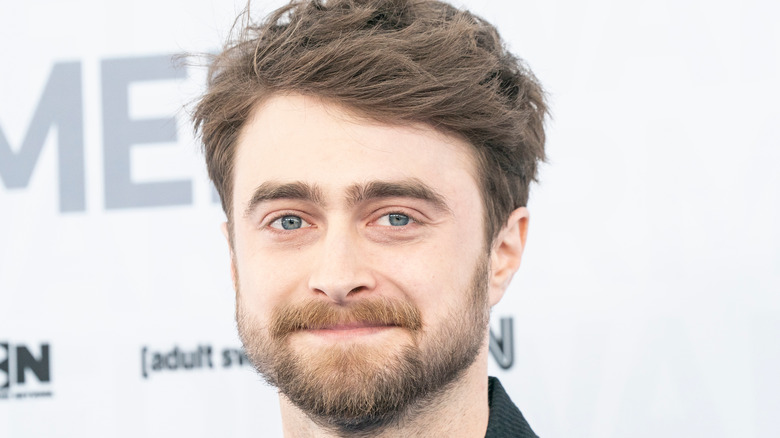 lev radin/Shutterstock
Since it's arguably the role he's best known for, it's shocking to imagine that Daniel Radcliffe, under his parent's guidance, nearly passed on the opportunity to play Harry Potter in the epic eight-film franchise, as The Hollywood Reporter revealed. 2021 marked 20 years since the debut of the first "Harry Potter" film, and the cast and crew recently reunited to discuss memories of making the movies for the heartwarming "Harry Potter 20th Anniversary: Return to Hogwarts" HBO Max special, per The Washington Post. Although Radcliffe participated in this reunion and he recently told The New York Times he is "never going to say never" to playing Harry Potter again, for now, fans may have to wait it out before they see this happen. 
"This isn't the answer that anybody's going to want, but I think I was so able to go back [for the reunion] and enjoy it because it's not a part of my day-to-day life anymore," Radcliffe said to The New York Times when asked if he would do a "Harry Potter and the Cursed Child" film adaptation. He also said that he's content with his life currently, and going back to the part is "not something [he's] really interested in doing right now." Although "Potter" fans may have to be patient to see Radcliffe reprise his unforgettable role, it is a venture that would be well worth the wait!