Did Jack Nicholson Really Have Secret Access To The Playboy Mansion?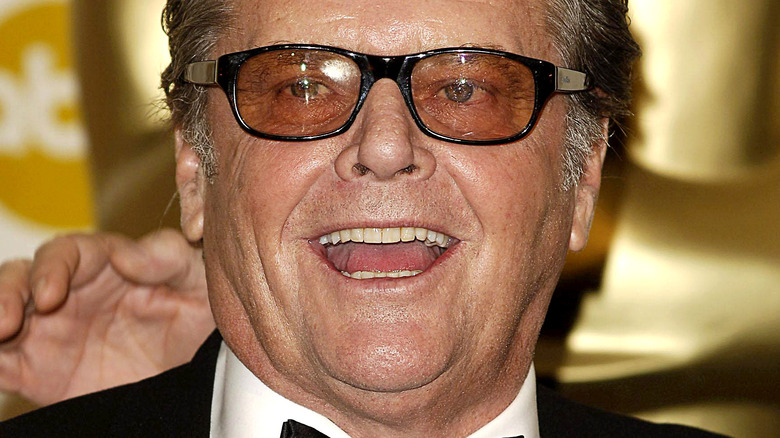 Everett Collection/Shutterstock
Actor Jack Nicholson is notorious for his life of debauchery in Hollywood during the '70s and '80s. Over his extensive on-screen career, Nicholson has portrayed everything from a psycho ax-wielder in "The Shining" to a soldier in "A Few Good Men," per IMDb. While he starred in these blockbuster films and won Academy Awards, Nicholson was also gaining a reputation for being a so-called "bad boy."
Nicholson's dating history is certainly very complicated. Before he began his full-fledged bachelor lifestyle, Nicholson was married to fellow actress Sandra Knight and had a child with her. After the couple divorced in 1968, he began dating seemingly every beautiful starlet in Hollywood. Nicholson fell madly in love with "The Addams Family" actress Anjelica Huston in 1973 and they almost had children together, but their relationship fizzled out after four years. Throughout his lifetime, Nicholson has fathered a total of six children with five different women; it's even joked about and expected that he has many more "love-children" he never knew about.
Nicholson was even nicknamed "Jack the Jumper" because of his sexual prowess, per the Daily Mail. Since he was a real-life "playboy," it is no surprise that Nicholson was great friends with the late owner of Playboy Magazine, Hugh Hefner. And there are copious amounts of wild stories about Nicholson's experiences at Hefner's extravagant Playboy Mansion.
Blueprints revealed secret tunnels for Nicholson and more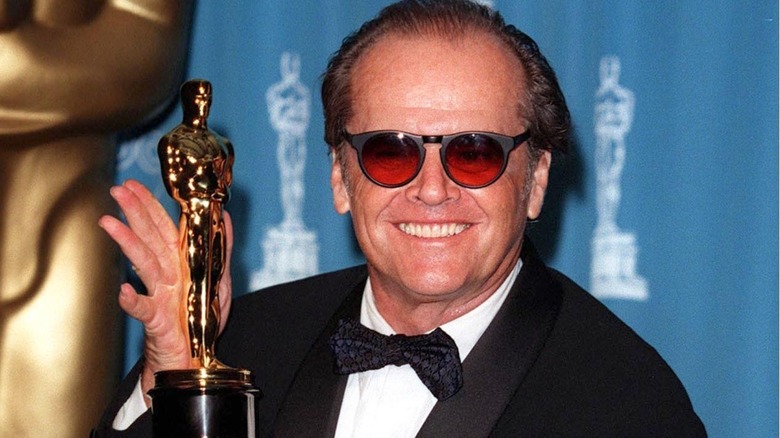 Featureflash Photo Agency/Shutterstock
During the height of his fame in the '70s, Nicholson bought and lived in an estate on Los Angeles's iconic Mullholland Drive alongside other celebrity bad boys of the time, like Marlon Brando. Of course, this was also the location of Hugh Hefner's Playboy Mansion, and Hefner certainly had the place decked out. The mansion had an extensive outdoor aquatics area for pool parties, an in-home gym, a home movie theater, exotic animals everywhere, and a 24-hour gourmet kitchen, per Vanity Fair. And who wouldn't take advantage of their BFF's free 24/7 kitchen if they were given the chance?
Well, back in 2015, some Playboy staffers supposedly found an old set of blueprints from the 1970s that planned the construction of underground tunnels that would connect Jack Nicholson's abode directly to the Playboy mansion, per Business Insider. Fellow Hollywood stars Warren Beatty, Kirk Douglas, and James Caan were also a part of this proposed tunnel system. The tunnel plans were supposedly shelved once Hugh Hefner decided to no longer be the ultimate playboy and settled down with Kimberley Conrad, Business Insider further noted.
Nicholson's tunnel was supposedly an April Fools' joke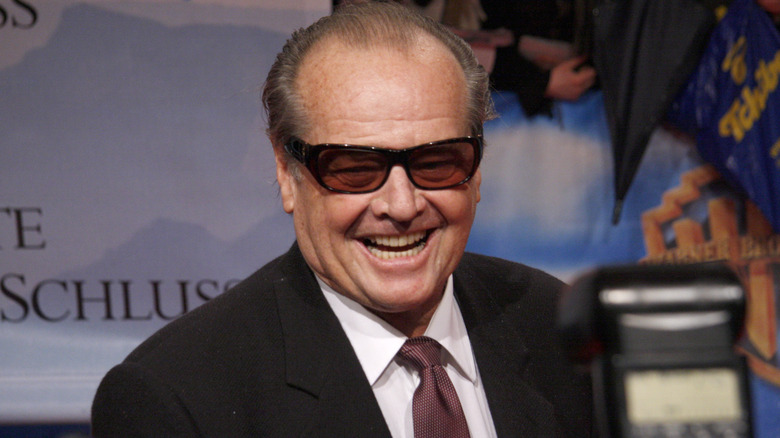 360b/Shutterstock
Unfortunately, the blueprints and polaroids from the 2015 Playboy article may have been fabricated for publicity. According to the Independent, the Playboy workers released this information on March 30, which is only a couple of days before April Fools' Day. These tunnels would have taken immense technical skill because the designs had to factor in the San Andreas Fault, which would have complicated the digging process. Plus, no one has ever actually seen or taken photos of these tunnels.
Jack Nicholson has pretty much left the world of Hollywood and has not commented on the validity of the secret tunnels. Plus, Warren Beatty, who was also included in the tunnel blueprints, said on "The Graham Norton Show" in 2017 that the underground system was completely fabricated. Beatty joked that the tunnels "would probably have cost in the neighborhood of a billion dollars." But, the dominant narrative on the Internet is that they were real, so it looks like the team at Playboy potentially executed a very convincing April Fools' prank.